Albion church puts out banner welcoming refugees
Pullman Memorial Universalist Church had banner out before Trump blocked refugees
ALBION – The way some members of the Pullman Memorial Universalist Church see it, a banner welcoming immigrants and refugees should be outside every church.
But the congregation at Pullman is one of the few locally with a bold banner, declaring immigrants and refugees are welcome. Pullman put out the banner about two weeks ago. Pullman member Debby Rodrigues paid for the banner after getting the church's permission.
"Every church should be welcoming and caring," said Christine Loss, a member of the Pullman church. "Churches need to stand up for people."
The Trump administration signed an executive order on Friday banning all refugees for 120 days, and denied access to the country for people from Iraq, Syria, Iran, Sudan, Somalia, Yemen, and Libya. The decision has sparked protests around the country.
The Pullman congregation expected Trump would target immigrants and refugees. He campaigned on the issue.
"We sensed there would be a crackdown with Trump," Loss said after the church had a service today.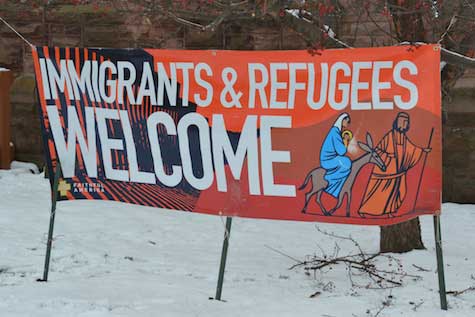 The Unitarian Universalists have made welcoming others, even with different religious beliefs, part of their mission.
"All of our ancestors came over as immigrants against despots, famine and religious persecution," she said.
The United States already had a rigorous process for screening immigrants, she said.
"What he is doing is overkill to make a statement," Loss said.
Dr. Tobin Carson, member of Pullman, works as a doctor for Rochester General, where she estimated half of the physicians are foreign-born.
"If they weren't here it would be very difficult to keep the hospital running," she said.
Carson said her grandparents were Polish immigrants during World War II.
The Trump administration is stirring fear, "that isn't fact-based," she said.
"We characterize immigrants as moochers," she said. "But they come here and do jobs we don't want to do or jobs we don't have enough qualified people to do, whether they are Jamaicans picking broccoli or doctors caring for our mothers."
Darrell Dyke, acting pastor today at Pullman, said the banner outside the church includes an image of Joseph and Mary, who were refugees.
Many prominent clergy members have spoken out against Trump's immigration and refugee ban.
"We strongly disagree with the Executive Order's halting refugee admissions, said Bishop Joe S. Vásquez of Austin, Texas, chairman of the Committee on Migration for the United States Conference of Catholic Bishops.
"We believe that now more than ever, welcoming newcomers and refugees is an act of love and hope," he said in a statement. "We will continue to engage the new administration, as we have all administrations for the duration of the current refugee program, now almost 40 years. We will work vigorously to ensure that refugees are humanely welcomed in collaboration with Catholic Charities without sacrificing our security or our core values as Americans, and to ensure that families may be reunified with their loved ones."
Vásquez also said the Bishops want to see Muslims "treated with human dignity."
The National Association of Evangelicals urged Trump to continue the U.S. refugee resettlement program, which in partnership with churches and volunteers has saved lives and restored the futures of more than 3 million refugees since 1980.
"Christians and churches have been welcoming refugees for 2,000 years, and evangelicals are committed to continue this biblical mission," NAE President Leith Anderson said. "Thousands of U.S. evangelicals and their churches have welcomed hundreds of thousands of refugees over the past 40 years through World Relief and other federally approved resettlement agencies. We don't want to stop now."