Albion businesses recognized for keeping up nice landscape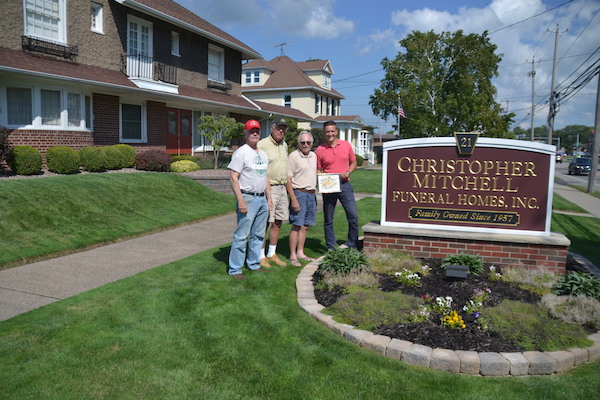 Photos by Tom Rivers
ALBION – The Albion Betterment Committee presented two landscape awards to businesses on Friday. Christopher Mitchell Funeral Homes and Dunkin Donuts were both recognized "for their commitment to the betterment of Albion."
The top photo shows ABC directors – Gary Kent, Gary Derwick and Joe Gehl – presenting the award to Josh Mitchell, a funeral director at Christopher Mitchell.
Josh manages the grounds at both Albion and Holley. Josh joined the family business in 2011. He mows and waters the lawn, plants flowers, and pulls weeds. Soon after he started at Christopher Mitchell, Josh put up hanging baskets with flowers at the back entrance of the funeral home on Route 31.
"I want to make it colorful and feel homey," he said about the property.
His father David said he is impressed how Josh has been so committed to the lawns at the funeral homes.
"He's always been detail-oriented," David said. "That's why he is good at his job. It's nice to see someone young take pride in their surroundings."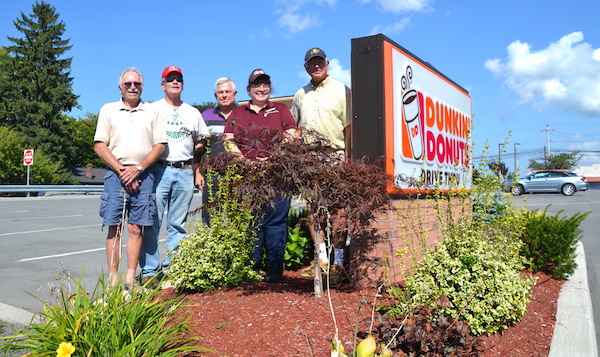 Dunkin' Donuts opened in August 2014, building a new store after taking down a dilapidated warehouse on South Main Street. The Betterment Committee said Dunkin' represents a big improvement visually for the street, and the company has been committed to its landscape.
The following are pictured, from left: Joe Gehl; Gary Kent; Dave Eckhart, director of operations for 34 Dunkin' stores from Medina to Syracuse; Albion store manager Tamara Gaita; and Gary Derwick.
Dunkin' has an underground irrigation system that turns on at 4 a.m. every day.
ABC for the second year in a row has presented the awards, honoring a locally owned company and a corporate franchise. Last year, the Betterment Committee gave the awards to Albion Agencies and Burger King.