Albion bus drivers, mechanics are big givers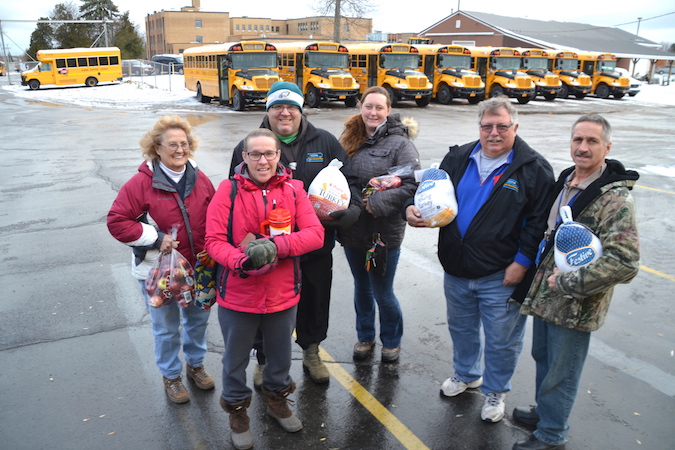 Photo by Tom Rivers
ALBION – Bus drivers at Albion are pictured this morning with some of the food collection they helped gather and donate. This group includes, from left: Donna Hart, Charlene Cook, Joseph Marvin, Christina Naylor, Pete Toenniessen and Dan Deibel.
The bus drivers, office staff and mechanics at the Albion bus garage are employees of Student Transportation of America which for three years now has run a friendly competition among transportation employees who work for STA at nearby districts, including Lyndonville, Newfane, Barker, Lockport and Starpoint, as well as Albion.
The competition is based on donated food in pounds per person. In Albion, STA has 57 employees, who donated an average of 19 pounds per employee or 1,083 pounds of produce, nonperishable canned foods, turkeys and hams.
The food will be given to three families picked by bus drivers, The Warrior House in Shelby (which provides a hunting retreat for wounded veterans) and Eagle Star Housing, which provides transitional housing in Pembroke for homeless veterans.
The Albion bus drivers won the food competition the first two years among the other districts. The winner for this year hasn't been announced yet, and today is the deadline. The STA staff in Albion bought most of the food with their own money, and also secured donations from local farmers. Root Brothers Farm donated cabbage, Stymus Farms gave potatoes and squash, and Lake Ontario Fruit donated apples.
"We know there are people out there who need it," said Donna Hart, one of the Albion bus drivers.
The Albion drivers, staff and mechanics see the competition as a friendly rivalry with the other districts, said driver Pete Toenniessen.
"We're a close-knit group," Toenniessen said about the drivers and staff at the bus garage. "We're all neighbors trying to help out the community."