Albion boy buys pizza from his cider sale as an anti-bullying gesture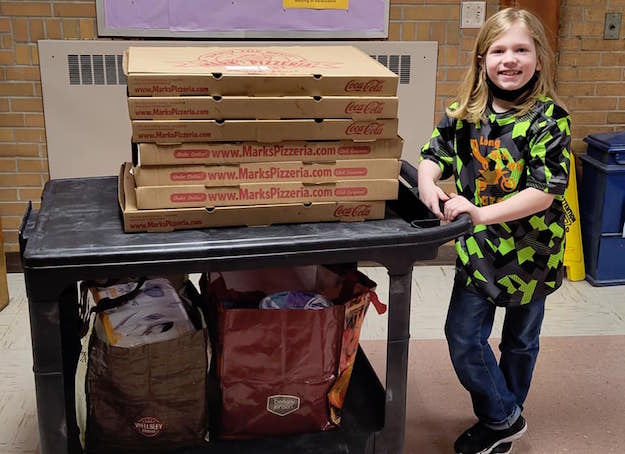 Photos courtesy of Jamie Traxler
ALBION – Cooper Traxler, 7, is pictured with seven sheets of pizza from Mark's Pizzeria that he shared today with the second-grade class at the Ronald L. Sodoma Elementary School in Albion. Cooper bought each class a sheet pizza and juice bags.
He raised the money in October by selling apple cider and doughnuts from his grandmother's front yard on South Main Street. His second-grade teacher was among his customers.
Cooper wanted to provide the pizza as a way to push back against bullying. He was being teased by some kids at school over his long hair.
Cooper likes to keep his hair long like some of his favorite dirt bike racers.
Some of the kids at school told him he was a girl because of his shoulder-length hair. Cooper tells them he is boy – with long hair.
When Cooper sold cider and doughnuts many of the customers shared stories about how they had been bullied when they were kids.
"There was a lot of community support," Cooper's mother Jamie said this afternoon. "He felt very blessed and that he wasn't alone."
Cooper has some money left over from the cider and doughnut sales that he wants to use for other acts of kindness, his mother said.