Albion bio students get flowers ready for Main Street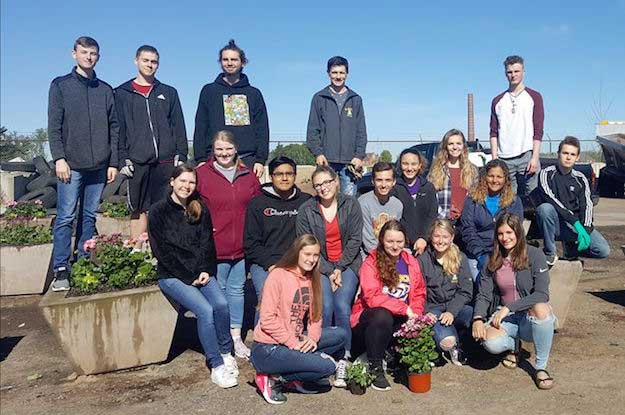 Provided photo
ALBION – Eighteen of the AP Biology students from Albion High School did the class's annual planting of the downtown flowers this week. The bio students have been providing this community service for the past six years. It is a fitting end to the year-long class, said teacher Sandy Climenhaga.
Students study the importance of plants as well as structure and biological properties. The students will also continue to plant and care for the downtown flower bed by the canal. This is planted as pollinator friendly with plants known to attract the bees as well as butterflies, Climenhaga said.
Pictured include, front row, from left: Emma Mathes, Laiken Ricker, Emily Harling and Rylee Pearles.
Middle row: Alexa Adams, Trinity Allen, Nolberto Marinez, Logan Conlon, Josh DePoty, Avalina Hand, Kirsten Struble, Katelyn Spierdowis and Alex Zaczek.
Top row: Spencer Sietmann, Tyler Goslau, Kolin VanGorder, Jacob Thom and Addison Christ.
The Village of Albion, Town of Albion and area businesses all shared in buying the flowers. Lisa Stratton, president of the Merchants Association, coordinated the effort.