Albion bio students get flowers ready for downtown debut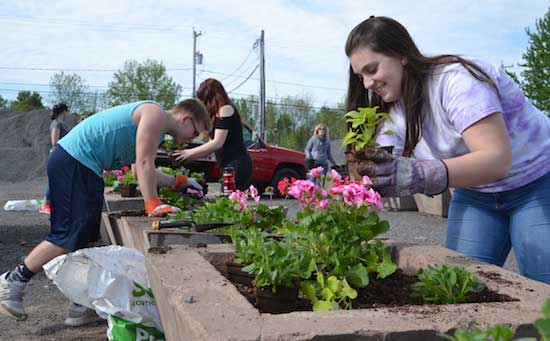 Photo by Tom Rivers
ALBION – Students the Albion AP Biology class this morning helped plant and water flowers in 17 planters that soon will be set in downtown Albion. The top photo shows Shelby Restivo, right, and Brandon McGuire working on the project.
The students are in Sandy Climenhaga's class. The bio students learn about flowers as part of their class. They study photosynthesis and dissect flowers to learn about plants.
"I want them to have an appreciation for their small downtown," Climenhaga said. "Now they are invested. They can go by the flowers and know they helped do that."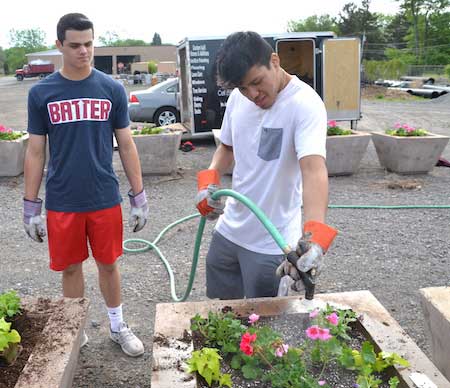 Jessy Cruz and Bryce Pritchard water the flowers, which will be placed on Main Street and in the downtown later this week.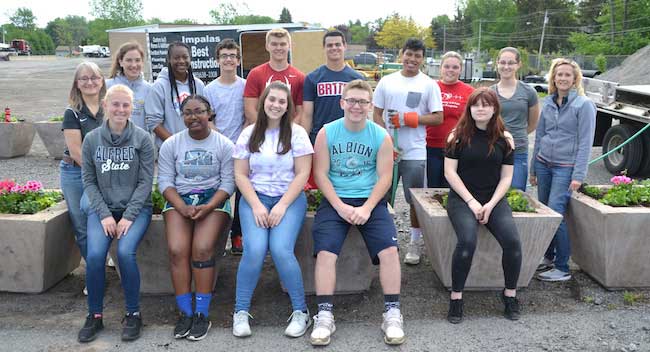 The bio students are pictured this morning. The group includes, front row, from left: Elizabeth Furmanski, Yasmeen Shabazz, Shelb Restivo, Brandon McGuire and Leah Shildt. Back row: Sandy Climenhaga, Kirsten Wroblewski, Chanynce Powell, Kastriot Bela, Kirk Ellison, Bryce Pritchard, Jessy Cruz, Kaitlin Zwifka, Jessica Schleede, and Lisa Stratton, president of Albion Merchants Association and coordinator of the flower project.
The Village of Albion, Town of Albion and Merchants Association all shared in buying the flowers.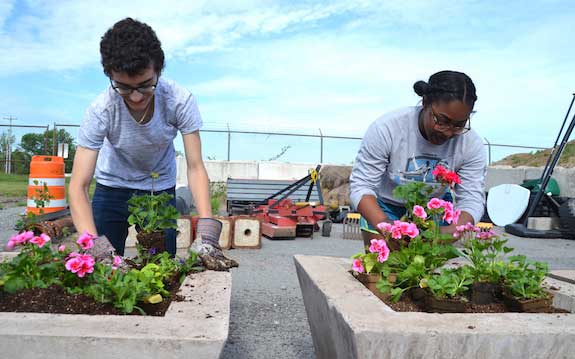 Kastriot Bela and Yasmeen Shabazz plant flowers this morning behind the DPW garage on Washington Street.