Albion alumni, students join for annual community Christmas concert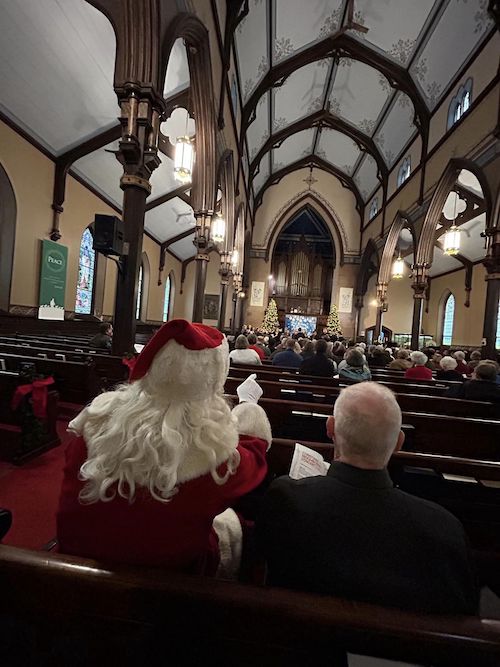 Photos by Marsha Rivers
ALBION – About 200 people attended the Christmas in the Neighborhood concert on Sunday, an event that is a partnership between Albion Alumni Foundation and the First Presbyterian Church.
Santa was one of the attendees, shown here sitting next to Steve LaLonde.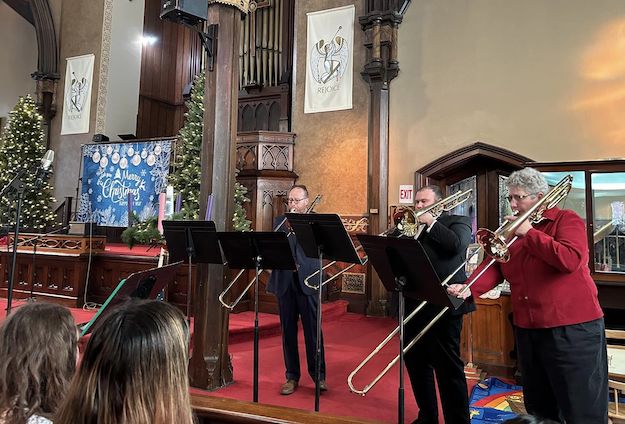 Joe Condoluci ('12), middle; Susan Boring ('81), right; and Mike Thaine ('86), left performed "O Christmas Tree" as the Christmas Bones Trombone Trio.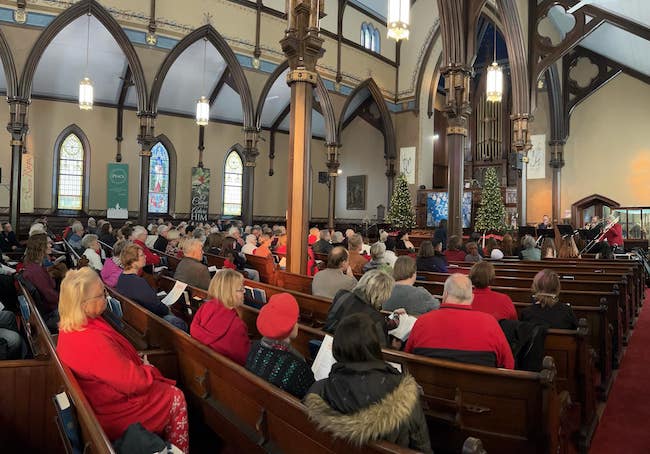 Concert-goers attended the event in one of historic churches at the Courthouse Square.
Photos by Sue Starkweather Miller
This year's theme for the concert:  "A Merry Little Christmas."
Concert organizers are Gary Simboli, Mike Thaine, Sue Thaine and Sue Starkweather Miller.
Proceeds go to the Albion Alumni Foundation and First Presbyterian Church for hosting/coordinating the event.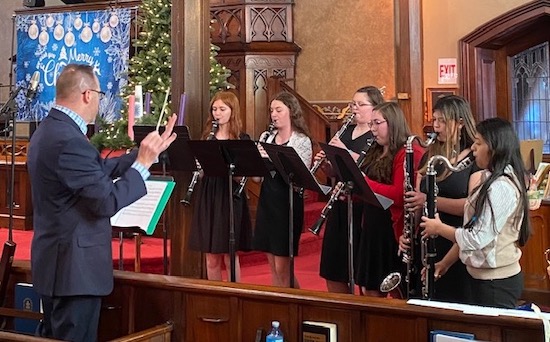 The Albion High School Clarinet Choir led by director Mike Thaine performed "Jesu Bambino."
Thaine also performed "Silent Night" on the euphonium.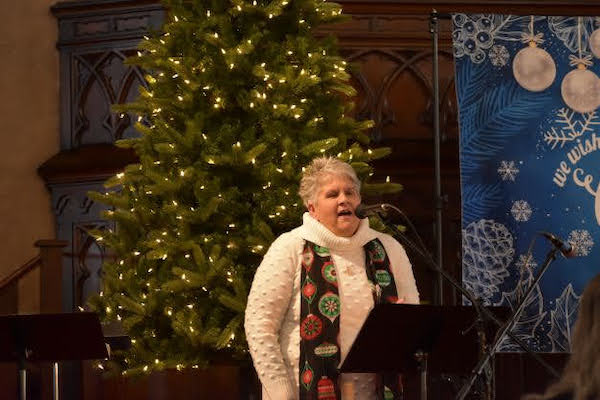 Marlene Seielstad ('85) performed "Love Has Come."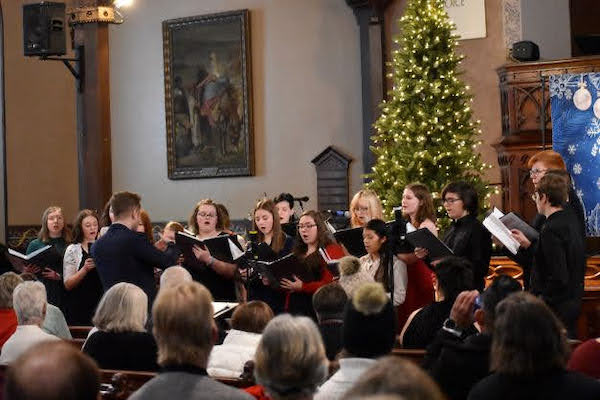 The Albion High School Choir sang "Sure on This Shining Night."
Other performers included: Gary Simboli ('81) who sang "Have Yourself A Merry Little Christmas" and "Jingle Bells"; Jason Pahura ('08) who performed "Christmas Time is Here" on his guitar; Alec Sherman ('68) who led a Christmas Sing-Along – "Joy to the World," "Hark the Herald Angels Sing," "Angels We Have Heard on High'" and "Holly Jolly Christmas."
Karen Kenney Conn ('86) also sang "I'll Be Home for Christmas." The Albion Presbyterian Church Choir, led by Pastor Sue Thaine ('86), performed "All You Are" and "Gonna Sing About a Baby."
The Albion Community Choir closed the show with the "Hallelujah Chorus" from Messiah.