Albion 4th-graders star in Wax Museum to educate about famous people
Ben Franklin, Sally Ride, King Tut among the featured personalities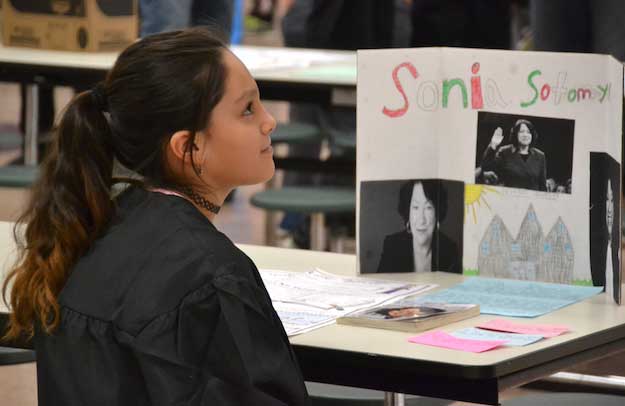 Photos by Tom Rivers
ALBION – Brianna Trejo portrays Supreme Court Justice Sonia Sotomayor during a living wax museum at the Ronald L. Sodoma Elementary School today. Sotomayor was confirmed as Supreme Court justice in August 2009. She is the first Hispanic and Latina justice on the nation's highest court.
Students in Cheryl Rightmyer's and Shani Faraci's classes did the presentations on about 40 famous people, most of them esteemed Americans. There were a few people portrayed from outside the U.S., including King Tut, Queen Elizabeth, Shakespeare, Anne Frank, Jesus and some others.
The students also helped make their costumes and brought along props to highlight their character.
The students would sit still almost like statues. After someone pressed a button, the students came to life and portrayed an influential person, either in the past or present. This is the first year the fourth-graders have tried the wax museum. Cheryl Rightmyer, one of the teachers, said she was impressed with the students, how they took on the roles of the characters and built their confidence in delivering a public presentation.