After months of uncertainty, 4-H Fair gets started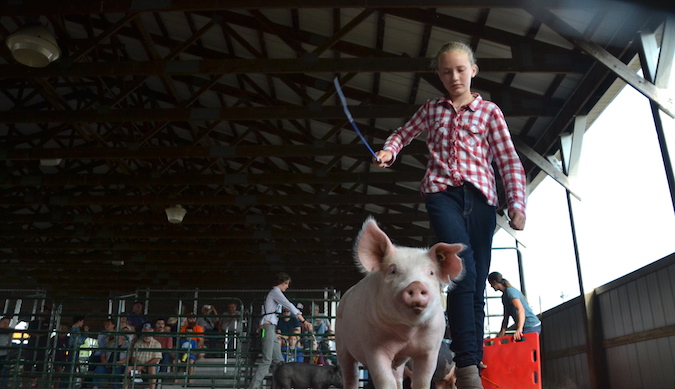 Photos by Tom Rivers
KNOWLESVILLE – Jenna Cecchini of Medina competes in the swine show this evening at the Orleans County 4-H Fair. It was one of the first livestock shows at the fair in two years.
The swine show participants use a whip for a gentle tap and brush to help keep the pigs under control and walking in the right direction.
Last year's fair was cancelled due to Covid-19 restrictions on crowd sizes. This year's fair was in doubt until the state eased the restrictions in early May.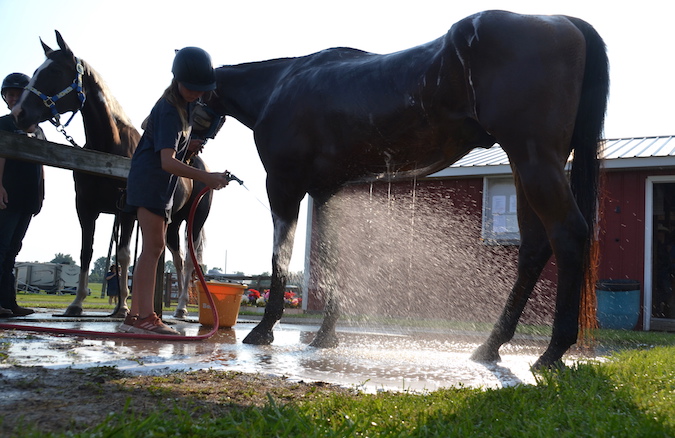 Paige Nesbitt, 11, of Albion washes this quarter horse named "Sam Roper." Paige will be competing in horse shows from Tuesday through Friday.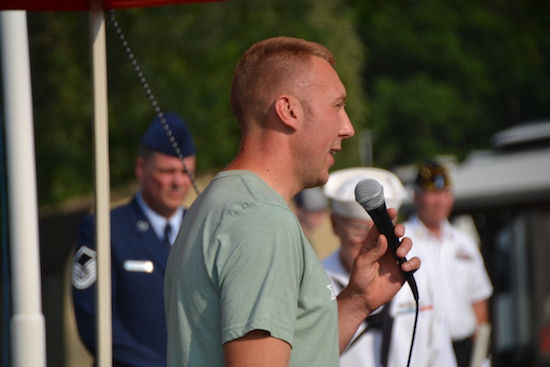 Zack Welker, president of the board of directors for the Cornell Cooperative Extension in Orleans County, speaks during opening ceremonies for the fair. He said frequently changing guidelines from the state made it difficult to plan for the fair.
He thanked a big group of volunteers, as well as Extension staff for being so committed to the event, which continues through Saturday night.
Welker, 32, is a local beef farmer and a past 4-H'er. He wanted to see the fair tradition continue for the community.
"The board all along wanted to have some kind of event, from the bare minimum to doing everything," he said about the fair. "But there were so many unknowns."
This week's fair will have the full gamut of livestock shows, food vendors, a midway and other activities.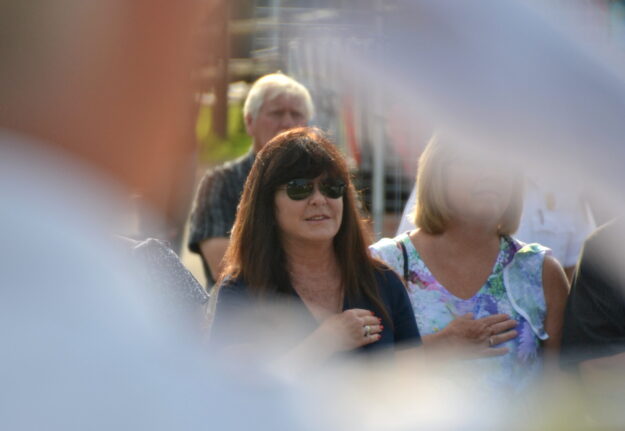 Lynne Johnson, Orleans County Legislature chairwoman, stands and acknowledges the flag while it was raised during opening ceremonies. She is pictured looking through a salute by one one the veterans.
Johnson commended the 4-Hers and their leaders for preparing for the fair.
"4-H is truly a special program," she said. "Here we teach youth about leadership, learning by doing, while focusing on theme: 'Heads, Hands, Heart, Health.'"
She encouraged the community to come out to fair and see the 4-Hers work with the animals, and their arts and food exhibits.
"Rather than focusing on ribbons, we focus on impact," Johnson said. "4-H has helped many of our youth come out of their comfort zones in beneficial ways."
State Assemblyman Steve Hawley also spoke at the opening ceremony and said 4-H is a great leadership program.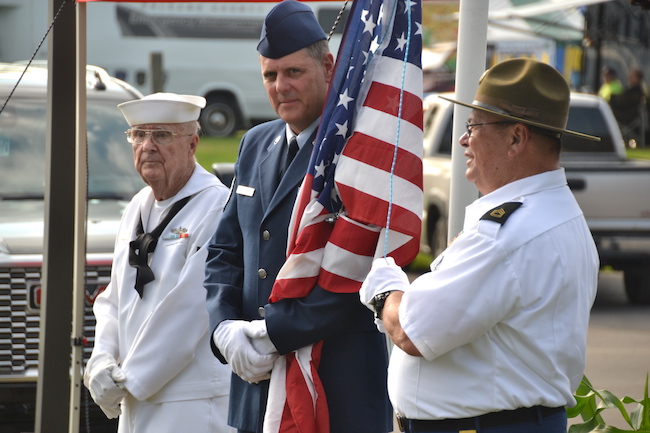 These veterans were part of the flag-raising ceremony just after 6 p.m. They include, from left: Ron Ayrault of Holley, Navy; Mark Traxler of Lyndonville, Air Force; and Tony Vicknair of Lyndonville, Army.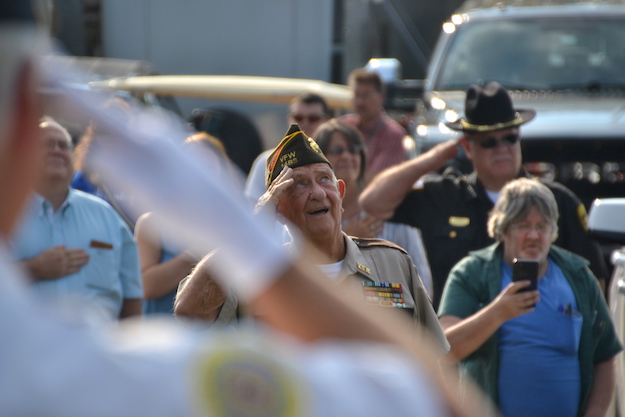 Jim Freas from the VFW in Medina watches as the flag is raised.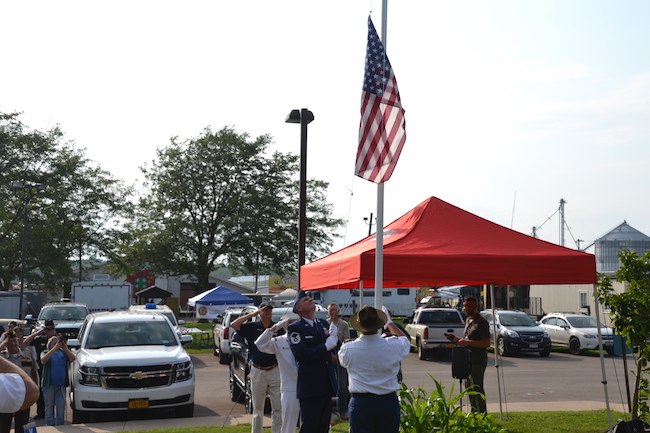 The flag is raised during the opening ceremonies, which included a presence from local veterans.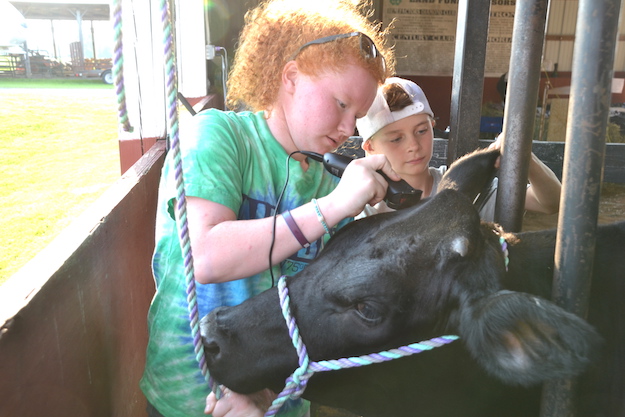 Kendall Kidney, 13, and Joey Forte, 11, work together trimming the hair on this beef cow's face and ears.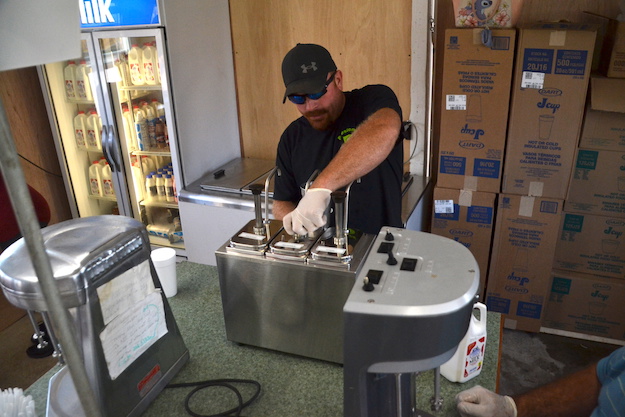 Aaron Preston volunteered in Farm Bureau's milkshake booth, which has new windows and insulation. It was still hot inside the booth.