After ice storm, area to see heavy rain, flooding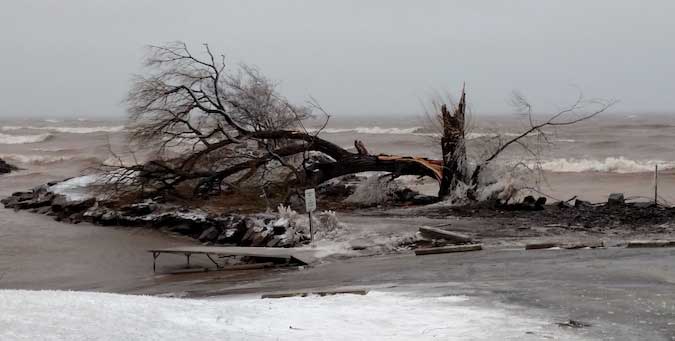 Photos by Cheryl Wertman
BARKER – A willow tree was toppled by the wind and ice storm today at Lake Ontario at the boat launch for Golden Hill State Park.
The area was spared widespread damage and power outages from the ice storm. Orleans County now will face heavy rains and flooding, according to the National Weather Service in Buffalo.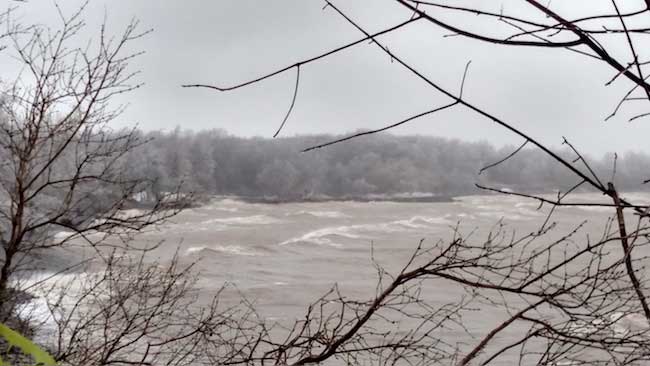 Big waves head towards the shore near the Golden Hill State Park in Barker, just west of the Orleans County line.
A flood watch is in effect for Orleans County and western New York from 1 a.m. tonight until 6 p.m. on Tuesday.
Orleans County is expected to get 1 to 1.5 inches of rain tonight and Monday. Warmer temperatures during this time will also melt any ice left on the ground which will runoff into area creeks and rivers, the Weather Service said.
Small streams and creeks, low-lying and poor drainage areas may experience minor flooding tonight through Monday. Larger streams and rivers will take longer to respond with minor flooding possible later Monday into Tuesday, the Weather Service said.
Tuesday the county could get a half inch of snow before 11 a.m. The high is forecast to reach 40 on Tuesday, and 45 on Monday.