Active Covid cases top 400 in Genesee, Orleans
Orleans goes over 4,000 cases during pandemic since last March 2020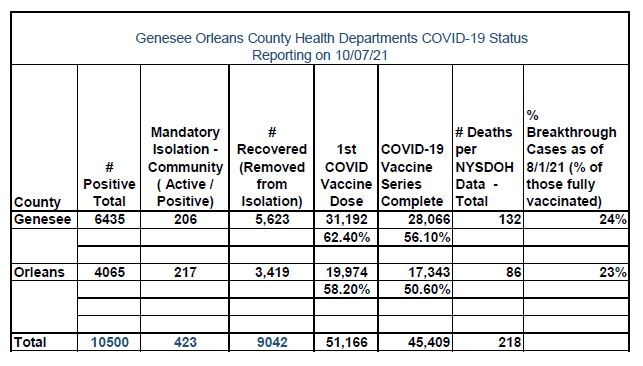 The number of active Covid cases in Genesee and Orleans counties has topped 400. The two counties are at 423 today, with 206 in Genesee and 217 in Orleans.
Both are nearing their pandemic highs for active cases. Genesee hit a high with 269 on Dec. 7, 2020. Orleans peaked at 279 on Jan. 7, 2021.
The 423 cases in the two counties is up from 358 on Monday when there were 186 in Genesee and 172 in Orleans.
Orleans is reporting 97 more cases since Monday, while Genesee has 92 more, according to the Genesee and Orleans County Health Departments.
The latest update since Monday puts Orleans past 4,000 cases during the Covid pandemic since March 2020.
The number of people hospitalized due to Covid in Orleans is up from 1 to 6 since Monday, while Genesee's Covid hospitalizations are down from 11 to 9 since Monday.
Orleans also is reported 52 more recoveries and Genesee has 72 more since Monday. These are people who have completed their 10-day isolation and been removed from mandatory isolation.