Active Covid cases spike again locally
State sets new pandemic high with 74K new cases in one day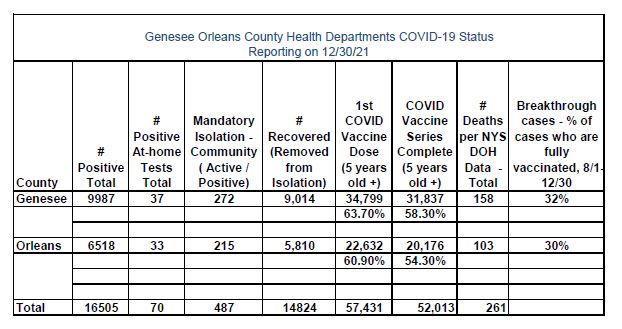 The number of active Covid cases in Orleans and Genesee counties is back on the rise after a brief reprieve.
The active cases in Orleans are up from 130 on Monday to 215 today, and from 218 on Monday in Genesee County to 272 today. (A week ago there were 211 cases in Orleans and 231 in Genesee.)
The state hit a record high for new cases in one day with 74,207 on Wednesday. Those results were reported today by Gov. Kathy Hochul's office.
That passes the 67,090 on Tuesday. Before that the record was 49,708 positive tests on Dec. 24.
New York City, with 43,985 new cases on Wednesday, has the majority of the record 74,207 cases in the state. Long Island also is seeing a surge in cases with 5,772 new cases in Suffolk and 6,861 in Nassau.
Closer to Orleans, there were 1,290 new cases on Wednesday in Monroe County, 2,252 in Erie County and 376 in Niagara. There were 66 in Genesee and 34 in Orleans.
In the past three days there have been 159 new positive cases (20 home tests) in Orleans County. There have been 66 more recoveries or people who completed their 10-day isolation and have been removed from mandatory isolation.
In Genesee, there are 219 new positive cases (34 from home tests) since Monday. There have been 155 more recoveries since Monday.
The Genesee and Orleans County Health Departments also is reporting four people are hospitalized in Orleans due to Covid and Genesee has 28 residents in the hospital from Covid.
Three residents from Genesee County also have passed away from Covid, bringing the total deaths in the county from Co vid to 158 since the pandemic started in March 2020.