Active Covid cases down nearly 100 in past 7 days in Genesee, Orleans
Recoveries outpacing new infections in 2 counties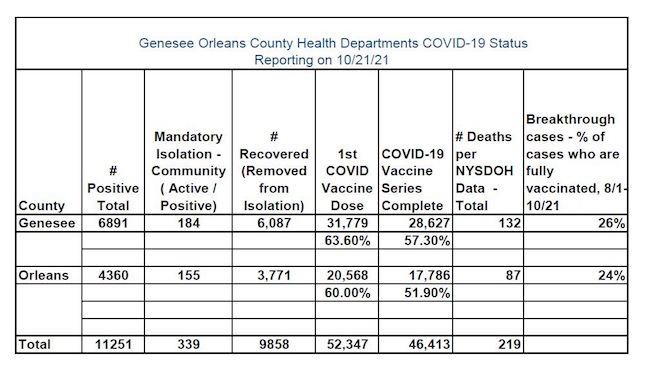 The number of active Covid cases in Genesee and Orleans counties dropped by nearly 100 in the seven days from Oct. 14 to Oct. 21, according to the Genesee and Orleans County Health Departments.
There were 432 active cases on Oct. 14 with 237 in Orleans and 195 in Genesee. Those cases were down to 339 seven days later with the active cases at 155 in Orleans and 184 in Genesee.
The counties still are seeing Covid community transmission with 68 new cases reported in Orleans and 95 in Genesee from Monday through Thursday.
However, the recoveries – people who have completed their 10-day isolation and have been removed from mandatory isolation – included 70 in Orleans and 135 in Genesee during the three days.
There are currently two Orleans County residents hospitalized due to Covid and 12 in Genesee.
A person passed away from Orleans County due to Covid in the past week. The county has has 87 residents die from Covid since March 2020. Genesee County is reporting 132 deaths from Covid during the pandemic.