Active Covid cases continue rise in Orleans, nearing all-time high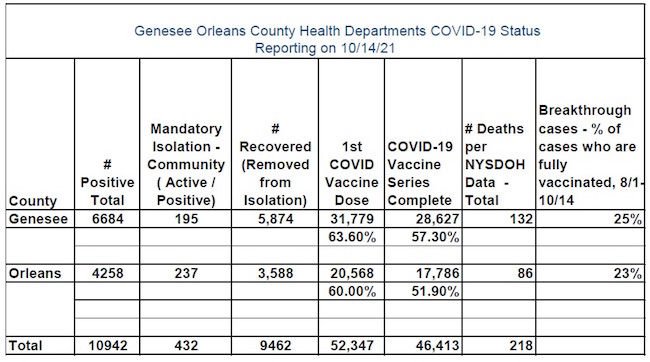 The number of active Covid cases in Orleans County continues to trend up and is getting close to passing the high during the Covid-19 pandemic.
Orleans was at 237 active cases on Thursday, up from 212 on Tuesday. The county's record high was 279 cases on Jan. 7, 2021.
Orleans reported 72 new positive cases from Tuesday through Thursday, and 47 more recoveries, or people who completed their 10-day isolation and have been removed from mandatory isolation.
Orleans currently has three people hospitalized due to Covid, according to the Genesee and Orleans County Health Departments.
In Genesee, the active cases dropped from 249 on Tuesday to 195 on Thursday. Genesee reported 99 new cases in the two days, and 152 more recoveries. Genesee currently has 12 people hospitalized with Covid.