Active cases going down in Orleans, while state sets new record high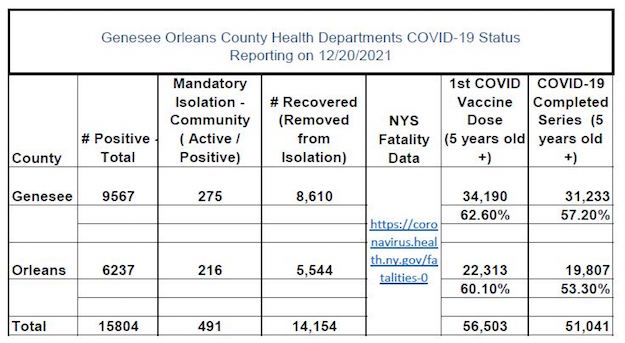 The number of active Covid cases in Orleans County is going down, from 241 on Thursday to 216 today, while the state set a new pandemic high for new cases.
The state has set a new record high for new Covid cases each of the past three days, capped by Sunday's 23,391. That surge is driven by a big increase in New York City which had 15,245 new cases on Sunday, Gov. Kathy Hochul said.
"The winter surge in Covid-19 cases is a reminder that we must stay vigilant in our fight against the pandemic," Hochul said today. "Make sure you are using all the tools that we know work in reducing the risk of transmission and serious illness: get vaccinated if you haven't yet and get the booster if you have, mask up indoors and exercise caution when in large gatherings. Let's make sure our loved ones and the most vulnerable among us this holiday season are there with us for the next and many more to come."
Orleans County is reporting 81 new positive cases of Covid since Thursday, and 103 more recoveries or previous positive individuals who completed their 10-day isolation and have been removed from mandatory isolation.
Genesee County's active cases are on the rise, up from 217 on Thursday to 275 today. The county is reporting 209 new cases and 150 more recoveries.
Orleans County currently has 12 residents hospitalized due to Covid and Genesee has 35 in the hospital from Covid.