Active caseload continues to go up in Orleans to new pandemic high
Orleans has most cases in state per 100,000 people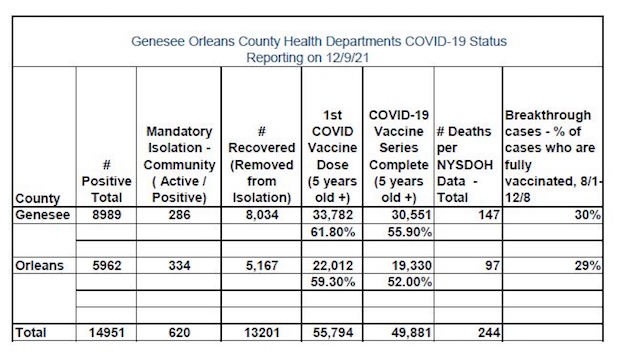 The number of active Covid cases in Orleans County set a new pandemic high today with 334. That is up from the previous mark of 329 on Monday.
Orleans County is reporting 128 more cases in the past three days, and 123 recoveries or people who completed their 10-day isolation and have been removed from mandatory isolation.
Orleans leads the state with the most daily cases per 100,000 people on a 7-day average at 106.2. That is more than twice the state average of 49.0.
Steuben is second at 105.6 with Genesee at third highest with 105.3. There are 62 counties statewide. Others with more than 100 cases daily per 100,000 people on a seven-day average include Herkimer at 102.6, Delaware at 102.0, and Washington at 101.5.
The positivity rate in the state over 7 days is 4.8 percent. Allegany County currently has the highest positivity rate at 13.4 percent over 7 days, with Genesee second highest at 12.5 percent. Two counties are at 12.4 percent — Lewis and Chautauqua – and Orleans is fifth highest at 12.2 percent.
The active cases also are up in Genesee with 286 today compared to 226 on Monday. Genesee has 197 more cases in three days, compared to 131 more recoveries.The combined caseload of 620 in Orleans and Genesee trails the pandemic high of 633 on Nov. 22.
Genesee also suffered the loss of two more residents, both over 65, bringing the total deaths during the pandemic due to Covid to 147.
Genesee currently has 35 residents hospitalized from Covid and Orleans has 13 in the hospital.