About 800 attend first blues concert at State Street Park in Medina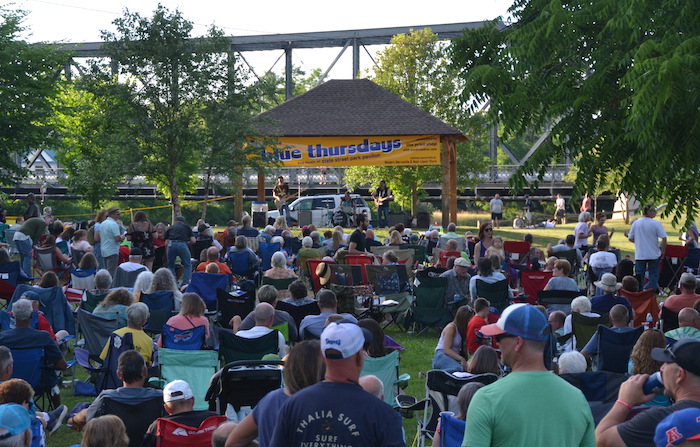 Photos by Tom Rivers
MEDINA – The Dave Viterna Group performed for about 800 people this evening in the first concert of a six-week "Blue Thursdays." (A drone with software to estimate attendance put the crowd size at 788.)
The free summer concerts are the pavilion at State Street Park.
The pavilion was erected in 2019 and has been used for some concerts and events, but not a concert series yet. Chris Busch, chairman of the Orleans Renaissance Group, said the pavilion organizers were envisioning a series at the site when the pavilion was erected but Covid-19 wiped out those plans in 2020 and 2021.
"That's what we built this for," Busch said this evening, scanning the large crowd. "To do this."
He and Ken Daluisio of The Print Shop received many congratulatory text messages during the concert, thanking them for helping to make the event a reality.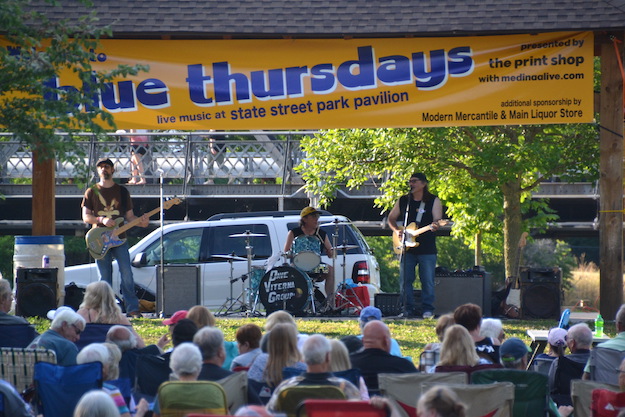 The Dave Viterna Group includes lead singer and guitarist Dave Viterna at right, "Scooter" Felice on drums and Marty Hobbs as bass guitar. They are from Medina. They play all over Western New York. Tonight, they had a very close drive for their gig.
The Print Shop and Orleans Renaissance Group, Inc./medinaalive.com, both of Medina, organized the concert series with support from to Gloria Brent, owner of Modern Mercantile and Main Liquor.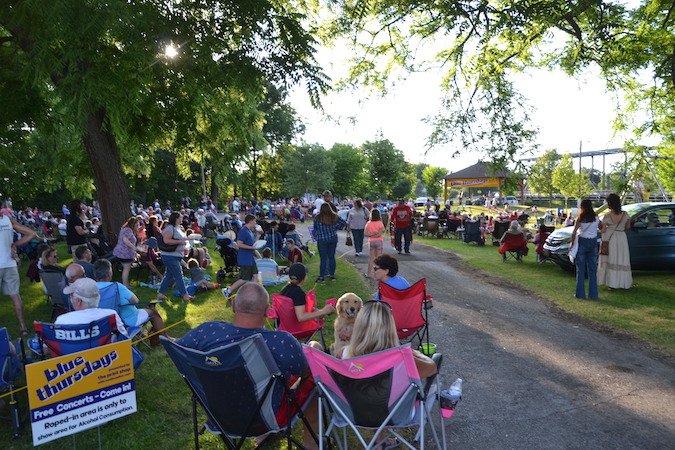 The shaded areas near the trees were popular spots for many concert-goers, who brought their own lawn chairs. Some even enjoyed the music with their pet dogs.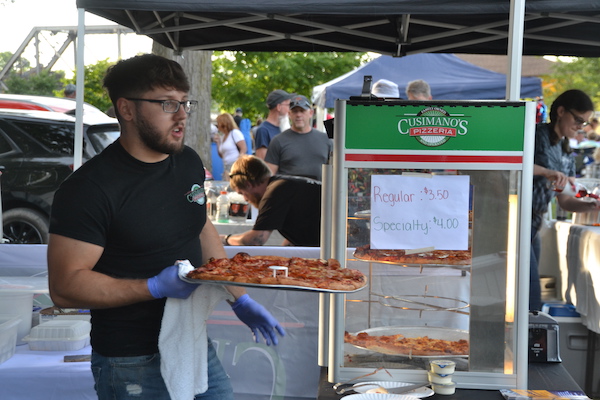 Vassilios Bitsas serves a slice of pizza for Cusimano's Pizzeria in Medina. The business is owned by his father James Bitsas. They were very busy during the concert.
They were among several food vendors at the event, which  also included alcoholic beverages from Leonard Oakes Estate Winery and 810 Meadworks.
The concerts from 6:30 to 8:30 p.m. The line-up for the remaining events includes:
July 14 – Frank Grizanti Band
July 21 – Jeremy Keyes Band
July 28 – Growlers Blues Band
August 4 – Dave Constantino Band
August 11 – Maria Aurigema