A century ago, Albion students showcased talents with written word, art in literary magazine
By Catherine Cooper, Orleans County Historian
Illuminating Orleans, Vol. 2, No. 41
ALBION – A century ago, Albion High School students produced several annual Christmas editions of their literary magazine, The Chevron. The covers feature student submitted artwork evocative of the 1920s.
The Chevron was first published in 1912. The editorial in that first issue acknowledged that the name "Chevron" was new and unfamiliar and explained that it had been selected because it symbolized an ideal.
In medieval times apparently, a knight's shield would be adorned with a representation of the rafters of a house to signify an accomplishment. Later, this inverted V-shaped design was used on badges or insignia to denote rank, hence the selection:
"As the chevron of old meant honor to a knight, so we hope to make this paper an honor to the school."
Students contributed the material included in these publications. Their youthful optimism and humor shine through.
The Literary Section contains whimsical, imaginative fiction and poetry. There are club notes, alumni roundups, poetry, sports summaries and even several pages of jokes which tend to rely heavily on puns:
Teacher: Name the Tudors
Student: Front door and back door (1925)
Chester Sledzinski contributed The Faculty Banquet, a brave parody of Longfellow's Song of Hiawatha to the 1925 issue:
By the shores of Lake Ontario, by the shining big lake water,
Stood the Superintendent Bergerson, big chief of the Albion High School.
Dark behind him rose the forest, rose the black and gloomy pine trees….
The poem describes a fictional banquet organized by Chief Bergerson and his wife to make the teachers "better natured", and "appease their savage tempers". Name references to the teachers throughout the poem would no doubt have amused the readers and, one hopes, the teachers.
The 1925 issue also includes a stirring account of a football game between the "fighting Albion" team and Medina, it's "ancient foe", held in Medina on Thanksgiving Day, under perfect weather conditions and before a record crowd of 2,000. The Albion team met "a not inglorious defeat" but vowed with grim determination to seek future triumph.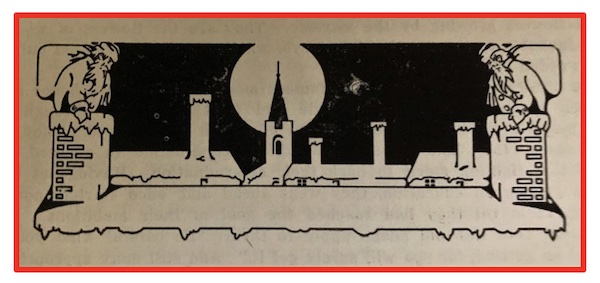 Among the many treasurers we discovered in these early Chevrons was a poem in the 1916 issue which conveys the worries and darkness of that time. It was composed by a then 18-year-old Cary Lattin, who was later Orleans County Historian, from 1958-1974.