Carlton firefighters, in first banquet in 3 years, celebrate service to community
84-year-old firefighter again leads Carlton in responding to most calls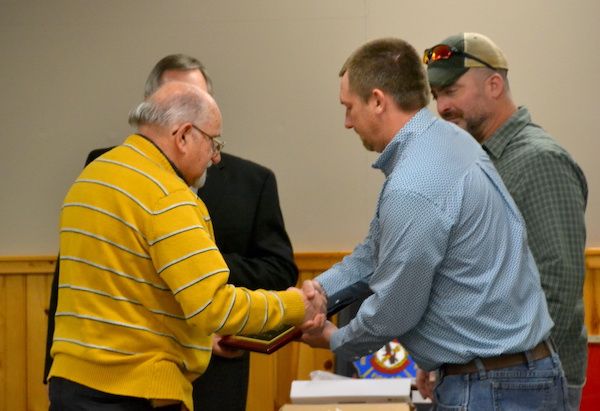 Photos by Tom Rivers
CARLTON – Richard Brakenbury, left, is congratulated by past Carlton Fire Chief Andrew Niederhofer after Brakenbury won the Chief's Award for 2021.
Brakenbury, 84, is one of the Carlton Volunteer Fire Company's primary drivers. He has led the fire company for responding to the most calls for at least the past two years, and has been among the most active firefighters for decades.
He responded to 168 calls in 2020 and more than 50 percent of the department's 300-plus calls in 2021. He lives next door to Station 1 in Waterport on Waterport-Carlton Road and is often the first at the fire hall for a call.
"I just like doing it," Brakenbury said. "It gives me something to do."
He still gets up in the middle of the night for some of the calls. He drives the fire company's pickup truck for emergency and fire calls.
Brakenbury is a Kodak retiree and a Carlton firefighter for 65 years. He takes annual driver training.
He said Carlton has many long-time dedicated firefighters. He also is encouraged by a new group of younger members.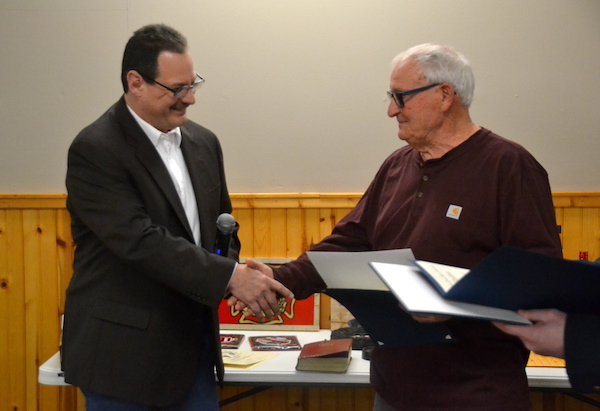 Orleans County Legislator John Fitzak, left, presents a commendation to Martin VanWyke in honor of his 60 years as a member of the Carlton Volunteer Fire Company. VanWyke remains an active member as one of the primary drivers.
His sons are also long-time members with Kurt at 35 years and Gary at 30 years. VanWyke also received certificates from the offices of State Sen. Rob Ortt, Assemblyman Steve Hawley and the Firefighters Association of New York State.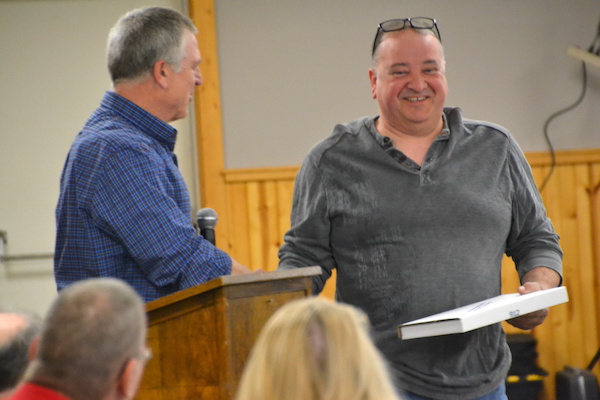 David Starkweather, right, receives the President's Award from Ed Cooper, the fire company president. Starkweather was praised for his efforts leading recent renovations to the Carlton Rec Hall. He manages the kitchen and bar for the site that hosts about a dozen events a year.
Starkweather said new windows will be going on the west side of the building as part of an exterior remodel.
He volunteers about 40 hours a week at the rec hall. He is recently retired as a tugboat captain for the Canal Corp.
"He always has great enthusiasm," Cooper said about Starkweather. "He is willing to tackle any job."
Fire Company Officers for 2022: Ed Cooper, president; Richard Brakenbury, vice president; Valerie Niederhofer, secretary; Tom Yockel, treasurer; and the following as directors – Martin VanWycke III, Jocelyn Yockel, David Starkweather, Jacob Marks, Robin Hughson and Robert Brown III.
Line Officers for 2022: Dale Niehaus, chief; Andrew Niederhofer, first assistant chief; Seth Dumrese, second assistant chief; James Fisher, captain; Matt Hughson, first lieutenant; Noah O'Kussick, second lieutenant; George Snell, Jr., chief mechanic; Ed Cooper, chaplain; David Bertsch, EMS coordinator; Robin Hughson, EMS captain and Terry Williams, Fire Police captain.
Ladies Auxiliary: Debbie Yockel, president; Liz Janus, vice president; Cindy Micalizio, secretary; Gayle Ashbery, treasurer; and trustees – Pam Boyer, Cheryl Denson and Jenna VanWyke.
This was the first Carlton Volunteer Fire Company banquet since 2019 after the events were cancelled in 2020 and 2021 due to Covid-19 restrictions and concerns.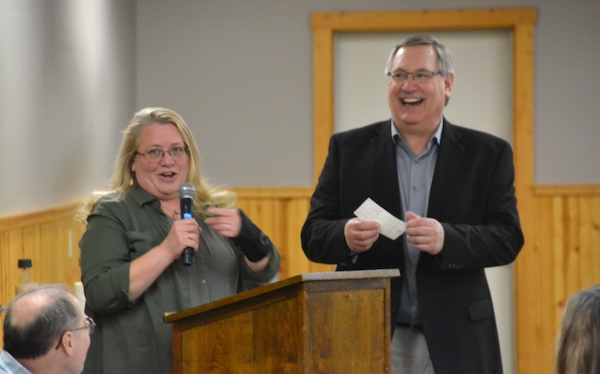 Debbie Yockel, president of the Ladies Auxiliary, presents a check for $1,000 to Fire Chief Dale Niehaus to be used for the fire company.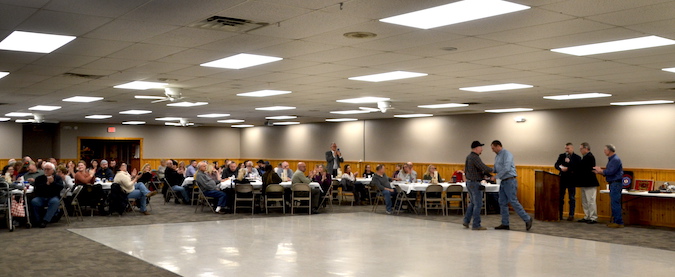 Matt Hughson receives a gas card in appreciation for responding to calls in 2021. Andrew Niederhofer presents the card. Other firefighters also received gas cards for their service.