800 participate in Medina's Wine About Winter
MEDINA – A ton of snow and cold weather didn't dampen the spirits of 800 people who descended on the village Saturday for the 14th annual Wine About Winter.
Members of the Medina Area Partnership, which sponsors the event, took over the Medina Senior Center as a welcome center, where participants were ID'd, picked up their wine glass and purchased tickets for a basket raffle. Baskets were displayed in participating stores.
To better control the crowd, start times were staggered from 1 p.m., 2 p.m. and 3 p.m.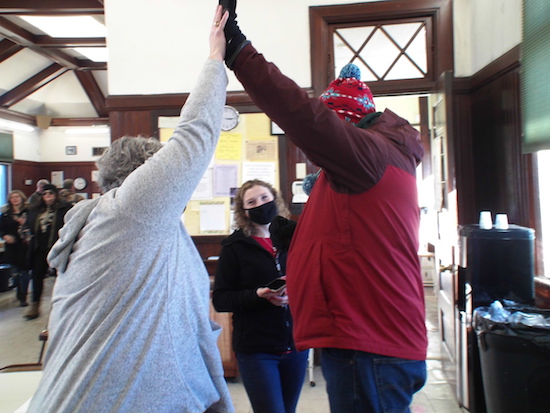 Wine glasses were sponsored this year by Cooper Funeral Home and Modern Mercantile, whose owner Gloria Brent was mingling with the visitors.
"Oh yeah, my store is participating," Brent said when she visited the Senior Center. "It's like a big party at my store."
Dan Fuller was helping at the Senior Center, while his wife Sue was running her store, Della's Chocolates. He couldn't say enough about what a wonderful event it was and how great to see so many people come to town.
The Medina Area Partnership was especially happy to be having the event, as last year's was canceled due to Covid. Proceeds from the event go toward other events to promote the Medina area.
At the Medina Historical Society on West Avenue, Georgia Thomas and her crew of Shirley Bright and Le Roy Neeper, Gloria Fierch and Erica Wanecski had a wonderful time with the hundreds who visited them.
"We had a marvelous turnout," Thomas said. "You could just tell people were so ready to be out having fun with their friends. It was cold, but sunny and people were having a ball. They loved my stuffed animal display from Christmas and a lot were agog at our military room. They were also fascinated by the wine glasses I had out from 1880. They were a lot smaller than the ones today."
The Historical Society was serving a berry wine from Black Willow Winery on Route 18, called Black Widow. Except for a couple of guys who preferred a dryer wine, Thomas said the Black Willow wine was a big hit.
Throughout the day, the sidewalks of Medina were filled with people. Participating stores were identified by balloons placed by MAP's event committee.
"From the standpoint of MAP, this was another strong showing for Medina," said MAP president Scott Robinson. "It once again showed the popularity of the Wine About Winter event. Even with near single digit temperatures, 800 individuals were out to support the local business community and taste some amazing wine."
The year ahead is going to be exciting, Robinson added. More events are being planned and people will definitely be seeing and hearing a lot more about Medina and our business community.