7 take the 'Murph Challenge' to honor fallen soldier on Memorial Day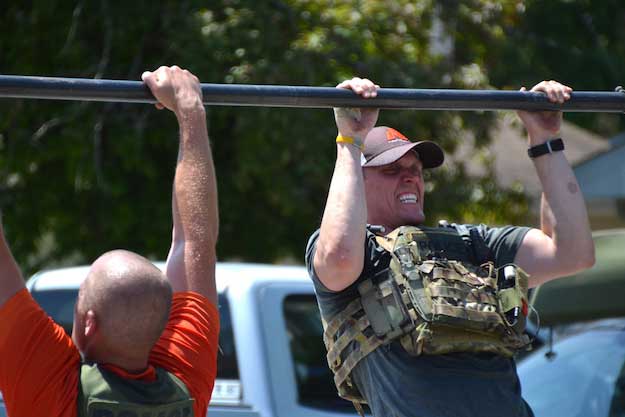 Photos by Tom Rivers
LYNDONVILLE – These two state conservation officers – Vern Fonda, left, and Nate Mead – were among seven people to complete the "Murph Challenge" on Memorial Day in Lyndonville.
Fonda, a Lyndonville resident, has organized the event the past two years in Lyndonville by the Yates Community Library. Participants wear a 20-pound vest or armor and start the challenge by running a mile, and then must do 100 pullups, 200 pushups, 300 squats and one final 1-mile run.
The Murph Challenge has been an annual event for more than a decade and is a fundraiser of the LT. Michael P. Murphy Memorial Scholarship Foundation. Participants pay a $45 fee and their times and entered into a database. Torry Tooley, an Orleans County deputy sheriff, completed the challenge in 27:19.82, which is in the top 10 in the country. Many of the participants are law enforcement officers and active duty soldiers.
Michael P. Murphy was a United States Navy (SEAL). He was 29 when he was killed in Asadabad, Afghanistan on June 28, 2005. LT. Michael Murphy was posthumously awarded the Congressional Medal of Honor on October 27, 2007.
Murphy would push himself with fitness challenges, including the tasks in the "Murph Challenge."
Townsend has completed 12-mile "Tough Mudders." The Murph Challenge was difficult, especially with temperatures in the mid-80s on Memorial Day.
"I do it for the challenge," Townsend said.
He also wanted to support the cause – scholarships for children of fallen soldiers.
Nate Mead, a conservation officer in Cattaraugus County, completed the challenge in 46:02.33. He had a big blister on his right hand from the pullups.
He wanted to do a physically exhausting challenge on Memorial Day, to pay tribute to the soldiers "who had it a lot worse than we did."
Fonda agreed that the challenge is a way to pay homage to fallen soldiers, such as Murphy, by offering some pain, sweat and tears. He made it through the challenge in 52:30.11.
"It's grueling, but I can hurt for one day a year," Fonda said.
Lucas VanDervort, a Brockport police officer and medic with COVA in Albion, said there is a fellowship among the participants, knowing that so many around the country are pushing themselves to finish the challenge.
"It's a way to honor the veterans who sacrificed so much for us," he said.
For more on The Murph Challenge, click here.