7 field bands put on a show at Medina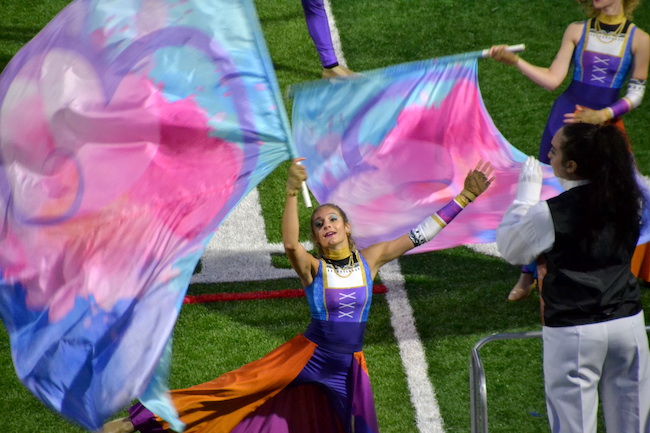 Photos by Tom Rivers
MEDINA – A member of the color guard at Lancaster performs during Saturday's "Fall Festival of the Bands" competition at Vets Park in Medina.
There were seven field bands at the competition including the Pride of Rochester, Marcus Whitman, Hilton, West Seneca, Medina, Lancaster and Jamestown.
About 1,000 people attended the event, which returned last year after being cancelled in 2020 due to the Covid-19 pandemic.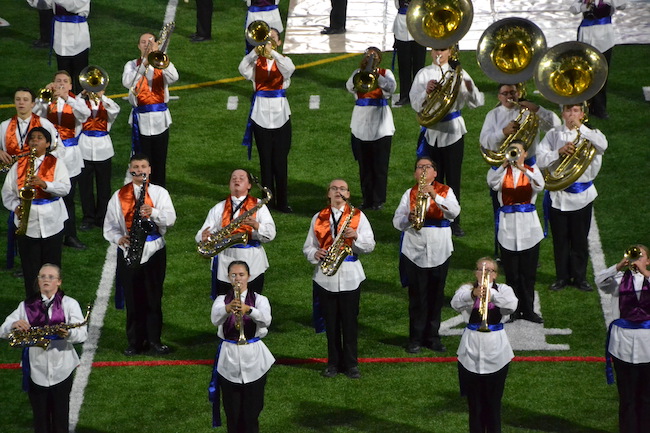 Lancaster performed a show with the theme of "Eyes of Surprise." Lancaster utilizes both traditional folk songs and original music to explore the many moods expressed by eyes.
Lancaster was second in National Class on Saturday with a score of 78.90.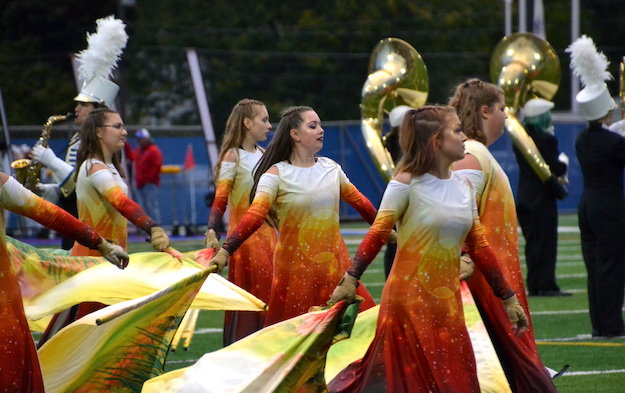 The West Seneca Marching Band performed a show called "Lux Solaris." It was based on the beauty of the sun and takes the crowd through a full day of sunshine, a luminous sunrise, through the bright and energetic morning, a gorgeous afternoon and a glorious sunset.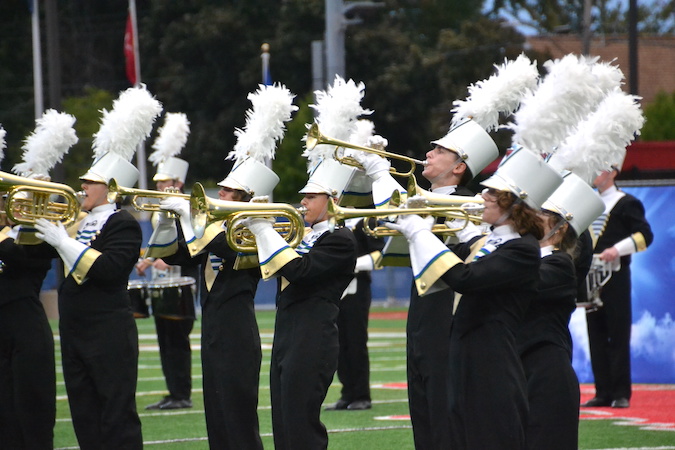 West Seneca earned first in Large School 2 at 75.95 points.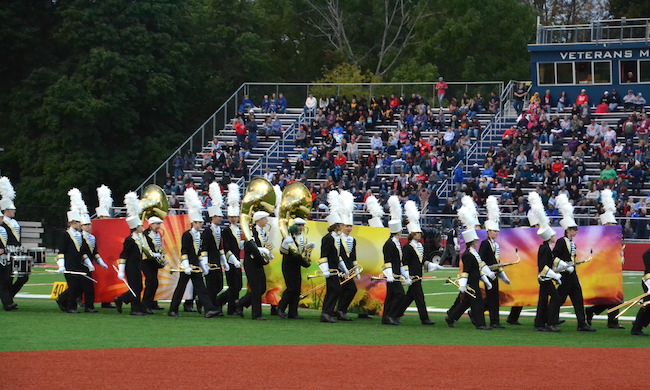 The West Seneca band walks off the field at Vets Park after their performance on Saturday.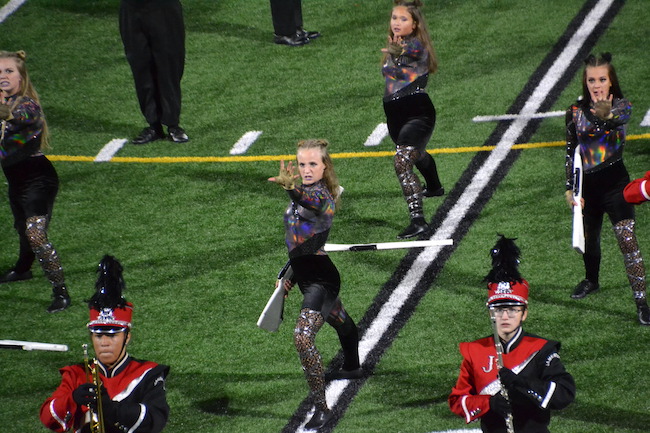 Jamestown performed "Lunar Odyssey." The show imagined what the dark side of the moon would look, feel and sound like. The band tried to make the crowd imagine what it what be like to explore this mysterious side of the moon.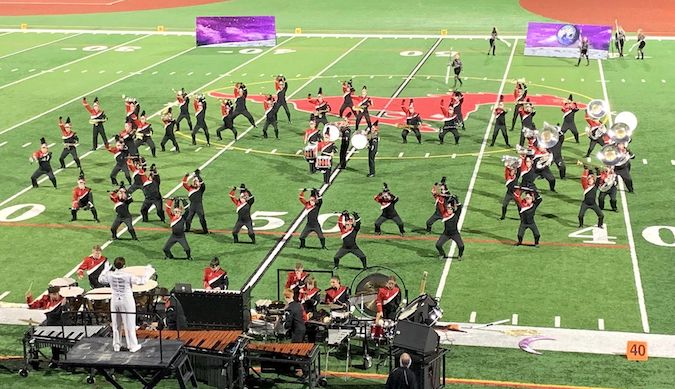 Jamestown earned first in National Class at 79.0 points.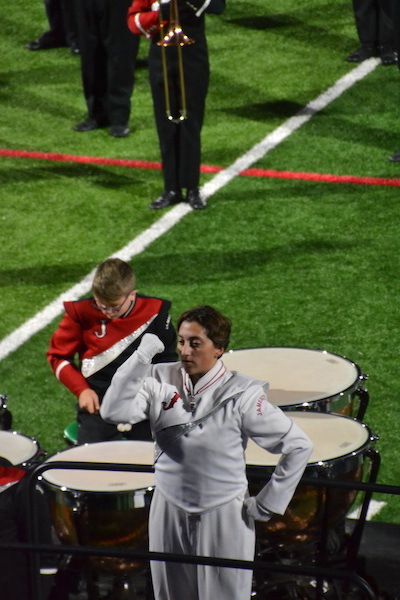 Jamestown's Drum Major Juliana Yanik acknowledges the crowd and judges.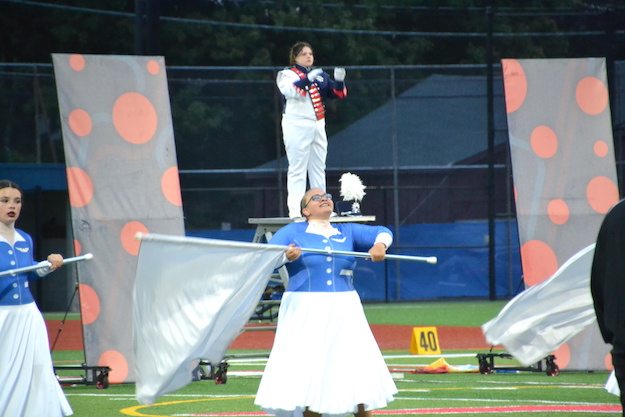 Medina posted the top score of the evening at 81.05. That was also first place in the Small School 1 division, and also higher than the larger schools in the competition.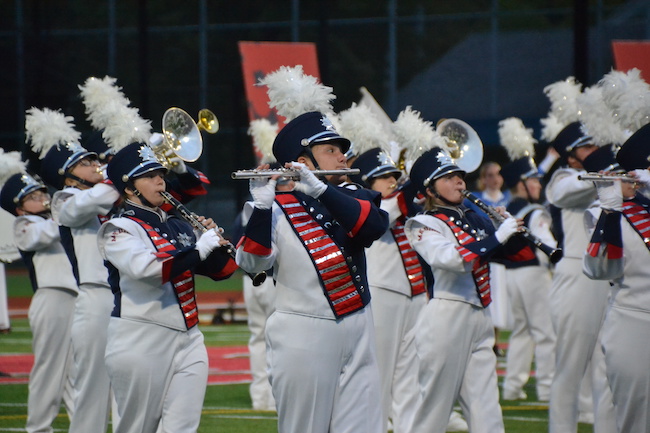 The Medina show is "Take to the Skies." It is a voyage amongst the clouds that are experienced when traveling through the air on a flight to and from a dream destination during the Jet Age of aviation.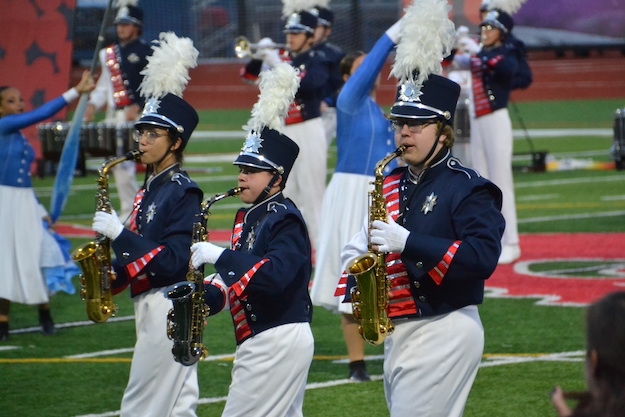 There are four movements in the Medina show – Taking Off, Amongst the Clouds, Arriving at Your Destination, and Returning Home.
Three other field bands also performed Saturday in Medina. Hilton was first in Large School 1 at 71.40; Marcus Whitman was first in Small School 3 at 69.35; and The Pride of Rochester was in exhibition and wasn't scored.
The Pride of Rochester did a show based on "Motown Melodies," featuring iconic Motown performances including by the Jackson Five, and "Please Mr. Postman" by the Marvellettes.
Marcus Whitman's show was based on the music of West Side Story while Hilton presented a baseball-themed show called "Batter Up!"