Work gets started on replacing roof of historic chapel at Hillside Cemetery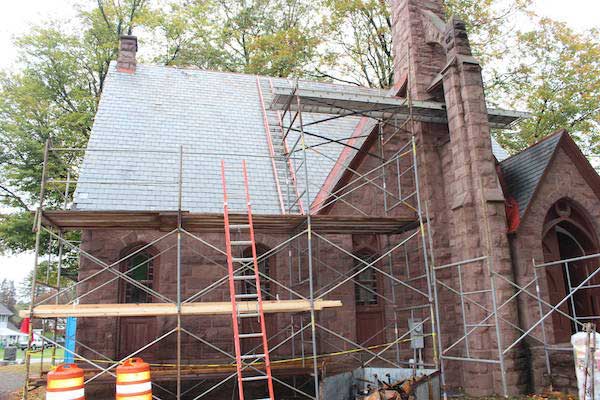 Photos courtesy of Melissa Ierlan
CLARENDON – Workers from Leo J. Roth in Rochester have started working on the roof at the historic chapel at Hillside Cemetery, just south of the Village of Holley.
Roth will be removing slate shingles and installing new ones. The roofing company will place new copper in valleys on the roof and also will be replacing a rotted section of the roof near the flying buttress by the main entrance of the building. The project will cost about $80,000.
A state grant is covering half of the bill, while donations and fundraisers are paying the local match.
The chapel and cemetery are owned by the Town of Clarendon. The state in December 2015 approved a $126,210 grant for work on the chapel.
In addition to the roof, the chapel will have windows repaired and other restoration work. The roof repair is the first of the projects, and the most critical for keeping water from seeping in and damaging the stone masonry, said Erin Anheier, secretary of the Clarendon Historical Society. She also took the lead in writing the grant for the project.
The community stepped up with donations and supported numerous fundraisers to cover the local share for the restoration and repair of the building, which was constructed in 1894. The cemetery is listed on the National Register of Historic Places. The chapel a year ago was inducted into the Medina Sandstone Hall of Fame.
The Clarendon Historical Society has pushed to apply for the state grant, and raise the local share for the project.
The society would like to see the restored building used for community events, including concerts, lectures, arts and crafts fairs, family reunions, small weddings and funerals.
The building is a landmark on Route 237, leading into the village.
"It sets the tone as you enter Holley and see the other sandstone structures," Anheier said. "It really sets the ambiance of what the Victorians were trying to achieve with their rural cemeteries."
The town will be seeking bids from contractors to restore the windows at the chapel. Once the roof and window projects are done, Anheier said the building will be weather tight and the focus will shift to interior improvements.