500-plus kids attend Easter egg hunt at courthouse lawn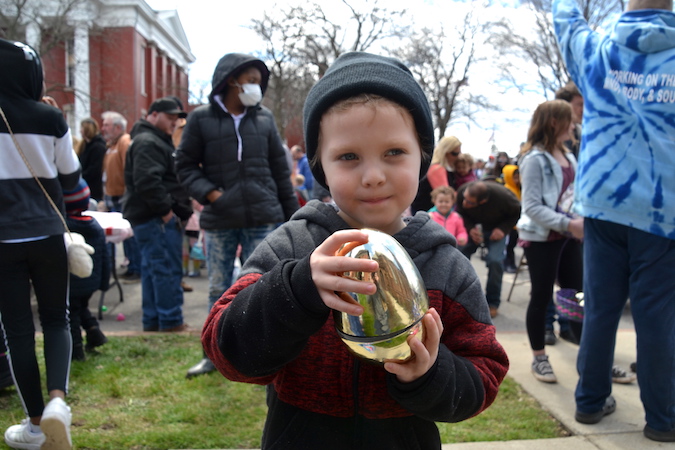 Photos by Tom Rivers
ALBION – Timmy Ficarella, 4, of Warsaw holds one of the nine golden eggs in today's Easter egg hunt on the courthouse lawn.
The Royal Body Shop Outreach Ministries, a church that meets at the Arnold Gregory Office Complex, had 3,000 eggs scattered on the lawn for children.
Kids with one of the nine big golden eggs could win larger prizes including a bicycle or scooter.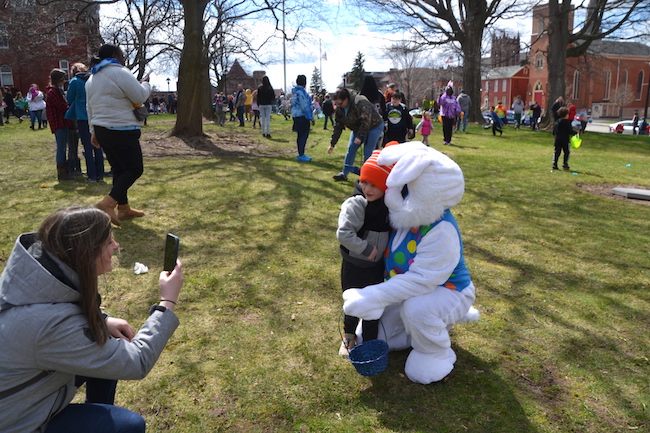 The Easter Bunny hugs Joshua Bennett, 4, of Albion while his mother Jamie Bennett gets a photo.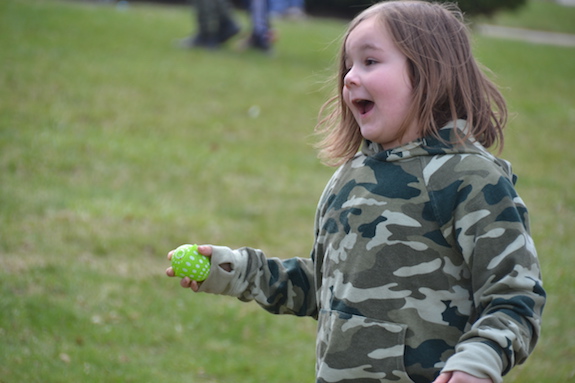 Wallace McHenry, 6, of Holley is happy after finding an egg with a treat inside.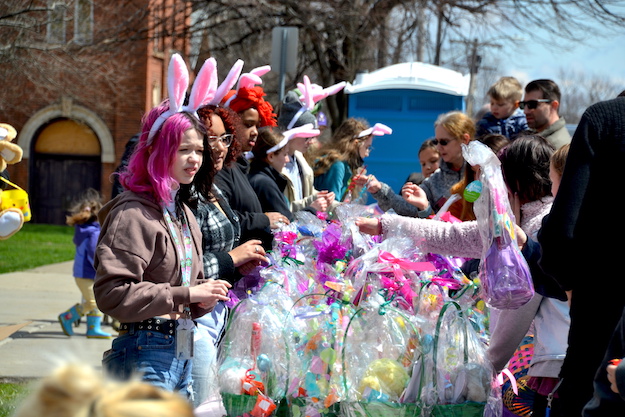 Student volunteers helped distribute 150 Easter baskets after the egg hunt.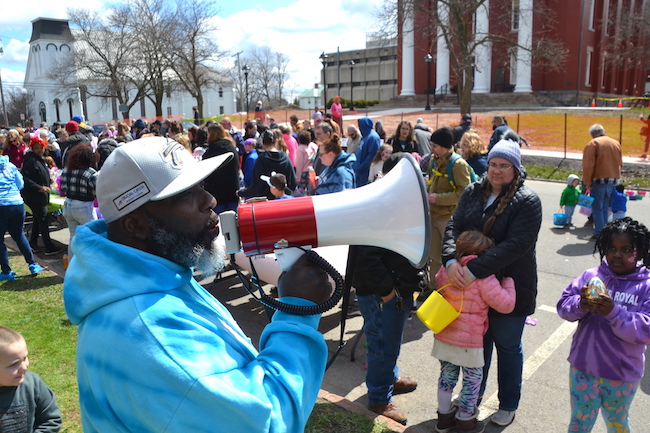 Pastor Albert Wilson of the Royal Body Shop Outreach Ministries welcomes families to the egg hunt. He was pleased to see so many kids. He thanked Arnold's Auto Parts and the Masonic Lodge in Albion for their support of the event.
"It's all about family," Wilson said. "It's bringing back activities. This is just a start of what God is allowing us to do in Albion, and more is coming."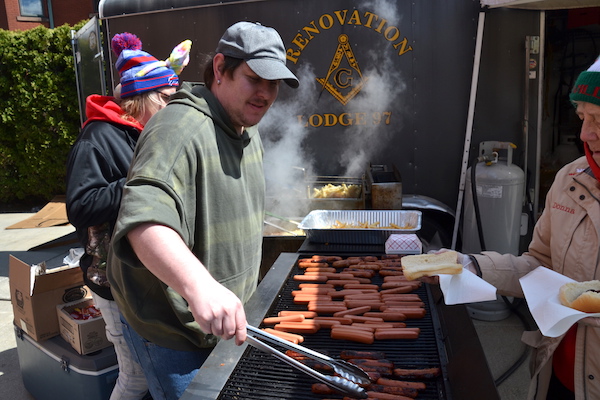 Matt Hollenbeck of the Masonic Lodge cooks hot dogs. The Masons gave away 500 hot dogs and 600 orders of French fries.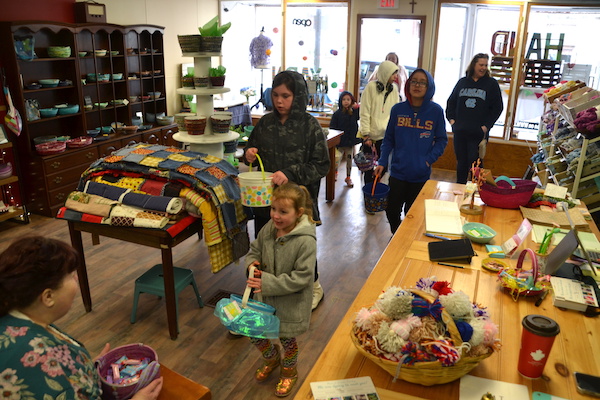 Before the Egg hunt, about 15 Albion businesses hosted an egg scavenger hunt with businesses handing out to treats to kids. Laura Kemler, owner of Laura Loxley's, hands out Kit Kat candy bars to these siblings – Julie, Mollie and Andrew Westenfeld of Barre Center. More than 200 kids stopped by the businesses in the "Easter Hop."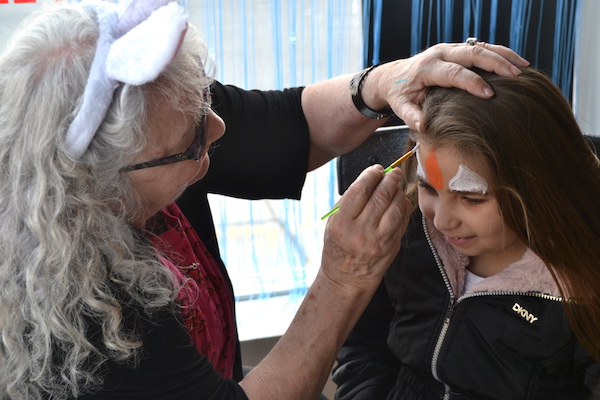 Allie Snitzel, 10, of Albion gets her face painted by Brenda Nanni at the Coffee Joint.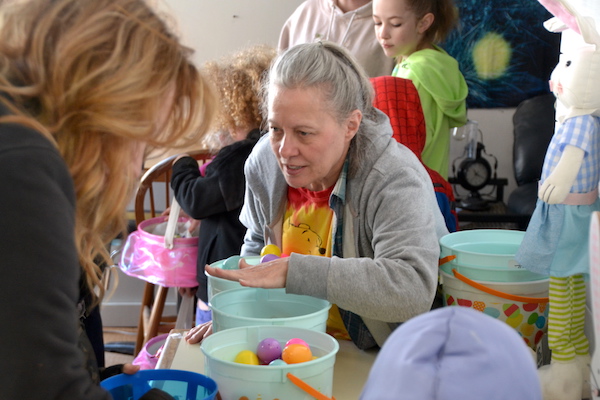 Karen Mogle of the Coffee Joint hands out plastic eggs of candy.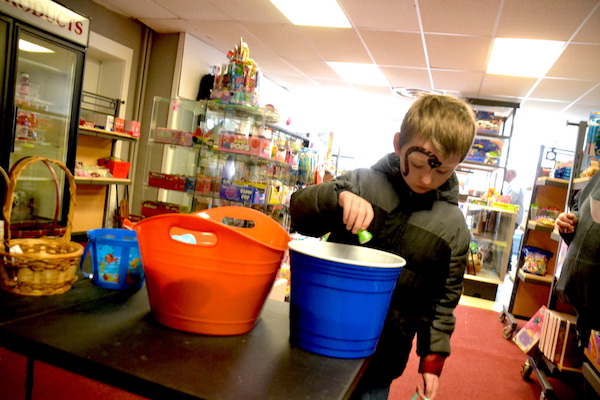 Carter Annecharico, 7, of Medina gets treat at Toyz n Kandy as part of the Easter Hop. He also visited the face-painting artist for some snake artwork.