500-plus attend benefit to support Shelby firefighter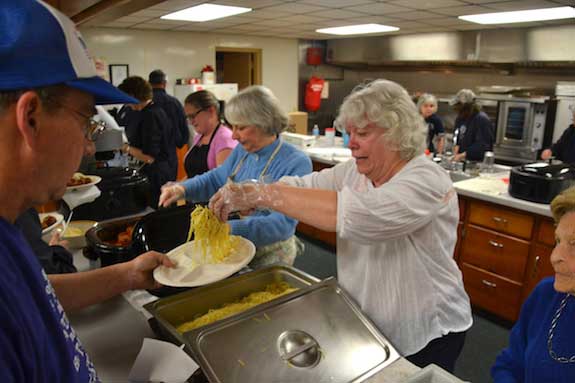 Photos by Tom Rivers
SHELBY – Karen Mix, a member of the East Shelby Community Bible Church, serves up a plate of spaghetti during a benefit today at the Shelby fire hall for John Seefeldt.
More than 500 people attended the dinner and basket raffle to benefit Seefeldt, who is battling a rare lung condition known as CTEPH, or chronic thromboembolic pulmonary hypertension.
Seefeldt, 42, missed the benefit because he is in Strong Memorial Hospital in Rochester. He is hoping he can go to a hospital in San Diego to be treated for the rare condition.
The benefit for Seefeldt was put on by the Shelby Volunteer Fire Company, the East Shelby Community Bible Church and the Masonic Lodge in Gasport. Seefeldt is a member of all three organizations.
"This is amazing," said Amy Seefeldt, John's wife. "It's overwhelming."
Her husband was diagnosed with CTEPH in 2010. "He's a fighter," Mrs. Seefeldt said about her husband. "We take it one day at a time, sometimes one hour at a time, but we get through it."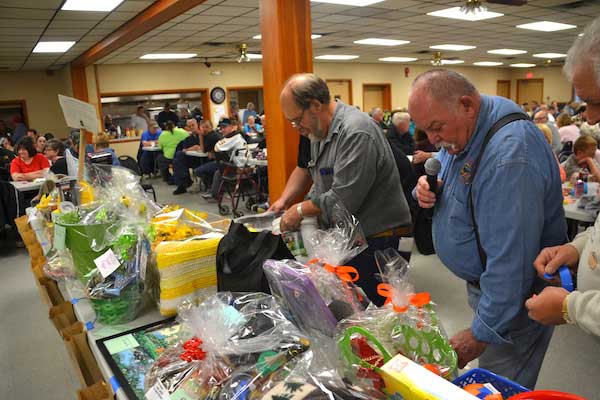 There were about 200 baskets and items up for raffle. Bob Kelly, Seefeldt's uncle and a member of the Masonic lodge in Gasport, calls out the winning tickets in the raffle.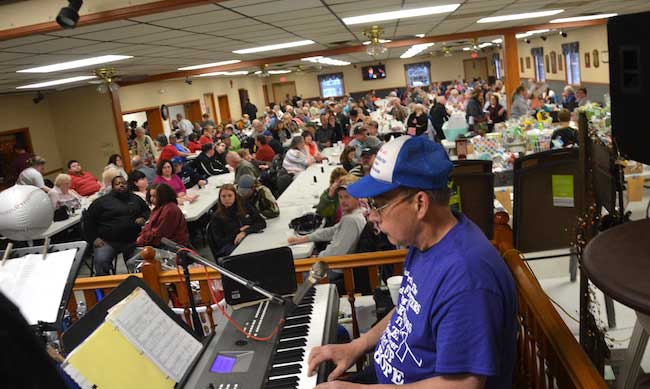 Rob Robinson plays the keyboards for the crowd at the Shelby fire hall. Robinson in 2014 started "A" Blues Band. Robinson at the time was fighting cancer. The Medina resident lined up four bands for today's benefit. Besides his band, the Boone's Farm Band from Spencerport, the Dave Viterna Group from Medina and Creative Spirit all performed.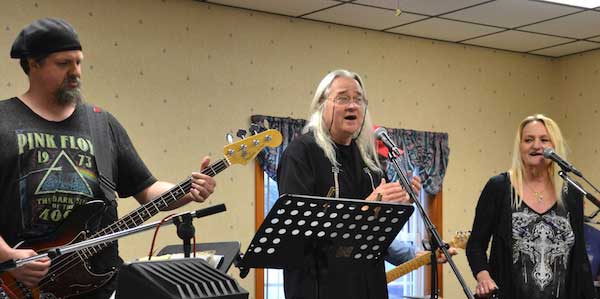 This group performs "I'll Fly Away." The bass guitarist is Nick Goodwin from Medina, a member of "A" Blues Band, and John and Carol Ralicki of Olcott, members of Creative Spirit.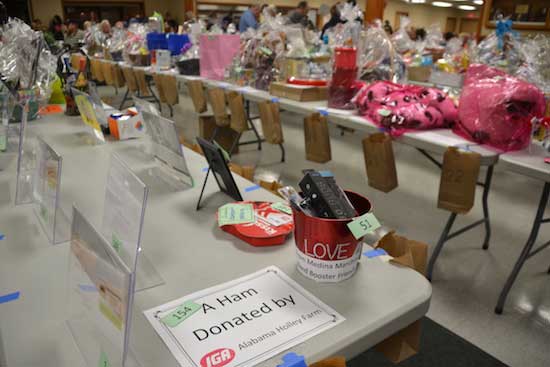 Many local businesses contributed to the basket raffle.
Tim Petry, president of the Shelby Volunteer Fire Company, was pleased to see so many people come out on a rainy day.
He said Seefeldt, a life member of the Fire Company, is well liked by many in the community.
"Anytime a fireman has an issue, people step up," Petry said. "John also has support from his church and the Masons."