5 dogs complete obedience training at Orleans prison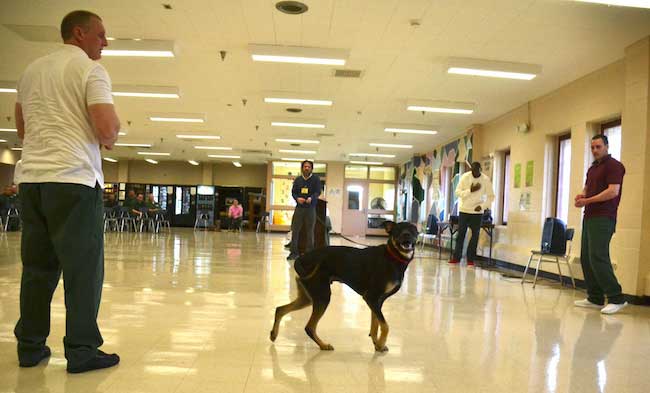 Photos by Tom Rivers
ALBION – The Orleans Correctional Facility celebrated the third graduation today for a canine training program. Five dogs – Danielle, Jared, Champ, Conrad and Spot – completed the 12-week program. Nine inmates served as handlers for the dogs, which stayed in one of the dorms.
The top photo shows Conrad, one of the dogs, showing his skills. The dogs and inmates are all screened to participate in the program.
The animals are rescue dogs from a shelter in Tennessee, which then sends them to the Genesee County Animal Shelter in Batavia.
Tom Ryan, a dog trainer from Batavia, visited the Orleans prison once or twice a week to teach obedience classes. He praised the handlers for their commitment to the animals, teaching the dogs socialization and obedience.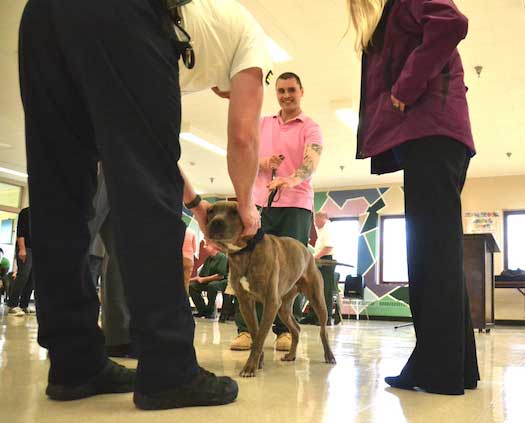 R. Monroe (center), an inmate at the Orleans Correctional Facility, worked with Champ during the program. Champ is a friendly dog that greets the corrections officers and other staff. Three of the five dogs at today's graduation have already been adopted by their "forever families."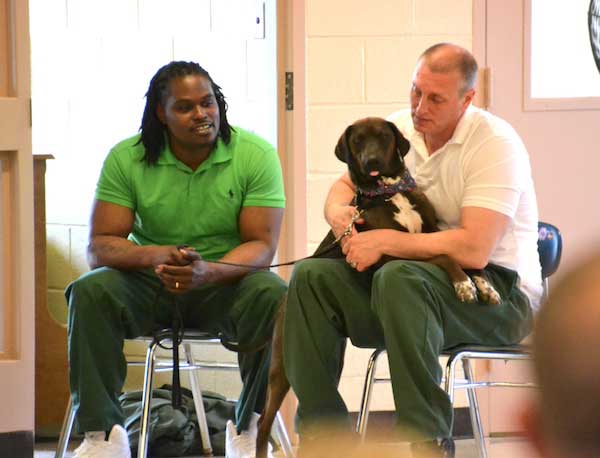 One of the dogs settles on an inmate's lap during the graduation program this afternoon at the prison. R. Allen, left, spoke during the ceremony.
"We've put everything we have into it," Allen told the crowd. "We've given it our all every day."
Allen said the program taught the inmates "humility."
"It makes you feel great to give back," he said. "Over the years I've just taken, taken and taken."
He said the dogs filled a void in the dorm for the inmates.
"Waking up in the morning that dog is there for you," he said.
The first canine class graduated on Oct. 10 with three dogs. The second class had six dogs and five completed the program today. A new group of dogs is expected in early May.
The Albion Correctional Facility, a women's prison, also had a graduation today for two dogs that were the first to complete the program at that facility. The Albion Correctional Facility has a partnership with the Orleans County Animal Shelter for training dogs.
Karen Crowley, the OCF superintendent, pushed to have the program in the local men's prison. She visited other prisons with similar programs and found the dogs improved the culture in a prison, with better-behaved inmates. The inmates also proved to be attentive and dedicated to helping train the dogs.
She praised the inmates for their dedication.
"You've all grown so much," she said during the graduation program.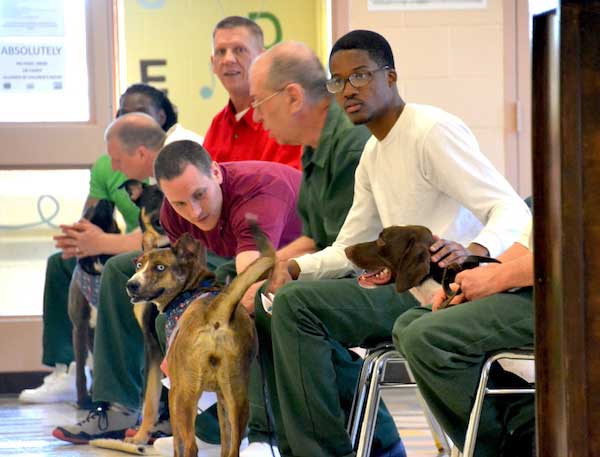 The dogs stay under control during today's canine graduation program at the Orleans Correctional Facility.