5 Albion students compete in Legion's oratorical contest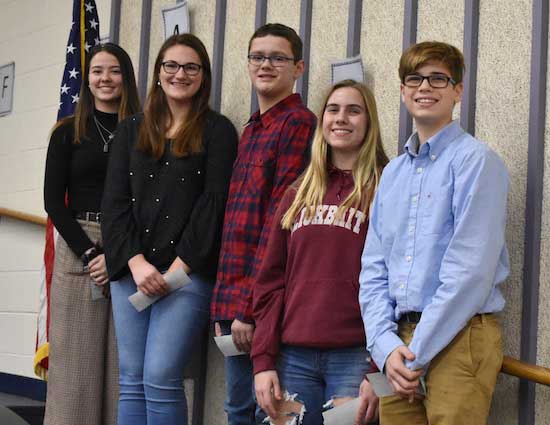 Photo courtesy of Albion Central School
ALBION – This morning five Albion High School students participated in the annual Oratorical Contest. They include, from left: Molly Wadhams, Ashlyn LeBaron, William Barnosky, Quinn McCue and Declan McCue.
Students wrote and presented a speech that pertained to some aspect of the U.S. Constitution.  They had to research a topic of interest to them and use supporting documents to state their case.  Social Studies teacher Rich Gannon is the organizer of this event and if requested, offers assistance and feedback to students as they research information and prepare their 8-10 minute speech.
Molly Wadhams took first place with her oration entitled "Freedom of Speech – Stand Up."
Ashlyn LeBaron was the second place winner. She delivered an oration about "Religious Freedom."
William Barnosky spoke about the "Multiple Purposes of the U.S. Constitution."
Quinn McCue's speech was "The Rights, Duties and Obligations of Citizens," while her brother, Declan McCue, delivered an oration about the "Rights of Americans."
The school contest is sponsored by the American Legion Sheret Post #35. Gary Befus (Adjutant), Wally Skrypnik (Commander), Phil Warne (Finance Officer), Joe Gehl (Board Member) and Bob Gilsinan (Vice-Commander) were judges for the contest. Students received a monetary prize from the Legion.
The first and second place winners will now move on to the County level competition.  It will take place on Dec. 7 at noon in Medina.