$4,500 from golf tournament goes to transportation program for seniors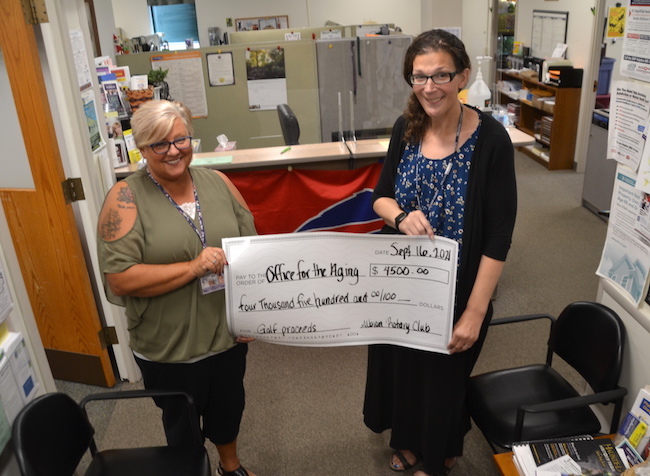 Photo by Tom Rivers
ALBION – Becky Karls (left), one of the organizers of a July 15 golf tournament for the Albion Rotary Club, presents a $4,500 ceremonial check to Melissa Blanar, director of the Orleans County Office for the Aging on Thursday at the OFA office.
The funds will support a volunteer transportation program that was started in 2019 by the OFA. That program is seeing more demand since Community Action ended a transportation program on Sept. 1 for senior citizens citing a deficit with CATS. Communtiy Action would take local seniors to appointments, including to see doctors out of county.
CATS provided 5,388 rides for seniors in 2020, and transported 2,759 seniors this year through July 31, according to data from the Office for the Aging.
Blanar said the local seniors are "facing a transportation crisis." She has reached out to other providers and they are much more costly than CATS.
She said the volunteer program is seeing more demand, but there aren't enough drivers. That program helps adults over age 60.
"The demand we are seeing now is more than we can handle," Blanar said.
Those drivers, who receive a mileage reimbursement, will take people to medical appointments, grocery stores, nursing homes to visit loved ones and other appointments.
The volunteer program peaked with 18 drivers and currently has 12. Blanar said all drivers must be 18. There is a strong need for drivers will to take seniors to appointments in Monroe, Erie and Genesee counties.
Last year, the volunteers did 252 rides for 12 months. This year, in the first six months of 2021, the volunteers were already up to 236 rides, Blanar said.
The agency suggests riders make a $5 donation for trips within the county and $15 outside Orleans, but that isn't required. The Office for the Aging also is encouraging seniors to try the RTS public transportation but that agency is often locked into a schedule and it can be difficult to link up with other buses for trips out of county.
For more information about the volunteer program, either as a driver or rider, contact the OFA at (585) 589-3191.
The Rotary Club also shared $1,000 for the July 15 tournament with the leadership Orleans program.