44 soccer teams playing at Albion for indoor soccer tournament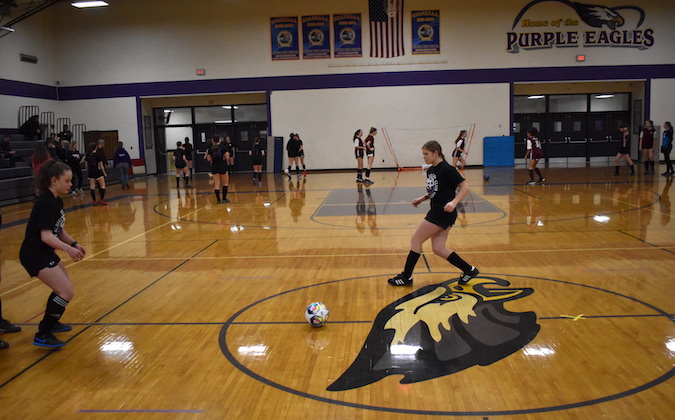 Photos by Tom Rivers
ALBION – Aubrey Gannon, center, passes the ball to her Albion teammate Kayla Burgio during a warmup this evening in the Ben Kirby Memorial Tournament.
There are six teams playing in the varsity girls division this evening. On Saturday there will be 38 teams in the tournament which is organized by the Albion Soccer Club. The teams play 15-minute games.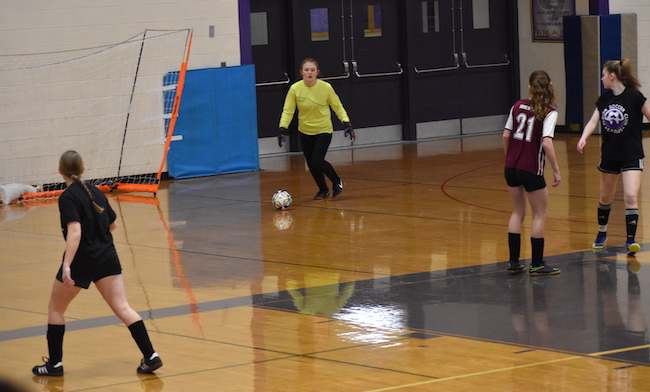 Abby Wittenberg, the goalie for Albion, makes a save against Byron-Bergen in a game in the high school gym.
Saturday's games will also be played in the elementary school gym.
The two-day indoor tournament honors Ben Kirby of Albion. He was a student at the Rochester Institute of Technology when he died in a car accident on Nov. 6, 2017. He was 21 at the time, in his senior year majoring in software development. Kirby played youth soccer for Albion and also on the school teams.
In addition to team championship honors, there will be Ben Kirby sportsmanship awards given out to some of the players.
Some of the proceeds go towards a scholarship given to a student nominated by one or more of the teachers in the Albion High School. It is intended for someone who is a "good kid" who may not be a Scout, but best exemplifies the characteristics of the Scout Law that Ben lived by: A Scout is Trustworthy, Loyal, Helpful, Friendly, Courteous, Kind, Obedient, Cheerful, Thrifty, Brave, Clean and Reverent.