400 new Covid cases in past week in Genesee, Orleans
2 counties pass 10,000 cases during pandemic since March 2020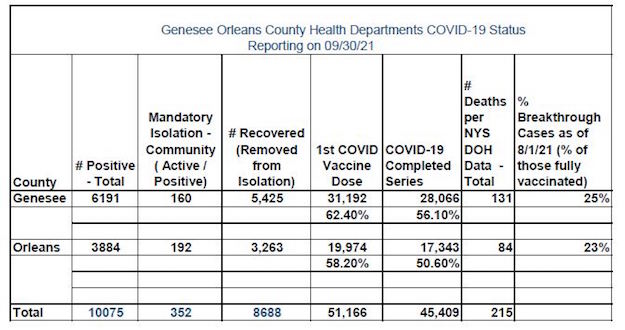 Genesee and Orleans counties are reporting 397 new Covid cases during the week from Sept. 23 to Sept. 30, according to local health department data.
The number of active cases in the two counties also continues to climb and was up to 352 on Thursday, compared to 339 on Monday and 295 a week before.
In the latest update, from Monday to Thursday, Orleans is reporting 101 new cases and Genesee has 99 more. Orleans is reporting 77 more recoveries or people who completed their 10-day isolation and been removed from mandatory isolation. Genesee is reporting 58 more recoveries.
In the seven days going back to Sept. 23, Orleans has 197 new cases and Genesee 200.
There are currently 10 people hospitalized due to Covid in Genesee and 1 in Orleans, according to the Genesee and Orleans County Health Departments.
The two counties crossed a milestone with over 10,000 Covid cases since the start of the Covid pandemic in March 2020.
There are 10,075 Covid cases out of a combined population of 98,731 in the two counties. In Orleans, there have 3,884 cases out of 40,343 residents or 9.6 percent of the population. In Genesee, there been 6,191 cases out of 58,388 people or 10.6 percent of the population.