400 attend benefit for motorcycle racer, who amazes with recovery from crash
Jeremy Higgins urges people to keep working hard and not let setbacks discourage them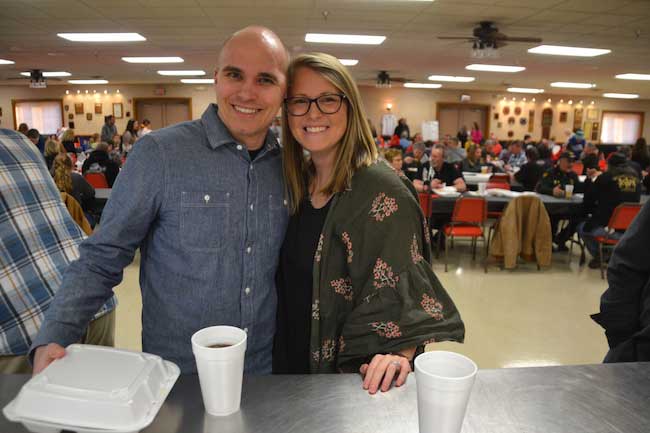 Photos by Tom Rivers
RIDGEWAY – Jeremy Higgins and his wife Amber are pictured on Saturday during a benefit dinner at the Ridgeway Fire Hall. About 400 people attended the Jeremy Higgins Road to Recovery Benefit which was organized by the Crusaders Motorcycle Club, where Higgins is a four-time track champion.
Higgins was badly hurt with a traumatic brain injury on Sept. 2 while racing at the Springfield Mile in Springfield, Missouri. He has made significant progress after being in a coma after the accident.
"He amazes us everyday," said Brian Hazel, the Crusaders president. "He's like a walking miracle. We're all so happy he has come as far as he has."
Higgins, during a speech at the benefit, thanked his wife for her steadfast support the past five months.
"It was a scary time for me," Higgins told the crowd at the Ridgeway fire hall. "I can't thank my wife enough. She has been my rock solid anchor. She has stood by me the whole time. She has been a rock star. I appreciate you being so strong."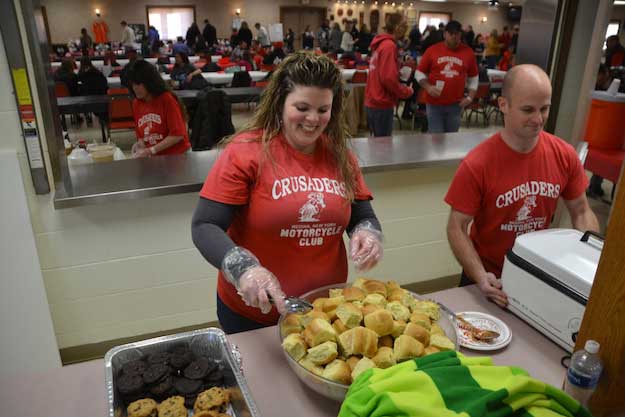 Brandi DiMatteo helps serve the dinners with Seth Karas at right. The Crusaders planned to sell 382 dinners. They wanted to cap it at 382, to represent Jeremy's racing number of 82.
Higgins, 27, of Batavia started racing at the Crusaders track on Culvert Road in Medina when he was 3. He turned professional when he was 16 and has competed the past decade at the top tracks across the country.
The benefit on Saturday included two officials from the Welland Motorcycle Club in Ontario, Canada. Joe Montorani, the Welland president, said the racing community is tight-knit.
"Being here is supporting motorcycling any way we can," he said.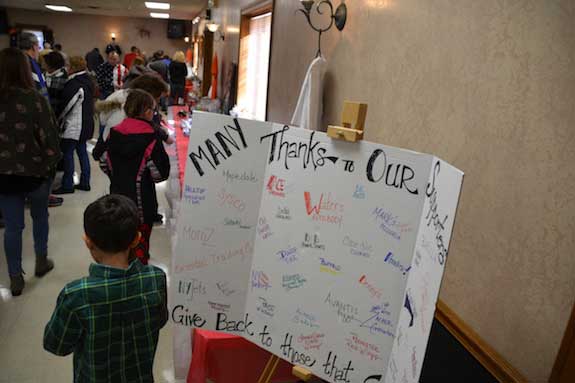 There were 150 items in a basket raffle. Kerry Lonnen, a Crusaders volunteer, led the effort to collect donations for the auction. Many of the Crusaders members, Jeremy Higgins' family and friends, and Crusaders riders also secured many donations for the event.
"He is such a nice guy with a nice family," Lonnen said. "The racing community is such a competitive sport on the track. Off the track it's friends and family."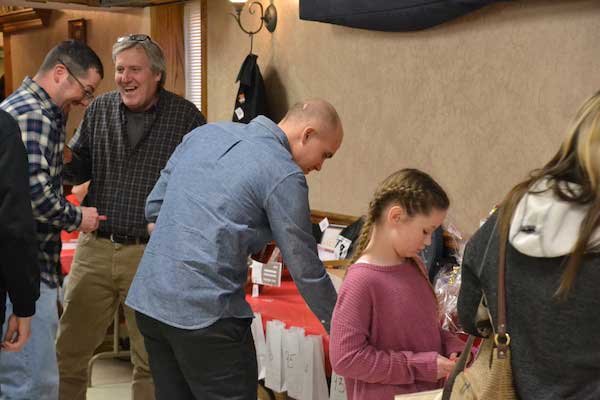 Jeremy Higgins drops a ticket for one of the items at the auction. His father-in-law, Darryl Baer, is back left laughing at a joke.
Higgins thanked the people at the benefit for their support since the accident. That has been a huge boost as he has tackled physical therapy. He said it has been a difficult journey, struggling with his balance and needing a walker during the early stages of his recovery.
"Once I set my mind to things, I was determined to get it done," Higgins told the Crusaders crowd. "I did whatever I had to do to get the job done."
Higgins told the crowd he feels nearly fully recovered – "I have a little bit of vision issues and a little bit of memory issues."
He is grateful for the progress.
"I'm 99 percent to where I was before this accident," he said. "Which is insane because the brain surgeon and everybody were blown away that I even woke up. They could not believe the injuries I sustained and was able to live with."
Hazel, the Crusaders president, praised Higgins for working so hard on his recovery.
"This kid is amazing," Hazel said. "He is not a quitter. He is going places."
Higgins urged people facing their own challenges to not let setbacks discourage them.
"I'm no motivational speaker or anything like that," Higgins told the crowd. "I have down times and I have up times. The biggest thing when you are facing a life challenge like I have your biggest enemy is you. If you put your head down and you put in the work, things will happen. You have to have faith in that and keep going for your targets.
"I don't care if it's pasta dinner on Wednesday night or racing grand national on Saturday morning, it doesn't matter what you do just put all of you into it and things will happen."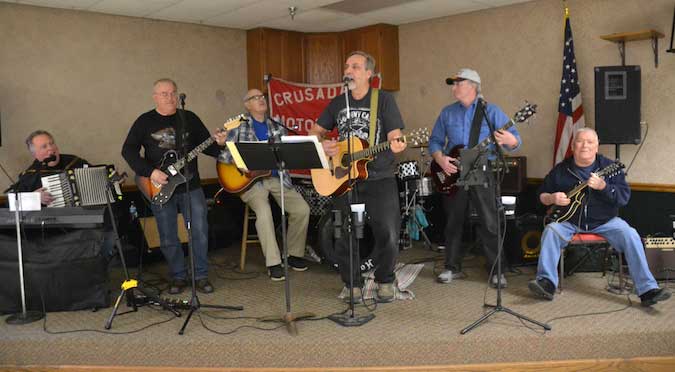 The Front Porch Pickers performed during the benefit on Saturday.
The Crusaders also presented their annual awards Saturday. Ryan Wells was named the 2019 Track Champion.