4 Holley teachers granted tenure
Photos by Tom Rivers
HOLLEY – Crystal Gurney, right, reacts after being recognized at the Holley Board of Education on Tuesday for receiving tenure. She works as an ESL teacher in the elementary school and translates into Spanish many reports, forms and other documents from the school district.
Karri Schiavone, left, is the principal of the elementary school.  She noted that Gurney is a National Board Certified Teacher. She also is a Holley graduate.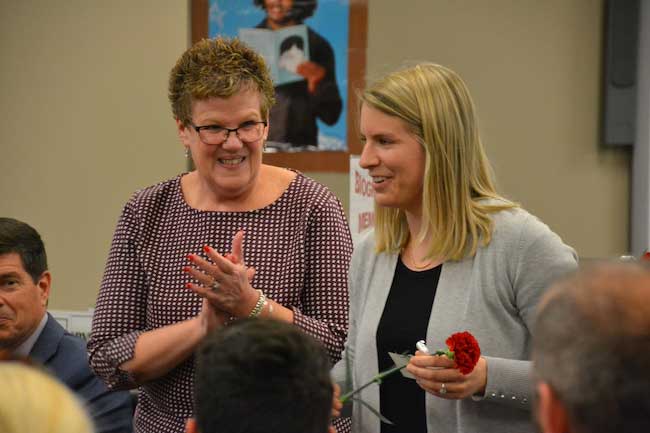 Emily Harms, an ESL teacher in the middle-high school, is congratulated for attaining tenure. Susan Cory (left) is the middle-high school principal. She said Harms, a Holley graduate, is an asset to the district.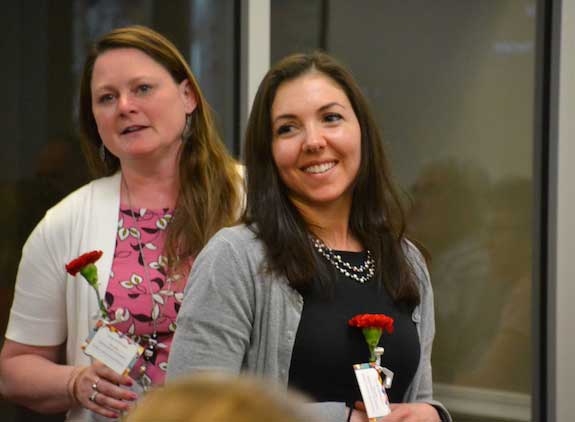 Kristina Rich, a speech pathologist, in the elementary school also has been approved for tenure. Karri Schiavone, the school principal, said Rich has been very effective and developed a following with students.
Evinn Meadow, a middle-high school art teacher, also attained tenure, but she was unable to attend Tuesday's meeting.
The tenure process used to take three years, but has been lengthened by the state to now be four years.