4-H'er wins prestigious showman title at her final Fair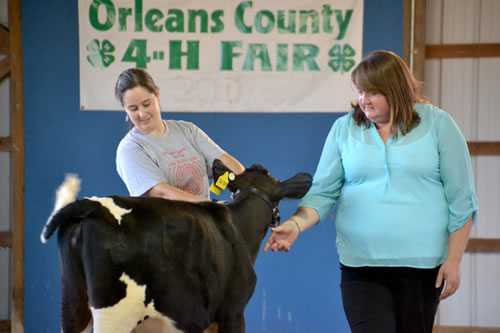 KNOWLESVILLE – Jayne Bannister, 18, of Point Breeze shows a dairy animal and answers a question from judge Tanya Nickerson during Friday's Grand Master Showman Competition at the Orleans County 4-H fair.
Jayne won the title, one of the most prestigious honors at the fair. The contest includes the top showman in eight different animals: horse, dairy goat, meat goat, sheep, swine, llama, dairy cattle and beef cattle.
Jayne, a past winner of the grand master showman, won the title in her final year in 4-H. She qualified for the competition after winning the swine showmanship on Monday.
Jayne in May finished her freshman year at Kansas State University, where she is a double major in animal science and agriculture education. She said showing animals the past decade at the fair has helped her in her goal of teaching the public about agriculture and how food is grown and raised.
After the Grand Master Showman competition, Jayne changed clothes to try the grease pole climbing contest for the first time.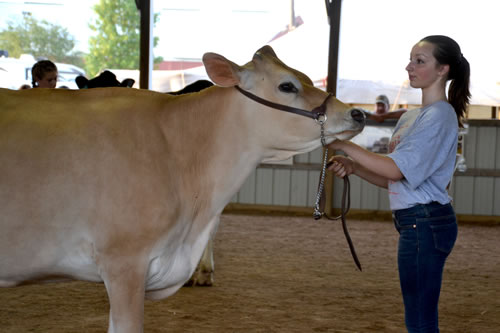 Jesse Suttura, 16, of Greece shows a dairy cow during the Grand Master Showman competition. She qualified after winning the horse showmanship. The competition has the winners of each competition earlier in the week show all of the different animals on Friday evening.
The Small Animal Grand Master Showman competition is today at noon.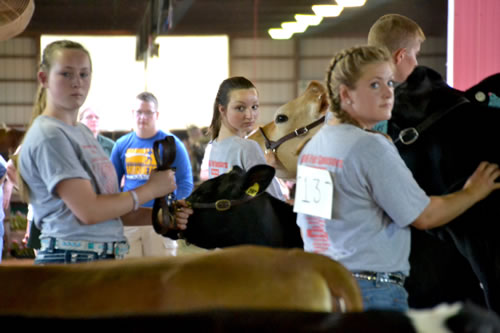 These competitors in the Grand Master Showman event hold dairy animals while keeping an eye on the judge. The four showmen in this photo include, from left: Rylie Lear, Jesse Suttura, Mel Klossner and Justin Robinson.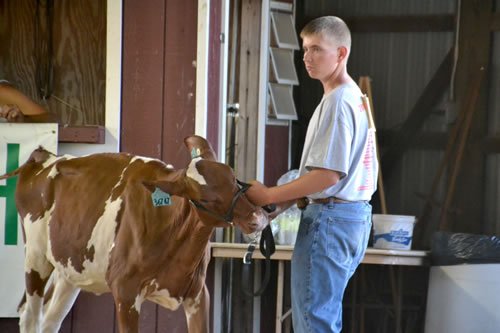 Justin Robinson, 16, of Albion shows a dairy animal on Friday. He qualified for the event after winning the dairy showmanship.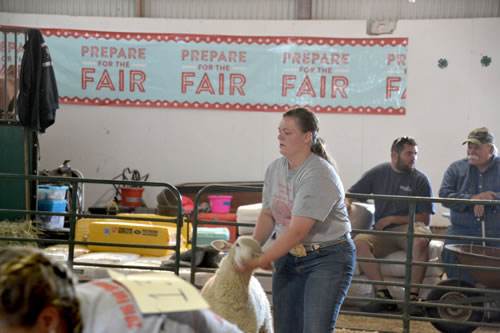 Natalie Mrzywka, 17, of Holley shows a sheep during Friday's event. Natalie won the grand master showman title last year. She qualified this year by winning the meat goat showmanship.
Natalie said she enjoys the grand master showman event because she learns about so many different types of farm animals. The competition last more than two hours.
"It's fun to be in the ring," she said.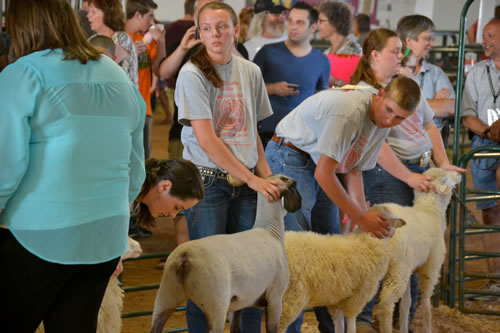 The showmen try to get the sheep squared and set up for the judge. The 4-H'ers include, from left: Jayne Bannister, Nicole Mrzywka (the reserve grand master showman), Justin Robinson and Natalie Mrzywka.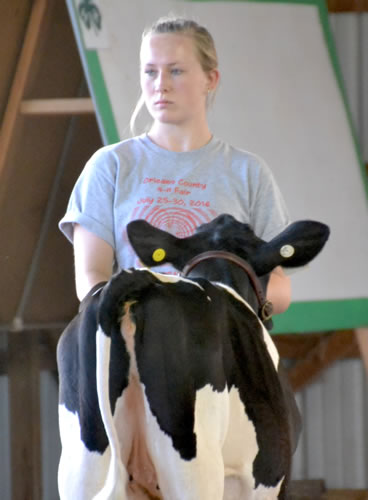 Rylie Lear of Waterport shows a dairy animal. She qualified after winning the beef cattle competition.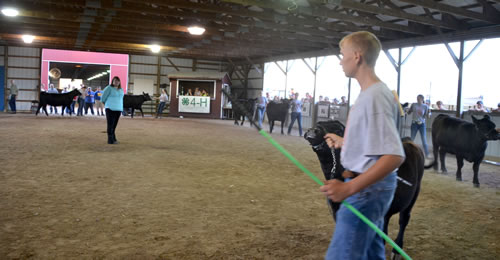 Justin Robinson leads a beef animal around the show ring while other competitors show the animals to judge Tanya Nickerson.