4-H animal auction, and some baked goods, bring in $28K
KNOWLESVILLE – The 4-H animal meat auction on Saturday featured big prices as buyers tried to reward 4-H kids for their many months of work in raising the animals.
The winning bids totaled $28,335 – up about 40 percent from $20,118 at last year's auction. The sale was cancelled in 2020 when there wasn't a fair due to Covid restriction. In 2019, the auction's sales totaled $12,950.
Fair officials believe the $28,335 is a record for the auction but couldn't confirm that yet. Orleans Hub looked through our records and this appears to be the most. In 2014, the sale hit $26,988, which looks to be the previous high mark.
The 4-Hers could use the higher prices. They had to spend more to feed animals in recent months. Zack Welker, one of the livestock superintendents for beef and dairy, said it cost about $300 to $500 to feed a steer this year.
The Forte family from Hamlin said they were spending $30 more a month to feed a steer a mix of oats and corn with molasses. Plus they had the higher cost for trips to the Castile Agway for the feed.
The Forte family had three kids showing animals at the fair, including three cows, three pigs and four goats.
The auction included three lots of rabbits, a lamb, three steer, and 13 pigs. For the first time, the auction also included baked goods prepared by 4-H families.
An apple pie sold for $45, three dozen assorted cookies fetched $85, oatmeal butterscotch cookies went for $70 and a plate of molasses cookies brought in $125. The $325 total will go to supporting the 4-H family and consumer science program.
Herman Weber, owner of HLW Acres, a poultry processing facility in Attica, paid $575 for two plates of cookies and a pen of three rabbits.
He wasn't surprised to see the big prices at the auction. He has attended similar auctions for 4-H raised animals in Genesee, Ontario, Livingston, Allegany and Chautauqua counties. He will also be going to the sales in Steuben, Erie, Niagara and Cattaraugus counties.
"The buyers realize the feed prices have doubled, or more than doubled," he said.
Lena Hayes, 16, of Holley sold her pig at $4.50 a pound. It was purchased by her grandfather, Tony Piedimonte.
"She has worked so hard,"Piedimonte said about paying well-above the market price for the hog. "I'm proud of her."
Kelly and Kurt Dudley of Hu-Lane Farms have been buyers for years at the auction. They bought the 1,370-pound champion steer, which was raised by Carter Kuipers of Byron.
"We want to support the kids," Kelly said about being a buyer at the auction.
David Piedmonte of Holley also has been a regular at the auction as a buyer. He attended a few years ago and said they were struggling to get $20 a rabbit. He paid $100 then.
On Saturday night, he paid $210 for a rabbit and donated it back to be sold again.
"They do a great job," he said about the 4-Hers. "The animals are well kept. I want to support the kids and encourage them to be in agriculture."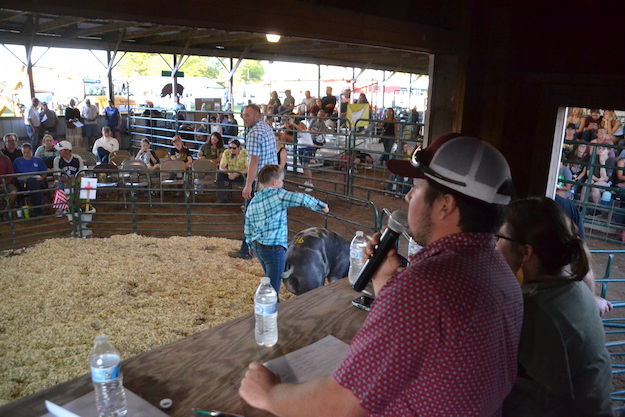 Ryan McLenithan, an auctioneer from Cambridge, calls out prices for a pig raised by Charlee Burger of Hamlin.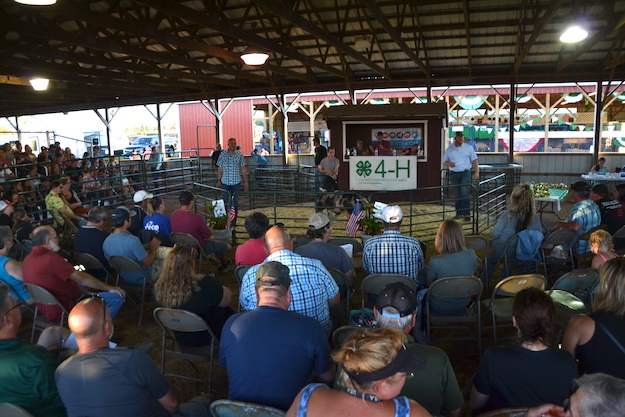 A crowd attended the livestock show arena on Saturday for the auction. Ruth Kuipers of Byron is showing a 286-pound pig.