350 cyclists peddling across county today in return of Cycle the Erie Canal event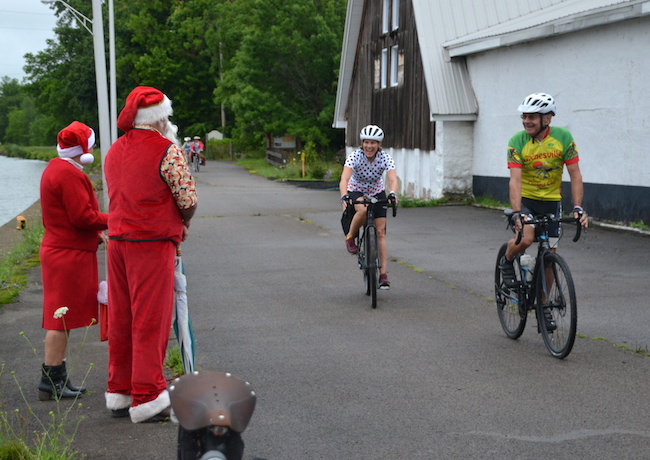 Photos by Tom Rivers
ALBION – These two cyclists approach Albion this morning and are greeted by Santa Claus and Mrs. Claus portrayed by Bob and Kathy Schumacher of Medina.
There are 350 cyclists peddling along the Erie Canal Towpath today. They started in medina and headed east to Fairport.
The 23rd annual Cycle the Erie Canal event started Sunday morning in Buffalo and concludes July 18 in Albany. The cyclists ride about 40 to 60 miles each day.
Last year's event was cancelled as a group due to Covid-19 restrictions. This year's group is about half the size of the 650 to 700 that typically ride.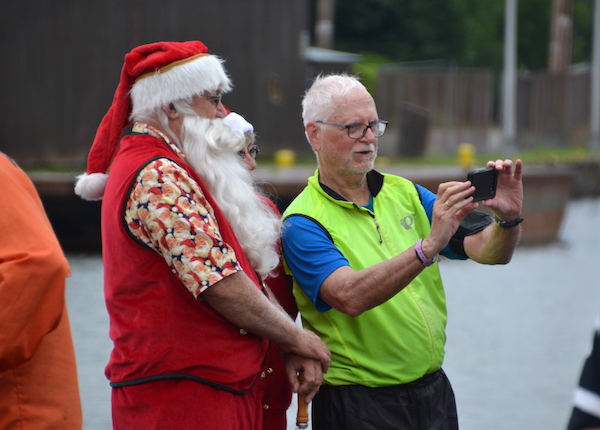 Walter Mayo, 74, of Derby in Erie County is riding in the event for the sixth time. He stopped for a photo of the Santa and Mrs. Claus, who promoted Albion for its distinction as the home to the world's first Santa Claus School.
The cyclists were also directed to check out two nearby Santa murals.
Mayo said he has rode 2,000 miles since January to prepare for the week-long bike trip along the canal.
"I love it," he said. "This is the best organized bike trip I've been on and it's in New York."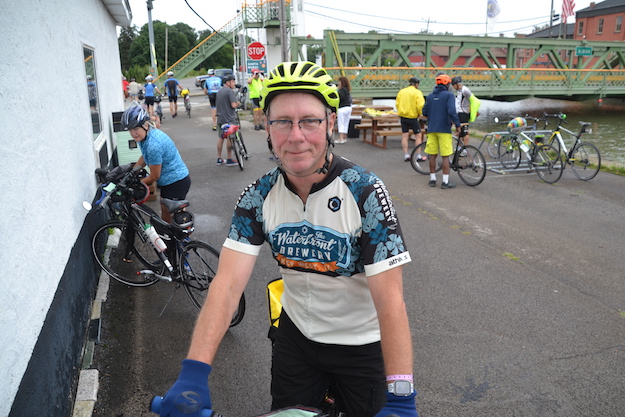 Kevin Bedard, 70, of Holley is riding the trip for the second time, and first since 2003.
"It's the camaraderie of being with people from all over the country," Bedard said. "And I'm proud of our area. Western New York has the best section of the canal."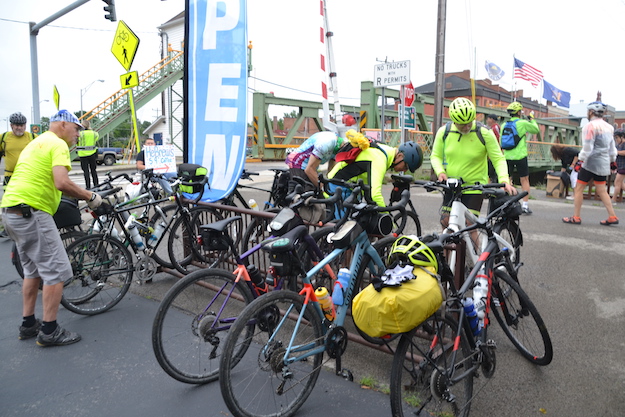 The cyclists stop in front of Tinsel and the Lockstone, where there were free bananas, oranges and bottles of water. The Downtown Browsery also offered free blinking lights to put on the bikes. Many of the cyclists were happy to hop off their bikes and look around the downtown area.
Natasha Wasuck, owner of The Lockstone and Tinsel, organized the welcome for the cyclists in Albion this morning. Holley is an official welcome stop 10 miles to the east of Albion.
Wasuck said she enjoys meeting the cyclists, who this year are from 34 states.
"it's just fun to meet all of these people who are from so many states," she said. ""It's just exciting. You don't see 300 cyclists all together."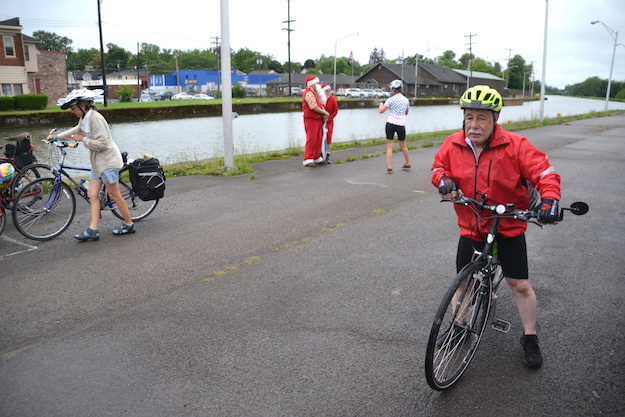 Stan Farone, right, of Albion is doing the ride for the fourth time. Farone, an Albion village trustee, said he has made friends with many of the cyclists who come back year after year.
Sunday was a tough day to ride due to the rain, and Farone said there was wind and mud on the towpath this morning.
But the riders didn't seem discouraged.
"I like doing it and meeting the people," Farone said. "I've got to do it while I'm still young. I'm 71."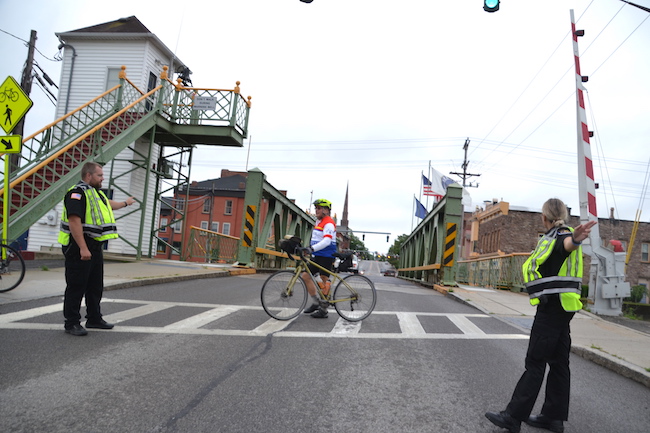 Albion police officers Will Francis and Jessica Saraceno stop traffic so this cyclist, Daniel Pilliard of Missouri, can cross Main Street.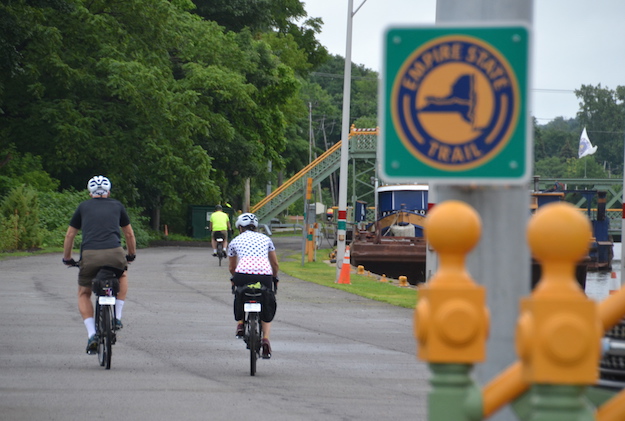 These cyclists head east from Albion this morning after already riding 10 miles from Medina. The group will stay overnight in Fairport in tents.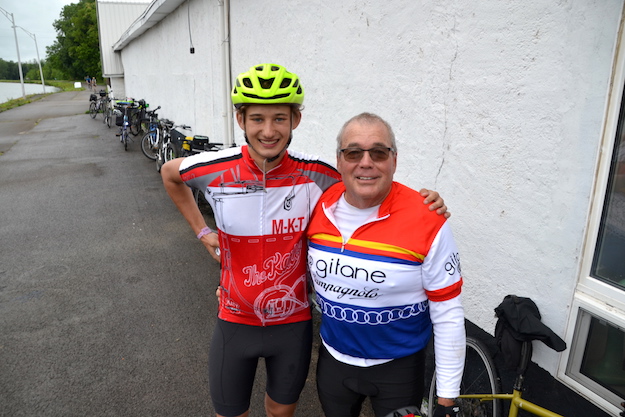 Lowell Pilliard, 18, poses for a photo with his grandfather, Daniel Pilliard, 70. They drove 18 hours from Missouri for the cycling event. Lowell has done two other long bike trips in his home state, while his grandfather has been on group excursions in several countries.
"It's great exercise and you get to see a lot of stuff," said Daniel Pilliard. "I love it. It's a great time."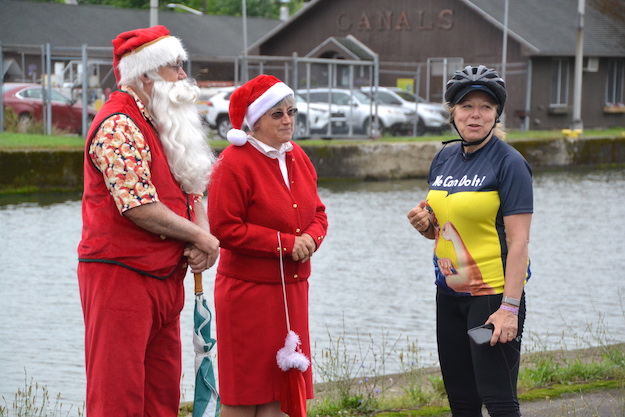 Nina Sharrock of Bergen County, NJ, wanted to meet Santa and Mrs. Claus. Sharrock said the bike ride is enjoyable for people who aren't necessarily hardcore cyclists.
"This is a little less challenging and a lot more fun," she said.