$300K from state helps Albion buy new vacuum truck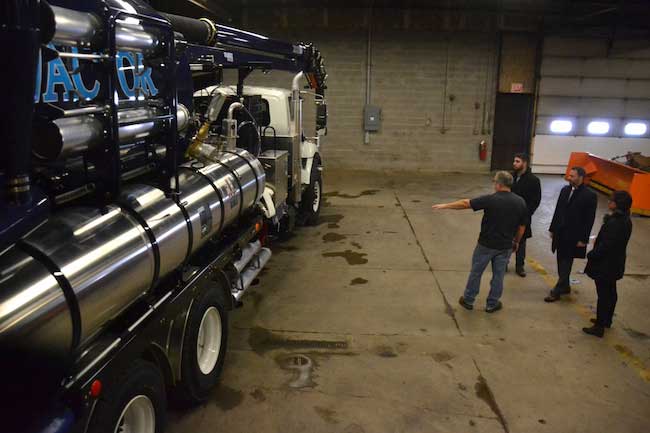 Photos by Tom Rivers
ALBION – The Village of Albion has a new vacuum truck from the Vactor that will be used when there are waterline breaks, plugged sewers and other work on the water and sewer lines.
Jay Pahura, Albion's superintendent of the Department of Public Works, shows the new truck to Mayor Eileen Banker, State Sen. Robert Ortt and one of Ortt's staff members.
Ortt and his office helped secure $300,000 in state funding for the $380,000 vacuum truck. It replaces a Vactor from 2003 that has been declared surplus and will be sold.
Albion will use the vacuum truck to assist other nearby municipalities if they have waterline breaks or clogged sewers. Medina and Carlton also have vacuum trucks in the county.
Albion applied for the funding through the State and Municipal Facilities Capital Funding Program or SAM. Once the money was approved by Ortt and the State Legislature, the village needed to work with the Dormitory Authority of the State of New York.
State Sen. Ortt said the vacuum truck would have been costly for village taxpayers to pay for on their own. He said it is an ideal project for the SAM grants, especially because Albion will use the Vactor to assist other municipalities.
Ortt praised the DPW and highway workers would are often out in extreme cold or heat to fix waterline breaks or clogged sewers and culverts.
"They're out there doing the work when it is 20 degrees and the water is flying," Ortt said.
Ortt, who is no longer in the majority conference in the State Senate, said he has less funding than he did when Republicans were in control. He still urged local municipalities to seek SAM funding by identifying needed projects or capital expenses.