30,000 vaccine doses, 10,000 tests – 'Covid fighters' praised for service during pandemic
'Your tireless efforts embody public service' – Lynne Johnson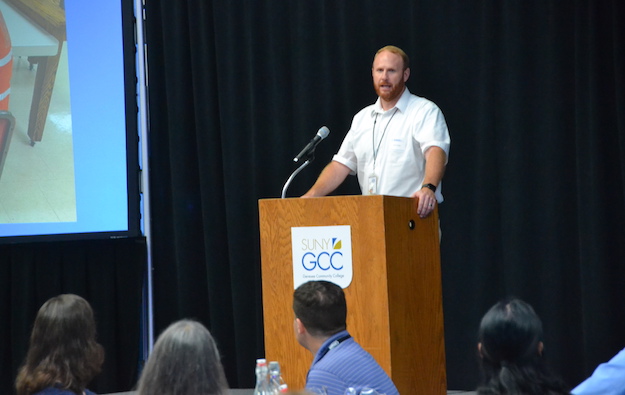 Photos by Tom Rivers
BATAVIA – Paul Pettit, public health director in Genesee and Orleans counties, speaks during an appreciation luncheon on Wednesday at GCC in Batavia. He praised more than 400 people in the two counties who volunteered and worked at Covid-19 testing and vaccination clinics so far during the pandemic.
The volunteers and municipal workers teamed with the Genesee and Orleans County health Departments to administer about 30,000 doses of Covid-19 vaccines and also do about 10,000 Covid tests during drive-through rapid test clinics.
The volunteers and workers in Orleans County administered 10,736 Covid vaccine doses with most of those at the mass vaccination clinics at the Ridgeway Fire Hall from March through May.
The 117 volunteers and workers in Orleans also administered 3,465 rapid Covid tests at the Orleans County 4-H Fairgrounds.
"It's been monumental and we couldn't have done it without you," Pettit told the group.
In Genesee, there were 279 volunteers and workers who administered 18,675 vaccine doses and 6,659 rapid Covid tests. There were also 49 other volunteers and workers who assisted in both counties.
"You're tireless efforts embody public service," Lynne Johnson, Orleans County Legislature chairwoman, told about 200 people during a luncheon at the GCC.
Paul Pettit said the group of volunteers and workers (typically county employees in other departments, as well as some staff from towns, villages and school districts) will likely be needed again to help administer booster vaccine shots. Pettit would also like to see more already eligible residents step forward and get their initial doses of the vaccine.
He also expects the vaccine, currently only approved for those 12 and older, will soon get clearance for those under age 12 and there could be a need for more mass vaccination clinics
"This is an evolving process," Pettit said. "We're still in the pandemic. We're still taking steps to make sure our community is as safe as we can be."
Johnson said the volunteers and workers have been critical in the community's response to Covid so far.
Shelley Stein, chairwoman of the Genesee County Legislature, also addressed the group and thanked them for their service and courage, with many stepping up over many months to help administer Covid tests and run the vaccine clinics.
"You came forward for others," Stein said. "You gave so much more than we could have asked for. God bless you all and thank you."
The Genesee and Orleans County health Departments put a call for volunteers in October to help run the rapid test clinics which started in November. The mass vaccination clinics started in March, although the vaccine supply was low for the counties then.
It took at least 40 people to run the testing and vaccine clinics, with 60 volunteers and staff at some of the clinics.
"So many people put in so much effort," said Dr. David Bell, emergency preparedness coordinator for the Genesee and Orleans County Health Departments.
The Health Departments continue to run smaller vaccination clinics and offer rapid tests. He thanked GCC and the Ridgeway Volunteer Fire Company for making their facilities available for the vaccinations.
"Having the support of GCC and Ridgeway was invaluable," Bell said.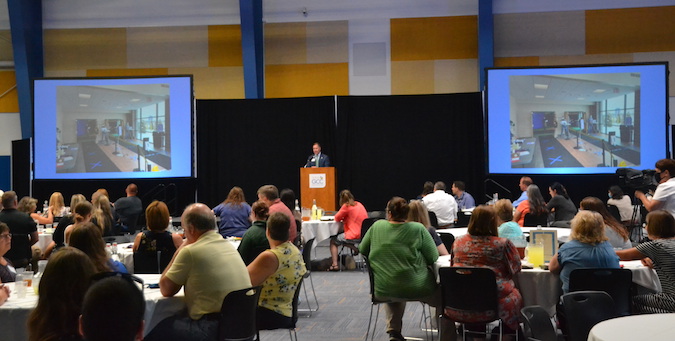 State Sen. Ed Rath addressed the group and said he received his vaccination shots at GCC.
"I was amazed at the hard work and professionalism by each and everyone," he said. "Covid fighters I want to say thank you."
The volunteers and staff carried on their duties "despite tremendous unknowns," Rath said.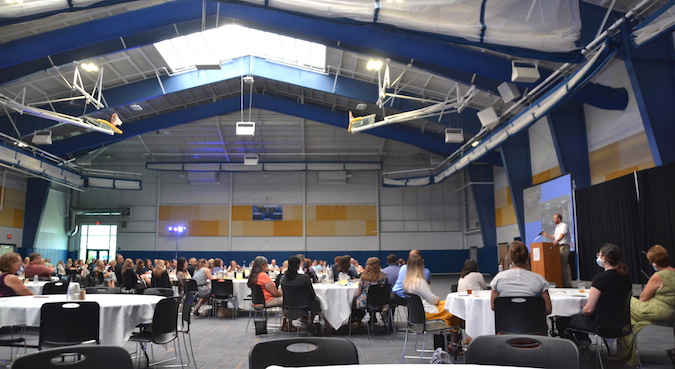 Paul Pettit speaks from the podium and offer heartfelt appreciation to the staff at the Genesee and Orleans County Health Departments. In addition to assisting at the rapid test and mass vaccination clinics, the staff were essential in planning those events and with contact tracing whenever someone tested positive for Covid, which includes 3,275 cases in Orleans and 5,572 in Genesee since March 2020.
"I truly want to thank the staff in Genesee County and Orleans County," Pettit said. "You truly are the unsung heroes in this pandemic."
The Emergency Management Office in both counties, the county manager/administrator and each County Legislature also were very supportive in making rapid tests and vaccinations available to the public, Pettit said.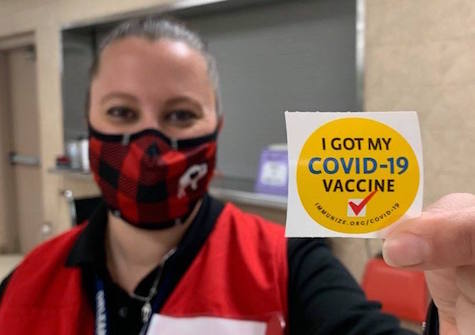 This photo from late April shows Jessica Sutch, an employee with the Job Development Agency in Orleans County, holding a sticker given to people who get vaccinated at a mass clinic at the Ridgeway fire hall. She was among the volunteers for several months at the vaccine clinics and the Covid testing sites before that run by the Health Department.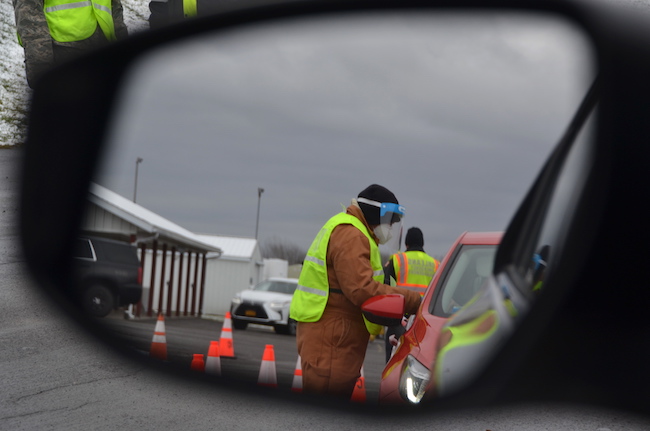 Jack Welch, Orleans County chief administrative officer, assisted at a rapid test clinic in early January at the Orleans County 4-H Fairgrounds. He is shown in a driver's side mirror of a car in line. The volunteers wore lots of personal protective equipment and running the rapid test clinics during the winter.
Dan Doctor, a co-principal at Wise Intermediate School in Medina and the district's community liaison, served at the rapid test and mass vaccination clinics. He said on Wednesday he felt the testing was the most critical, helping to identify who had the virus and get them and their close contacts in quarantine.
Doctor tested positive before one of the clinics and then had to self-isolate. He was positive despite no symptoms. He said he felt sick after about 10 days but it didn't last long.
He encourages people to get vaccinated to reduce their risk of getting seriously ill from the virus.
Connie Ferris of Barre has worked as a nurse for 58 years. She agreed to help give the vaccination doses at clinics in both counties.
She said residents, including people from outside the two counties, were very appreciative to get their vaccine doses.
"It's been wonderful to see the enthusiasm from the people," she said.