271 new Covid cases in past 5 days for Genesee, Orleans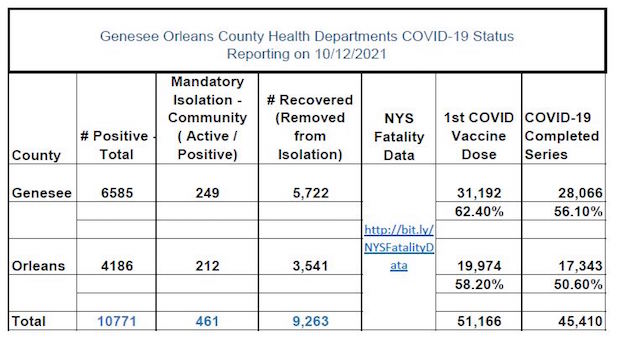 The Genesee and Orleans County Health Departments today reported 271 new Covid cases the past five days in the two counties with 150 in Genesee and 121 in Orleans.
The number of active cases in the two counties is at 461, which is up from 423 on Oct. 7 and 358 on Oct. 4.
Orleans County, however, has a slight drop in active cases, down from 217 on Oct. 7 to 212 today. Genesee is up from 206 on Oct. 7 to 249 today, according to the local health departments.
Genesee currently has 10 residents hospitalized due to Covid, while Orleans has four in the hospital from Covid.
Genesee is reporting 99 more recoveries and Orleans has 122 more. These are people who have completed their 10-day isolation and been removed from mandatory isolation.