2,500 to 3,000 partake in Fair Food Fest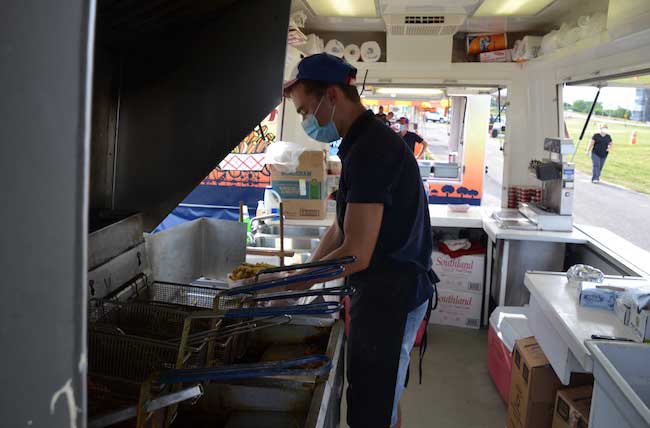 Photo by Tom Rivers
KNOWLESVILLE – Carl Aldinger cooks French fries and chicken fingers on Sunday at the Orleans County 4-H Fairgrounds.
He works in the Morrell's Potato House Fries food booth, one of the eight food vendors that were at the fairgrounds from Friday through Sunday.
About 2,500 to 3,000 people stopped by for the "Fair Food Fest," said Robert Batt, executive director of the Cornell Cooperative Extension in Orleans County, which owns the fairgrounds.
The Extension wanted to give people a taste of the fair because the week-long event in late July has been cancelled this year due to the Covid-19 pandemic. The event was take-out only with no tables to sit down and eat. People had to return to their vehicles with their food.
Batt said many of the fair food vendors have had nearly all of their events cancelled this year. The Extension wanted to give the vendors a chance to make some money during a tough economic time for them.
Scott Kolassa of Churchville runs a taffy, candy apple, cotton candy and fudge booth, as well as a lemonade stand. He suggested the fair food fest.
"It was nice to see the familiar faces and old friends," he said.