250 turn out for walk at Watt's to raise funds for local cancer services
ALBION – About 250 participants today raised more than $7,000 to pay for cancer screenings and to support people battling cancer in Orleans and Genesee counties.
Watt Farms for 11 years was a host for the making Strides Against Breast Cancer Walk. Several hundred people attended that walk each year and raised $350,000 for the American Cancer Society.
Karen Watt, a 12-year breast cancer survivor, wanted to shift the walk this year so the funds would stay in Orleans and Genesee counties. She also wanted the proceeds to benefit people battling all types of cancers.
Today's funds will go to Cancer Services of Genesee and Orleans, which funds mammograms, colonoscopies and other services to people underinsured or without insurance. The group contracts with Community Partners at Orleans Community Health in Medina for those services in Orleans County.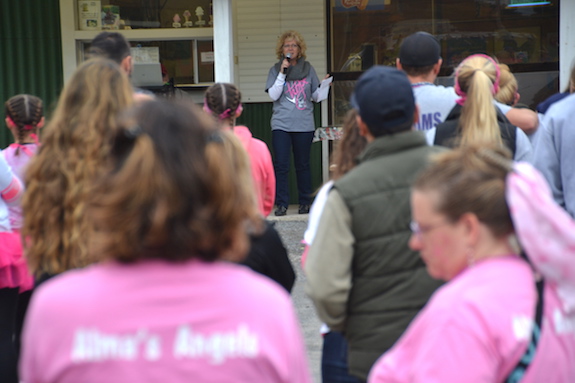 Lisa Franclemont, coordinator of Cancer Services of Genesee and Orleans, welcomes the participants for the walk at Watt's.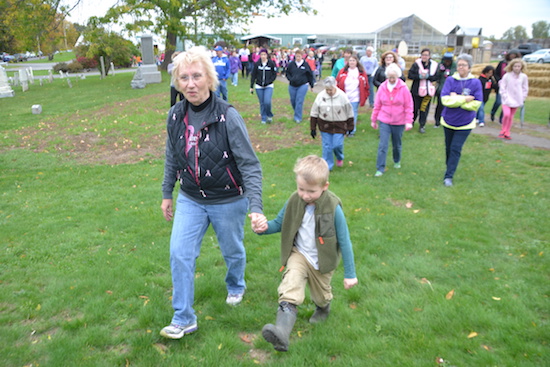 Karen Watt and her grandson Evan lead the group in the walk, which was either 1 kilometer or 5 kilometers.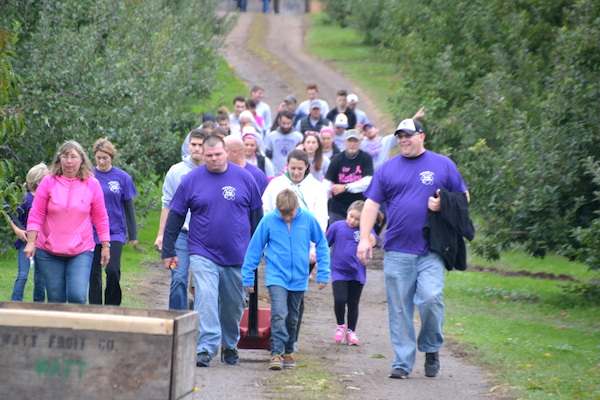 This group in front is from Holley Fire Department. Holley firefighters have been regulars the past five years at Watt's for the walk. Karen Meiers, wife of past fire chief Ron Meiers, has been a breast cancer survivor for five years.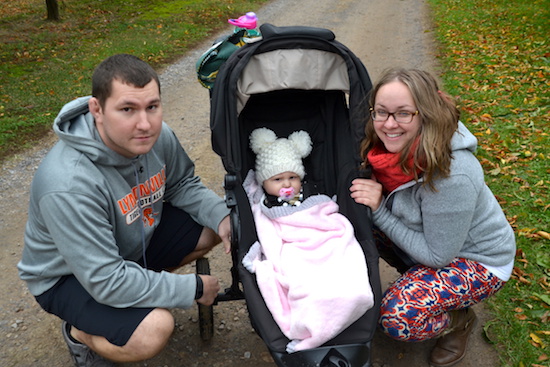 Joe and Maegen Suhr of Lyndonville are pictured with their daughter Ella, who turns 1 on Wednesday. Ella completed chemo treatments on Oct. 3. She also had two surgeries after doctors found a brain tumor. Many of the participants in the walk today wore shirts that said "Suhr Strong." Ella's parents are both teachers. Joe teachers high school history at Lyndonville and Maegan is a high school special education teacher at Batavia. They said Ella had a clear scan for cancer two weeks ago.
Emily Blanchard is pictured with Karen Watt after the walk today. Emily was the top individual fund-raiser at $3,450. Emily, 17, has been raising money for the walk the past nine years and estimated she has secured nearly $30,000 in donations by sending letters, emails and asking people in person.
Emily raises the money in memory of her grandmother, Patricia Blanchard, who was a kindergarten teacher at Lyndonville. She also ran a nursery school.
"She was the kind of person that everyone loved in Lyndonville," Emily said.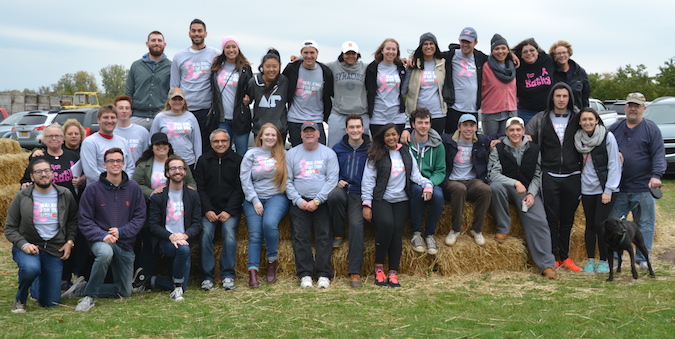 This group mostly includes students from Syracuse University, who joined their classmate Joyce LaLonde who walked in memory of her mother, Kathy LaLonde, who died from breast cancer at age 54 on Oct. 6, 2013. Joyce and her father Steve are fifth and sixth from left in front row. Many of Kathy's friends and family from Albion also walked at Watt's today in her honor.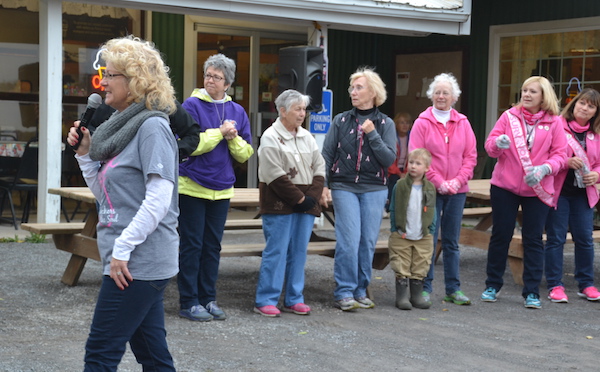 Lisa Franclement, left, introduces cancer survivors before the walk today. They include, from left: Karen Meiers of Holley, 5 years; Marge Walls of Elba, 29 years; Karen Watt of Albion, 12 years; Peggy Lemke of Albion, 16 years; Dawn Arnold of Albion, 2 years; and Kelly Wadhams of Albion, 5 years.