250 attend vigil after tragic deaths of Megan Dix, Bill Carpenter
'This shows what we're about about. We're all family here, blood or not blood. We have to take care of our own.' – John Belson, Lyndonville mayor
LYNDONVILLE – About 250 people attended a candlelight vigil in Lyndonville on Saturday night in honor of Megan Dix and Bill Carpenter.
Megan was shot while taking her lunch break at a small parking lot near Lowe's, where she worked in Brockport.
Megan is the youngest of eight siblings. She and her husband, Chris, have an 8-year-old son, CJ. Saturday would have been Megan's 34th birthday.
Bill died in a motorcycle accident a week ago on Sunday morning after hitting a deer at about 6:30 in the morning. Carpenter, 60, was popular in the community. He played in many bands, was active at the Yates Baptist Church and worked as a corrections officer after 26 years at Kodak.
Both Megan and Bill were called sharing examples for the community, people devoted to their families and neighbors. Dan Thurber, pastor of the Oak Orchard Assembly of God, urged the mourners to follow the life example of Megan and Bill.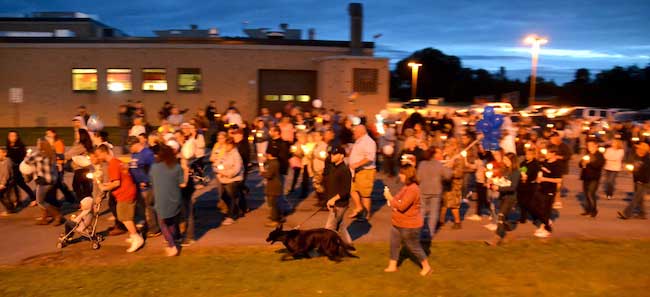 The group gathered first by the school and then walked to Lynhaven Cemetery by Megan's grave. Then the mourners walked by candlelight to the baseball field on South Avenue, where they released balloons, some saying "Happy Birthday" because Saturday was Megan's 34th birthday.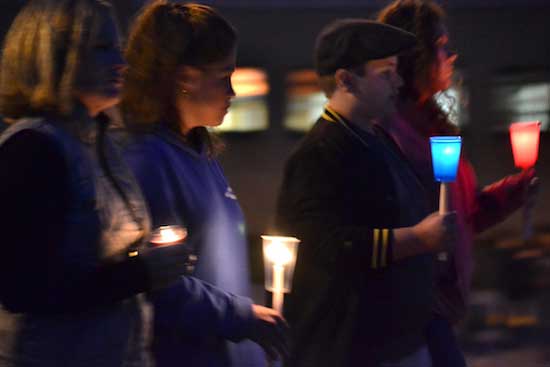 The vigil was organized by Jessica Skowneski, who attended school with Megan and was friends with Bill's family. Skowneski said the two deaths have been hard on the small town, where so many are closely connected.
"This has been tragic for our community," Skowneski said.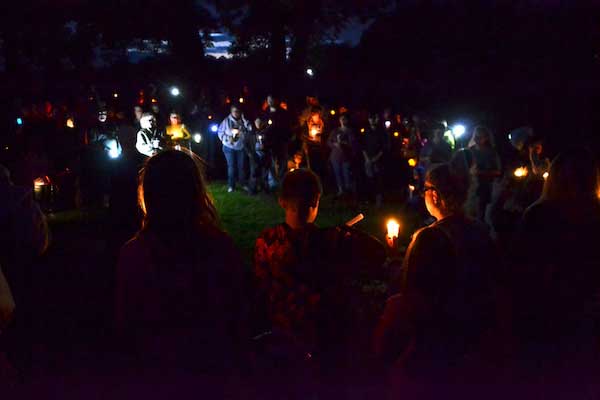 The mourners stopped by Megan Dix's grave. Her father David Duncanson said the big show of support and the many testimonials of Megan's goodness have helped the family with their "incredible pain." Mr. Duncanson wept saying that Saturday was his daughter's 34th birthday. The group then sang "Happy Birthday" to Megan.
"I know what a great person she was and it really helps that everyone also knew that," Mr. Duncanson told the group.
Megan's husband, Chris Dix, also thanked the community for opening their hearts to the family. He thanked them for their prayers.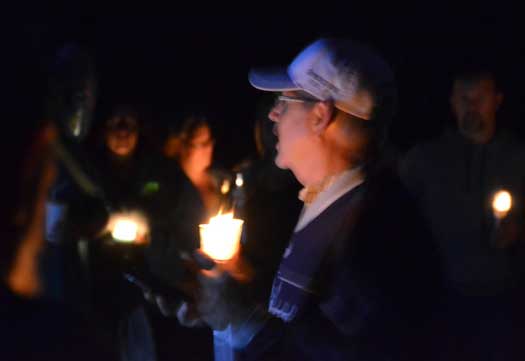 The Rev. Dan Thurber, pastor of Oak Orchard Assembly of God, said it was standing-room-only for the funeral services for Megan Dix and Bill Carpenter, which shows their deep impact on the community.
Megan worked at Lowe's and many of her co-workers were at her funeral. There was a long line of corrections officers at Bill's service.
"They were both so well respected," Thurber said.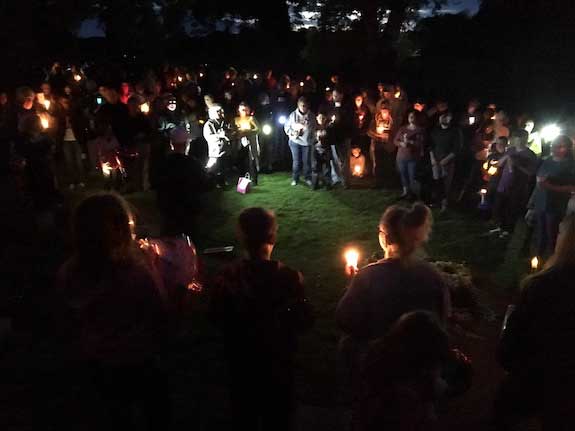 Elizabeth Carpenter, Bill's wife, said the Carpenters share a pain with Megan's family with the loss of a young adult. Bill's son Zack was only 30 when he was murdered May 10, 2013, in New Orleans. Zack helped build a skatepark in New Orleans. He was killed by an 18-year-old he met at the park.
Elizabeth said she appreciated the community rallying behind the Carpenter family in the past week.
"The only way I could get it is with the community support, the church support and most of all God," she said.
Bill was a popular local musician. Several people said, "Rock on, Bill," for the man who played keyboards, guitar and sang lead vocals for Jonesie and the Rattlers, and other local bands.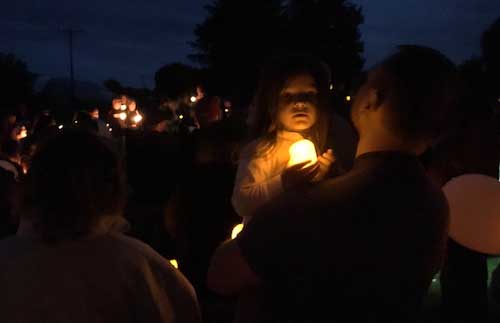 The mourners gather at Lynhaven Cemetery. They observed a moment of silence.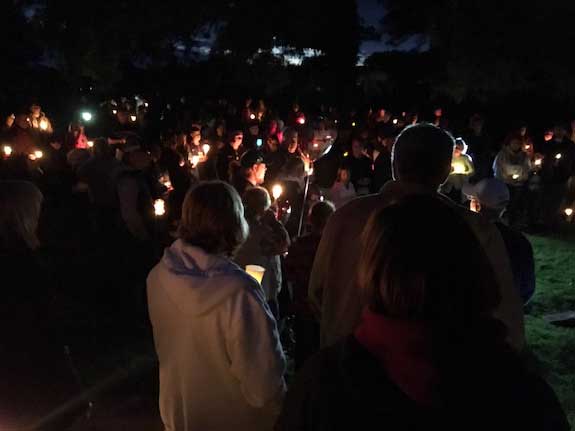 John Belson, the Lyndonville mayor, was among the mourners at the vigil. He thanked the community for their continued show of support.
"This shows what we're about about," Belson said. "We're all family here, blood or not blood. We have to take care of our own."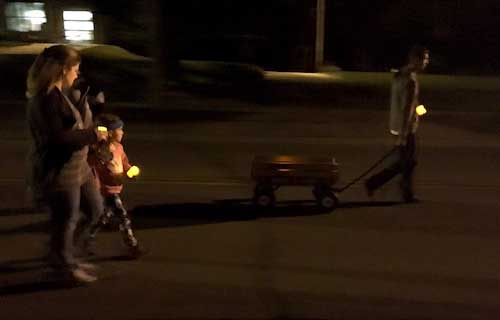 The vigil included a walk down Main Street from Housel Avenue to South Avenue.
At the baseball field, more than a dozen balloons were released. Several people also sang along to"Won't Let Go" by Rascal Flatts.