21 years after 9/11 attacks, Orleans continues to remember nearly 3,000 victims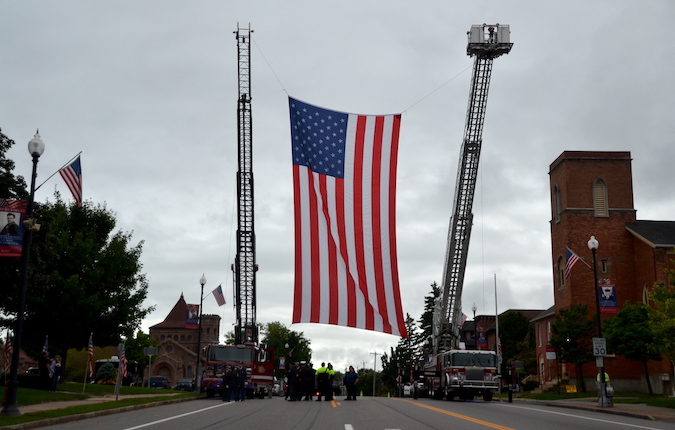 Photos by Tom Rivers
ALBION – A very large American flag is held up high over Main Street in Albion on Sunday evening by the Albion and Holley ladder trucks.
The county had a Sept. 11 memorial observance at the Courthouse lawn on the 21st anniversary of the terrorist attacks, where 19 hijackers killed 2,977 people after crashing four airplanes.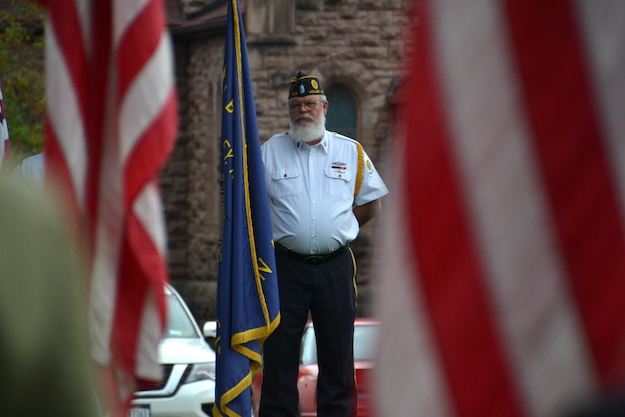 Scott Galliford, the commander of the American Legion post in Holley, was part of the color guard of local veterans, carrying the banners and flags.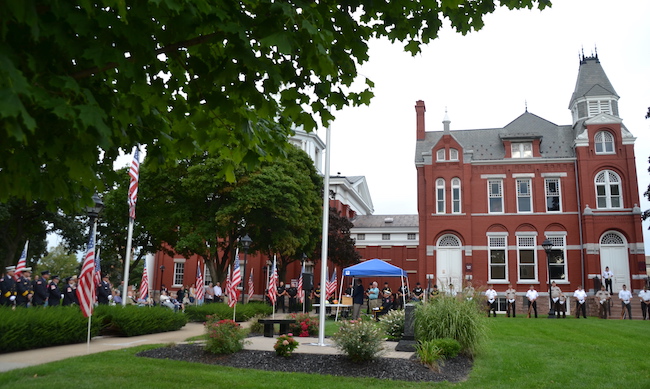 The county-wide service was held on the Courthouse lawn in front of the County Clerks Building and County Courthouse. There is a memorial to the Sept. 11 victims by the flag pole.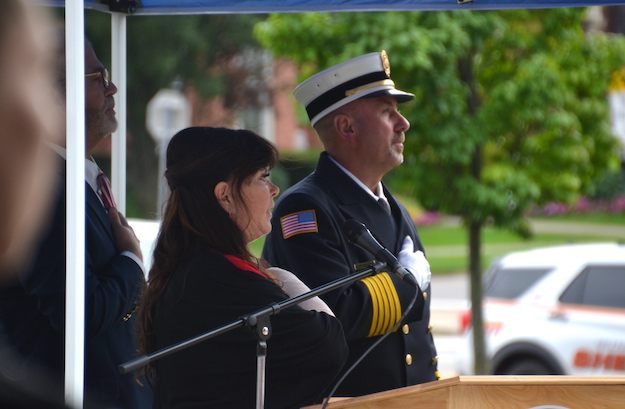 Lynne Johnson, chairwoman of the Orleans County Legislature, and Dale Banker, director of the Orleans County Emergency Management Agency, lead in reciting the Pledge of Allegiance.
Banker shared a timeline from 21 years earlier. On Sept. 11, 2001, at 8:46 a.m., the North Tower was struck in New York City. At 9:03, a plane hit the South Tower. At 9:37, the Pentagon was struck. At 9:59 p.m., the South Tower fell. At 10:07 a.m., Flight 93 crashed in rural Shanksville, Pa. At 10:28 a.m., the North Tower collapsed.
"We were attacked and wounded beyond belief, but not beyond repair," Banker said.
Johnson read the lyrics from "Have You Forgotten?" That song was released in 2003 by country music artist Darryl Worley.
"Have you forgotten how it felt that day, to see your homeland under fire, and her people blown away? Have you forgotten when those towers fell, we had neighbors still inside, going through a  living hell."
Johnson said she will never forget Sept. 11, 2001, which she called "the worst day in the history of our great country."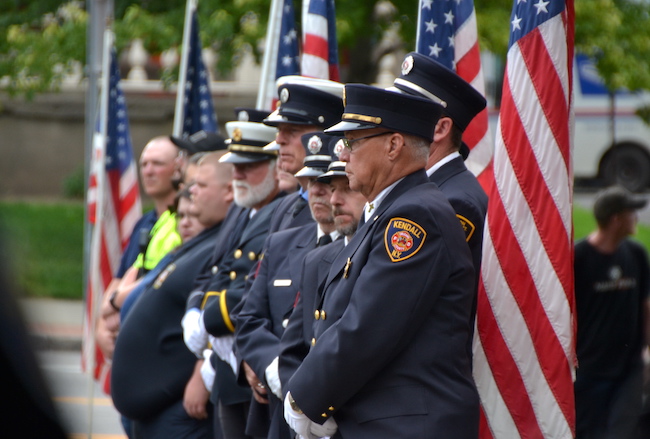 John Becker of the Kendall Fire Department joined other firefighters at the observance. In 2001, Kendall also had a firefighter killed in the line of duty. Richard Buongiorne was fatally injured on January 9 when he was struck by two vehicles while he was directing traffic at the intersection of Routes 18 and 237 in Kendall.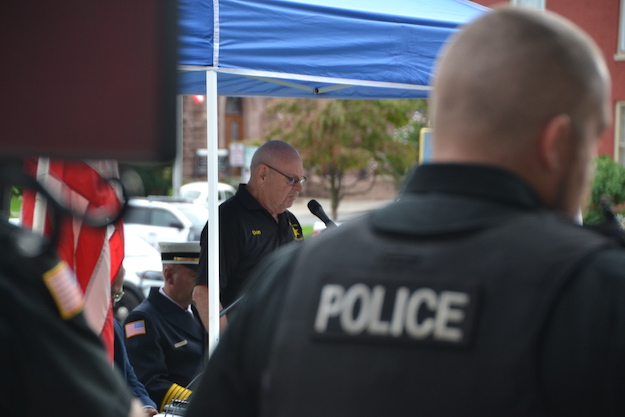 Don Snyder, chaplain for the Orleans County Sheriff's Office, said first responders serve the community while putting themselves at risk. He encouraged others to volunteer with their fire departments and other community service organizations.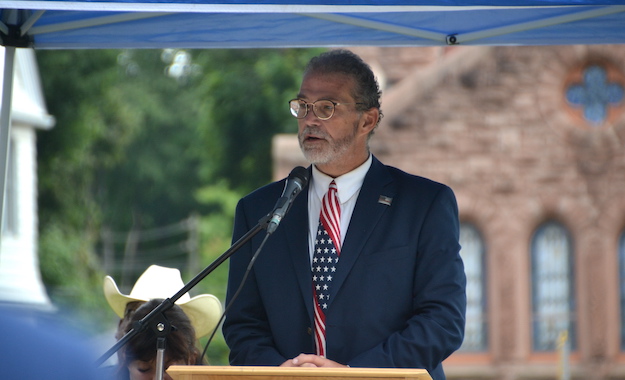 Scott Schmidt of Medina served as the keynote speaker at the observance. Schmidt spent 20 days with a federal team – U.S. Disaster Mortuary Operational Response Team – and assisted in collecting and identifying remains, and interviewing family members searching for loved ones. He left for New York City on Sept. 11, 2001. Schmidt is the county's chief coroner and also a funeral director with Mitchell Family Cremations & Funerals, Inc.
Schmidt said the nearly 3,000 people killed are just a number, and they were more than what they did for a career or how they served their communities.
"We mourn them all equally," Schmidt said. "We are all connected to one another."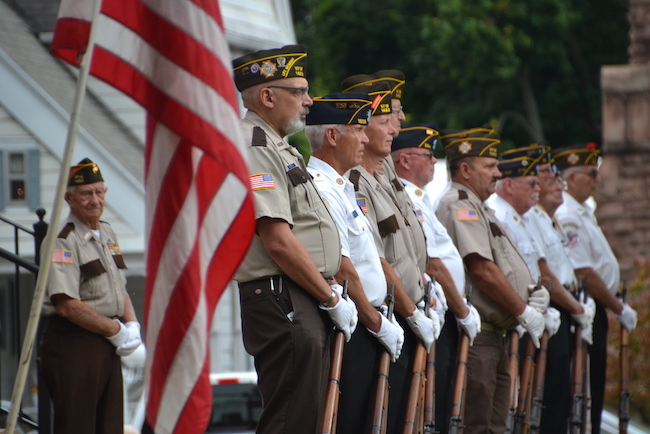 Local veterans line up in the honor guard for the service. Jim Freas in back left is the group's leader.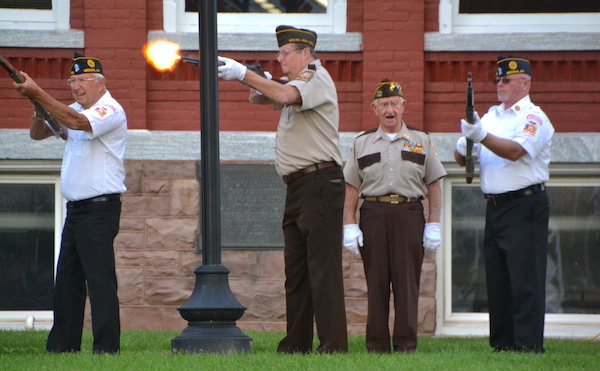 The veterans, including Brad Nudd (second from left) did a gun salute.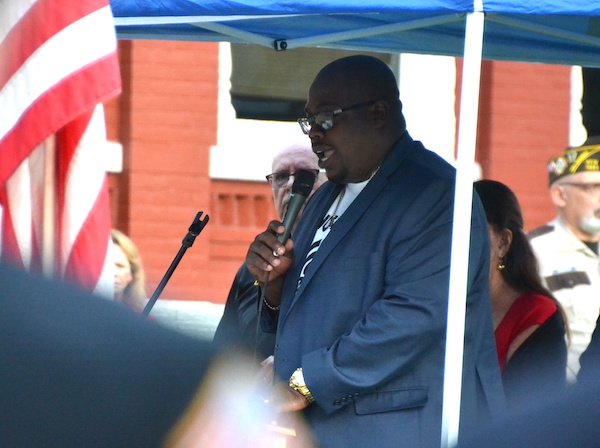 Trellis Pore, pastor of the Shiloh Church in Albion, leads in singing "America the Beautiful."