204 new Covid cases in Genesee, Orleans in past 4 days
Both counties each reporting a death due to Covid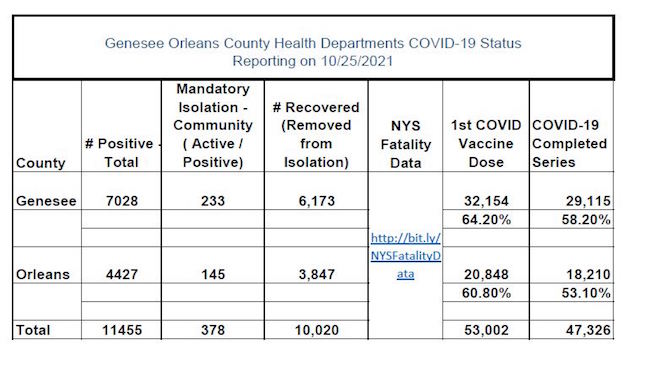 Genesee and Orleans counties are reporting 204 new Covid cases since Thursday. Each county also is reporting another death due to Covid. Both of the people who passed away from Covid are under age 65, the Genesee and Orleans County Health Departments reported.
In Orleans County, there are 67 new cases, and also 76 more recoveries, or people who have completed their 10-day isolation and have been removed from mandatory isolation.
In Orleans, there are currently four people hospitalized due to Covid.
In Genesee, there are 137 new positive cases, which pushes Genesee past 7,000 cases during the pandemic since March 2020. There have now been 7,028 confirmed cases in Genesee and 4,427 in Orleans.
Genesee also is reporting 86 more recoveries. The county also has 20 people hospitalized due to Covid.