2019: The Year in Pictures
Community loves to celebrate, and comes together during tragedy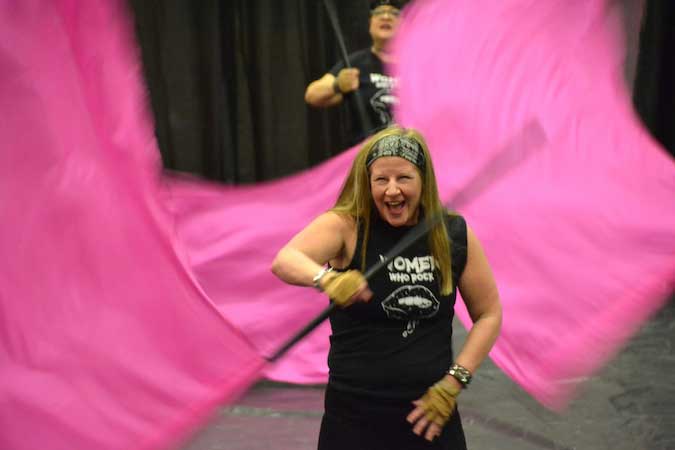 Each year I pick some of favorite "people pictures" and other images that helped tell the stories from the news events in the past year.
Andrea Grant and other members of the Magic of Scout House put on a high-energy show on March 9 at Medina, when 14 winterguard groups performed during Medina's annual show, "Colorburst."
Magic of Scout House is based in Kitchener, Ontario, and did a tribute to "Women Who Rock," which included some of the most iconic rock songs by women.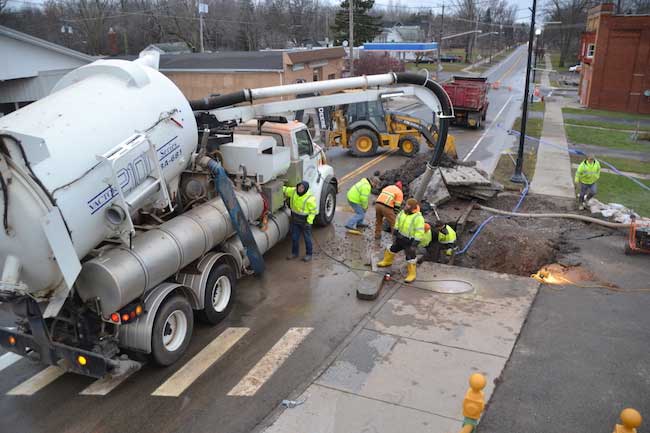 It was a tough start to 2019 for the Village of Albion Department of Public Works. The DPW employees are shown in freezing temperatures on Jan. 1 digging under Main Street, just north of the Erie Canal, to get to a broken water main.
The village was alerted to a water problem at about 1 a.m. on New Year's Eve when the Clover Hill Adult Residence on South Main Street called in to say it didn't have water. The DPW located the leak on a main water line that feeds much of the village and the Barre water tank.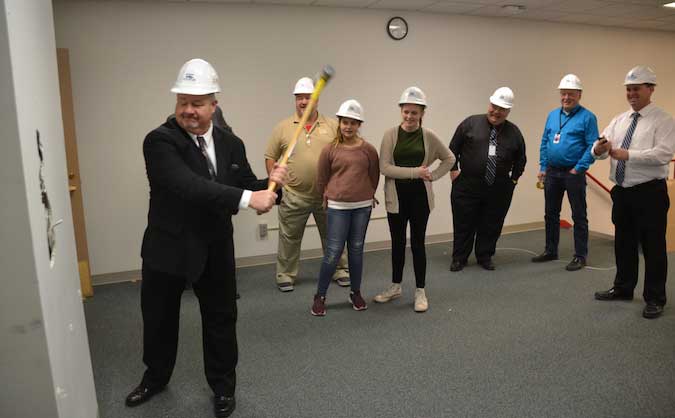 Ted Lewis, president of the Lyndonville Board of Education, uses a sledgehammer to break into a wall above the elementary school library on Jan. 2 during a ground-breaking for a $10.7 million capital project. The district created two new classrooms above the library as part of the project that also included air-conditioning, an improved and expanded parking lot, and upgrades to the locker rooms.
Lyndonville also put on a section of a new roof put on in 2017 and added new LED lights in the gym with the capitol project.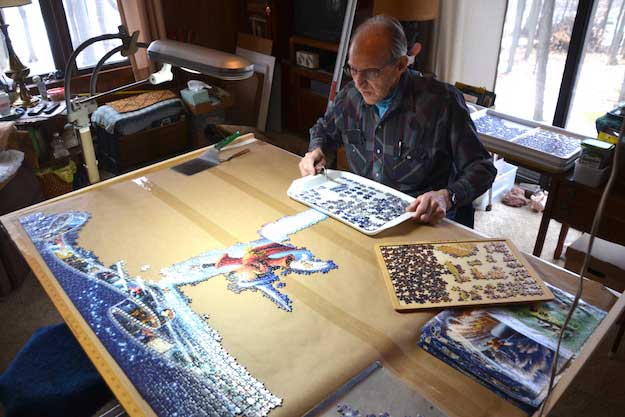 Garland Miller, 93, of Albion is shown in his living room last January making progress on a 40,320-piece puzzle that includes 10 scenes from famous Disney films. This puzzle includes Mickey Mouse in the movie, Fantasia.
Miller is called a puzzle master by his family. He has done numerous puzzles with 500, 750, 1,000, 2,500 pieces and more.
In 2017, he finished his most ambitious puzzle with 9,000 pieces. After Miller was done with that puzzle, he declared he was ready for a bigger challenge. His family found the world's largest puzzle, the one with 40,320 pieces. It could take more than 2 years to finish.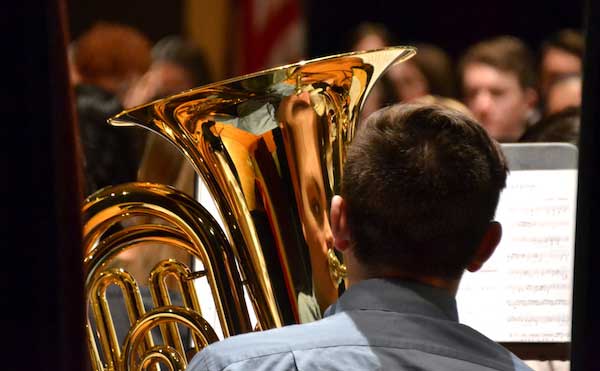 Isaac Coppini, a tuba player from Albion, performs with the senior high band during the All-County Music Festival at Medina High School on Feb. 2. There were about 75 students in the band from Albion, Holley, Kendall, Lyndonville and Medina.
The junior high chorus and elementary band also performed. There were nearly 300 students involved in the All-County Music Festival, which was organized by the Orleans County Music Educators' Association.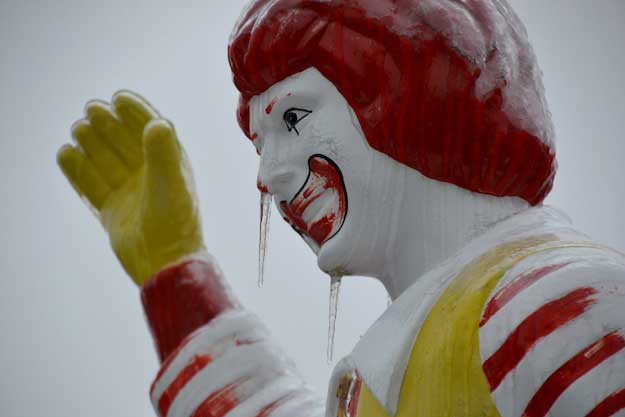 It was a tough day to be outside on Feb. 6 with roads, sidewalks and driveways covered in ice. Even the Ronald McDonald statue outside the Albion McDonald's was coated in ice with some long icicles.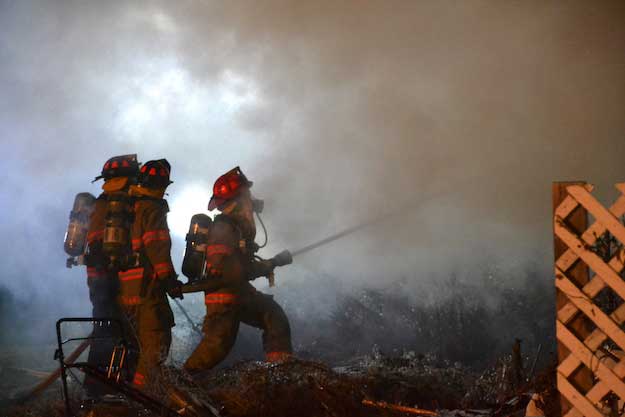 Firefighters on Feb. 11 responded to a house on fire at Bates Road in Ridgeway. Firefighters from the western battalion – Ridgeway, Lyndonville, Shelby, East Shelby and Medina – all responded to the scene.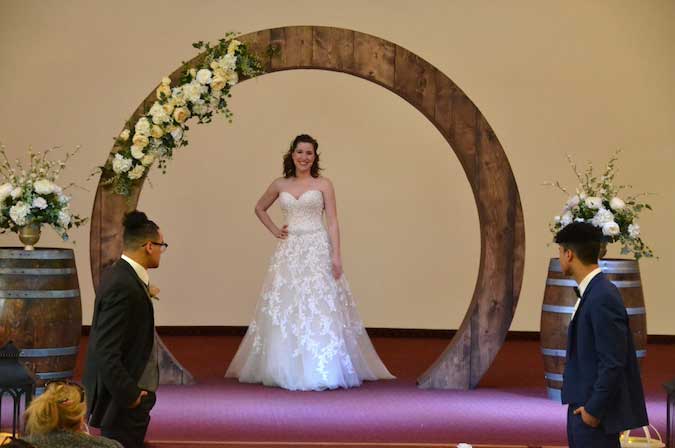 Riki Lake models a wedding gown on Feb. 17 during the Blissett's Specialty Shop Wedding & Prom Showcase at the Medina United Church, which uses the former Apple Grove Inn for its church.
The church sanctuary was turned into a venue for a fashion show, featuring wedding gowns, and prom and bridesmaid dresses, as well as tuxedos. The two young men in tuxedos are Ricky Pitts, left, and William Braswell. They wore tuxedos provided by Daniel's Men's Apparel in downtown Medina.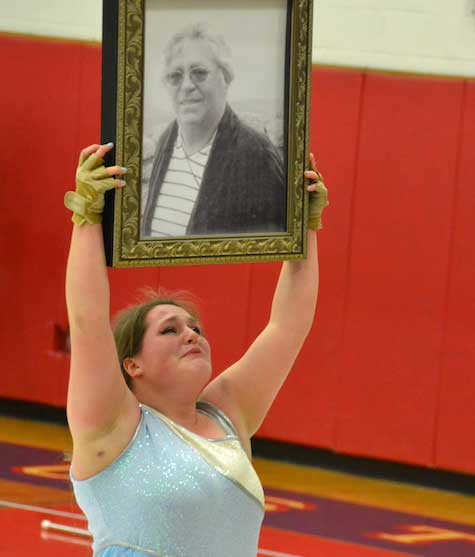 Paige Martin of Medina holds a photo of a loved one, her late grandmother Shelia Frasier, at the end of the winterguard performance on March 9 in Medina.
Medina performed a show,  "I Can Only Imagine." Many people experience the loss of a loved one and this show was intended to take people on a journey that can bring back fond memories of that special person.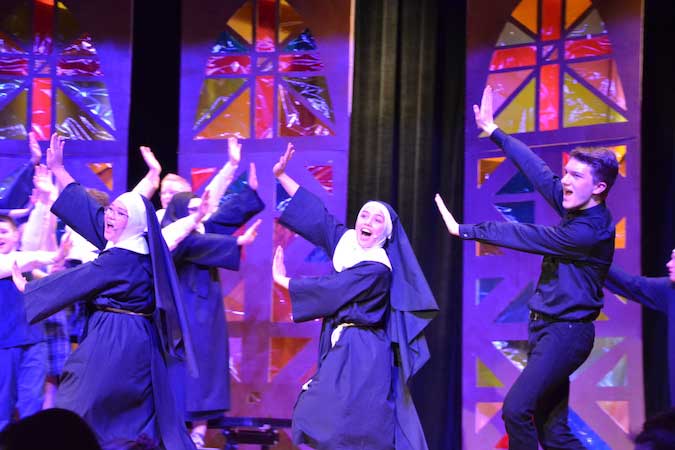 Layna Viloria, center, portrayed Deloris Van Cartier in Sister Act, which was performed March 22-24 at Lyndonville Central School's Auditorium. Deloris is a nightclub singer who is sent to a convent in hiding after she witnesses someone being killed.
She takes over the choir and the nuns respond to her high-energy style. She is shown singing, "Raise Your Voice" with Sawyer Wilson, a dancing custodian, and Alissa Klinetob (left), who plays Sister Mary Patrick.
The musical was performed for the first time by a school in Orleans County.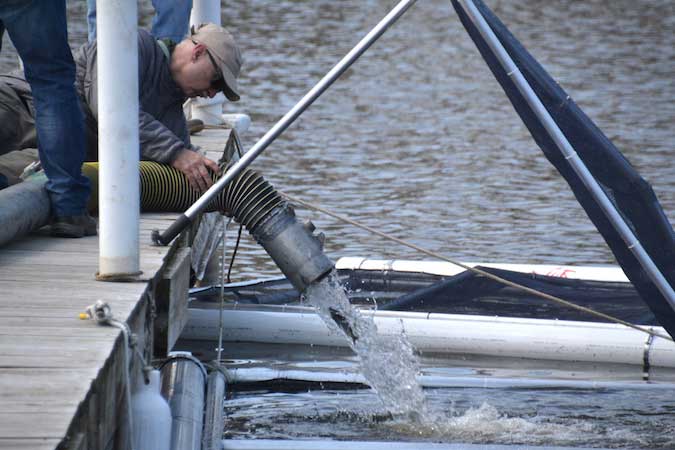 Dave Agness of Honeoye Falls helps a team of volunteers and the state Department of Environmental Conservation release 10,000 steelhead into pens on April 8 at the Oak Orchard River. The DEC also brought along 90,200 Chinook salmon.
Charter boat captains and other volunteers have been raising fish in pens in the Oak Orchard River since 1998. This was the first pen-rearing project on the south shore of the lake. Now there are many.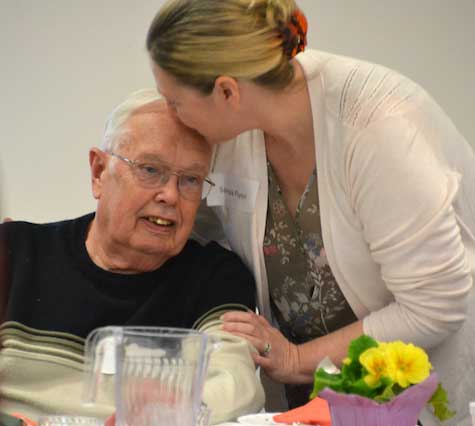 Gil Cain is congratulated by his niece Sonya Flynn of Ridgeway after he was named Hospice's "Volunteer of the Year." He was recognized during the organization's annual meeting on April 11. Cain set a new record for Hospice by volunteering 540 hours over the year.
He frequently serves lunch at the Martin-Linsin residence, and comes back and helps serve dinner.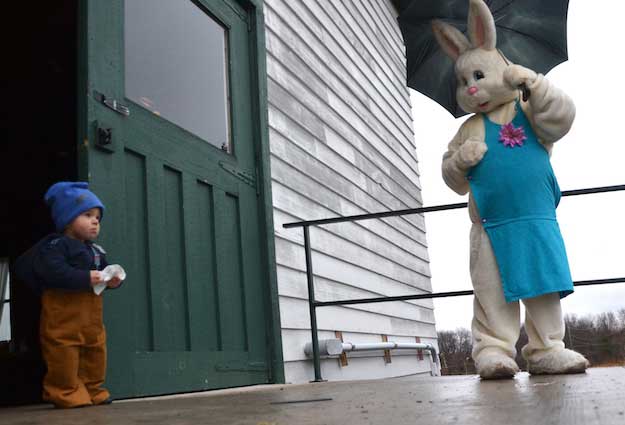 Samuel Conde, 1, of Albion is a little apprehensive around the Easter Bunny on April 14 during an Easter egg hunting event at The Gallagher in Medina. More than 100 children came out for the egg hunt, despite the rain. Jenna and Martin Bruning, owners of The Gallagher, hid 3,000 eggs on the property.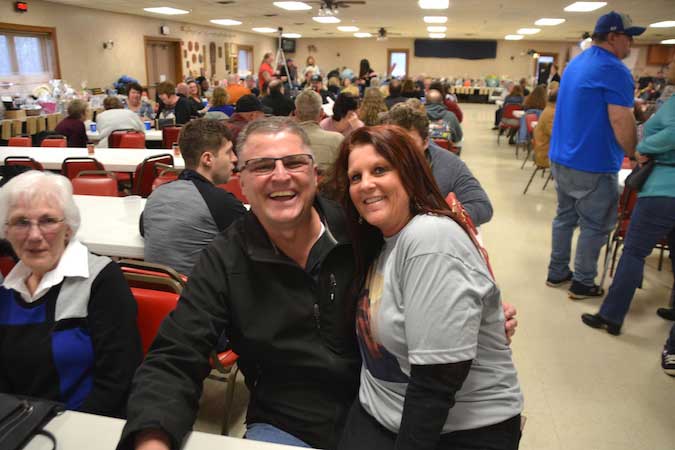 Terry Weaver and his sister Kim Lockwood are in good spirits during a benefit on April 20 in Weaver's honor at the Ridgeway Fire Hall.
About 500 people attended the benefit for Weaver, a US Air Force veteran who worked 30 years in corrections, including as a sergeant at the Orleans County Jail. He is fighting stage 4 lung cancer and had a brain tumor removed in January.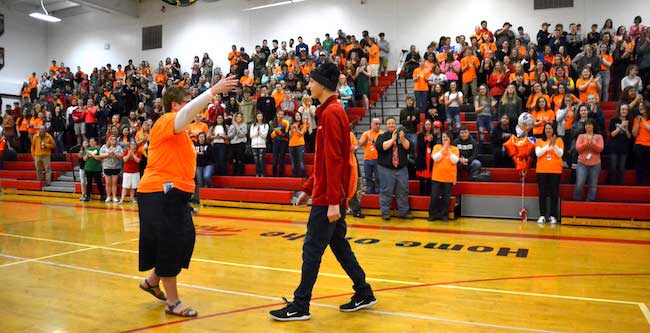 Evan Valentine returned to Holley Junior-Senior High School on April 22 for the first time since being diagnosed with leukemia on Oct. 19, 2018. Evan, 16, completed four rounds of chemotherapy. He was greeted by Susan Cory, the school principal, and about 450 of his classmates in grades 7-12.
Cory gives Evan a hug. "It's been a long time and we've missed him," she said. Many of the teachers and students wore orange "Evan Strong" shirts to celebrate Evan's return.
Evan received a standing ovation from students and teachers that morning. He endured five months in the hospital for his chemo and recovery.
"I just want to say thank you to the community," he said.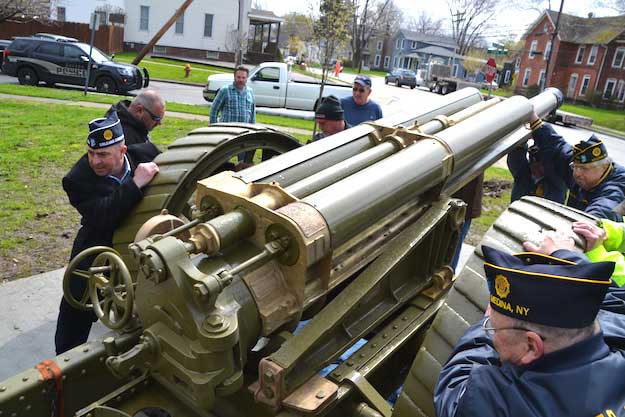 Local veterans including Earl Schmidt (left), the County's Veterans Service Agency director, push a cannon in place at State Street Park in Medina on May 1. The World War I cannon returned to Medina following more than a year of restoration work by Seed Artillery Reproduction and Restoration, in Altoona, Pa.
The B.L. 60 Pounder British field gun has been a fixture at State Street Park since 1935. It was hauled away on March 12, 2018 for its restoration work. George Bidleman, owner of Orleans Ford, paid the $40,000 restoration cost.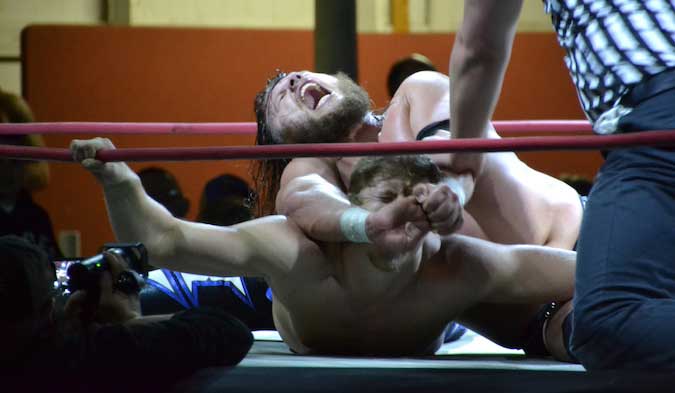 Joe Gacy applies lots of pressure on Kevin Bennett during their wrestling match on May 4 during the "Fairground Fallout: Return of the Empire." This was the second straight year Empire State Wrestling held an event at the Orleans County 4-H Fairgrounds. About 200 people attended the event that was a fundraiser for the East Shelby Volunteer Fire Company.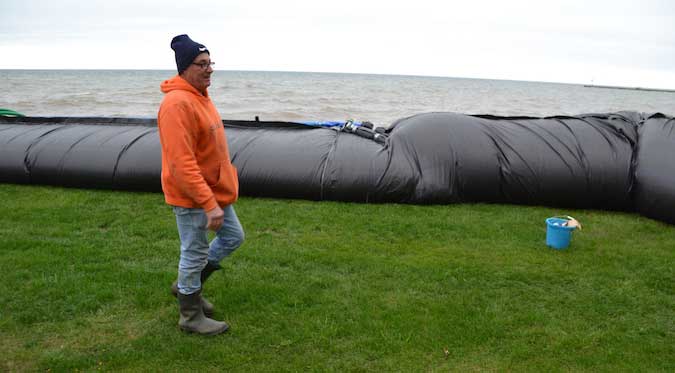 Mike Walsh walks by the AquaDam that was put in his yard on May 10 by the State Office of Fire Prevention and Control. Walsh has lived at Oak Orchard on the Lake in Carlton the past 22 years. Lake Ontario was steadily rising this spring and the waves crashed over a new breakwall that was put in for him and his neighbors last year. Lakeshore property owners had to contend with high lake levels again in 2019, following flooding in 2017.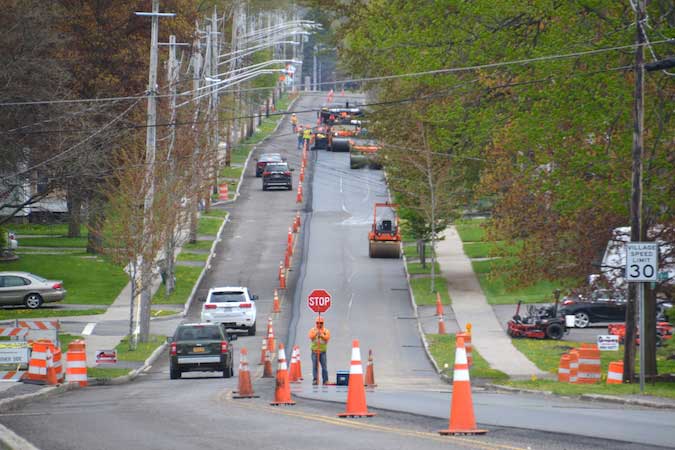 Keeler Construction on May 15 is shown new pavement on Route 31 in Holley. This photo is on the west side of the village, looking down from the railroad overpass. The state Department of Transportation hired Keeler for the job, which includes milling and repaving Route 31.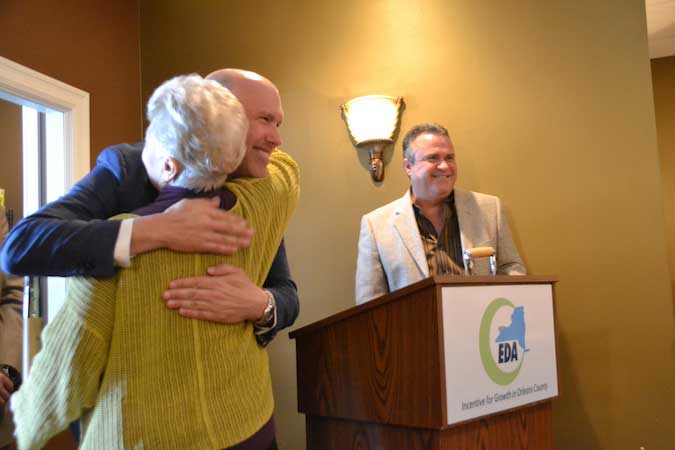 Brian Wogernese, President/CEO Cobblestone Suites, on May 16 hugs Gabrielle Barone, vice president of business development for the Orleans Economic Development Agency. Barone worked for five years to bring a hotel to Medina. Todd "Booka" Hanes, right, is a managing partner with the Medina Hospitality Group, which owns a 58-room hotel to be constructed on Maple Ridge Road.
The company held a ground-breaking celebration at the Zambistro restaurant on Main Street. The Medina hotel is the first in New York for Cobblestone Suites, which is now in 26 states with a focus on small towns.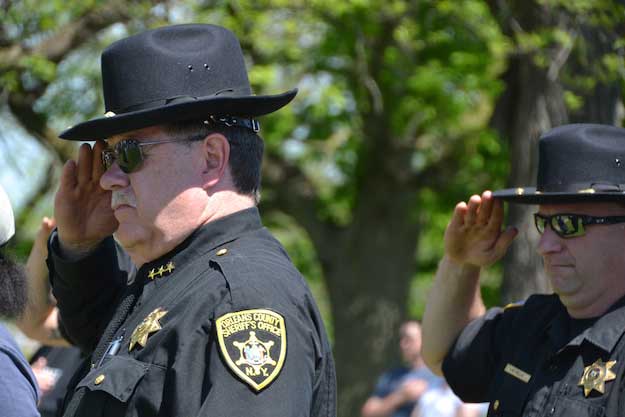 Chris Bourke, undersheriff of the Orleans County Sheriff's Office, stands at attention on May 27 during a rededication ceremony for a World War I cannon. The cannon was rededicated at State Street Park after being restored. Michael Mele, the chief deputy, is at right. Bourke would be elected sheriff in November and starts on Jan. 1. Mele will be the new undersheriff.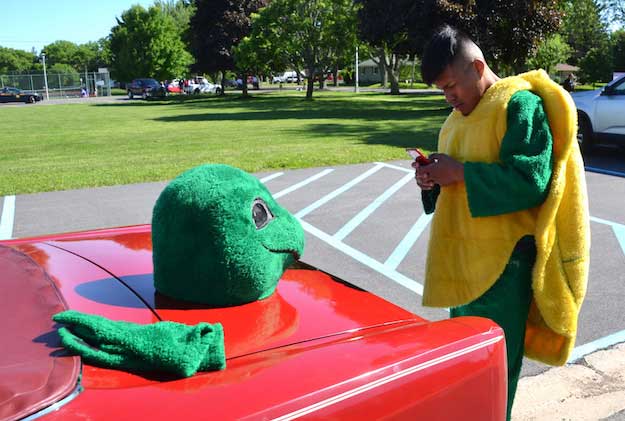 Jessy Cruz of Albion checks his phone before getting the full costume on as The Turtle in the 33rd annual Strawberry Festival Parade on June 8. Albion High School served as a staging area for many of the parade participants.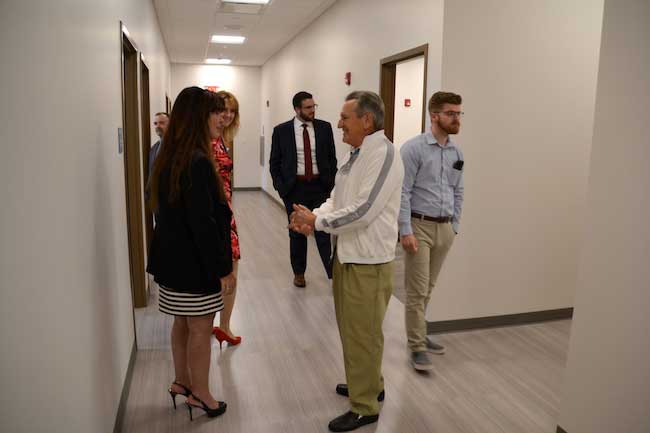 Stan Dudek, retired chief administrative officer in Orleans County, gives Lynne Johnson positive feedback about a new addition to the County Administration Building. The county held an open house on June 11 for the $10 million project.
The 23,000-square-foot addition will provide offices for about 50 county employees, as well as other meeting rooms and the Legislature's chambers.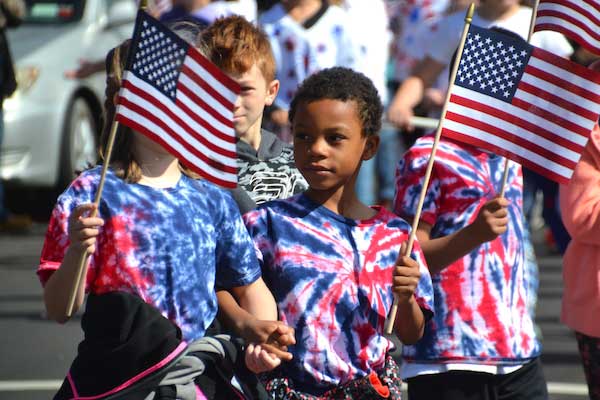 These Holley students hold hands and wave American flags on June 14. More than 500 elementary students walked from the elementary school to the Historical Society depot just past the Public Square. Students sang patriotic songs and the elementary school band also performed the "Star Spangled Banner," "America the Beautiful," and "My Country 'Tis of Thee."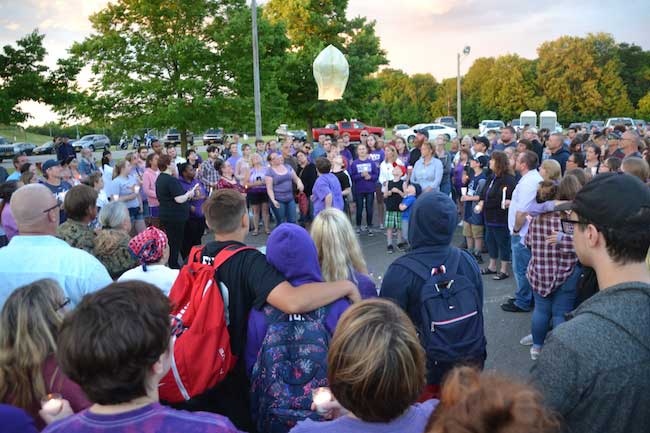 There were about 500 people at a vigil in Albion on June 21 at Bullard Park, three days after Brennan Moody was killed in a car accident and one of his friends, Sean Weis, was seriously injured. Two other members of the Class of 2019 also had minor physical injuries in the accident.
The loss of Brennan Moody was devastating to the community. Brennan, 17, had many friends at school. He was very active in the music program with the band, chorus and musicals.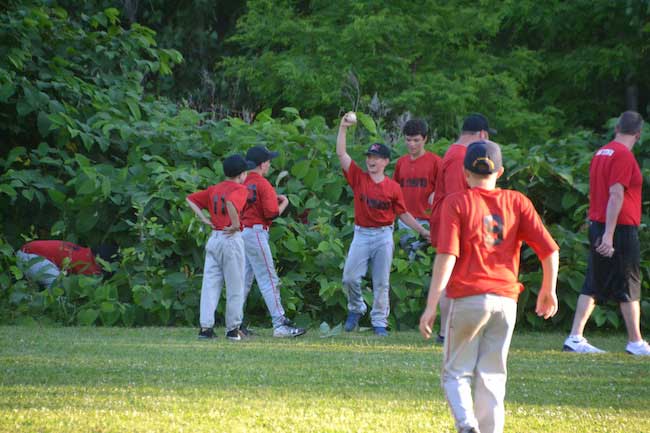 Liam Leader of the St. Mary's youth baseball team holds up a baseball he retrieved on June 27 from the weeds in the outfield at Sandstone Park in Albion. One of his teammates, Mason Giattino (who is behind Liam), hit a long home run earlier in the game. Liam gave it to Mason as a souvenir. St. Mary's enjoyed a winning season in 2019.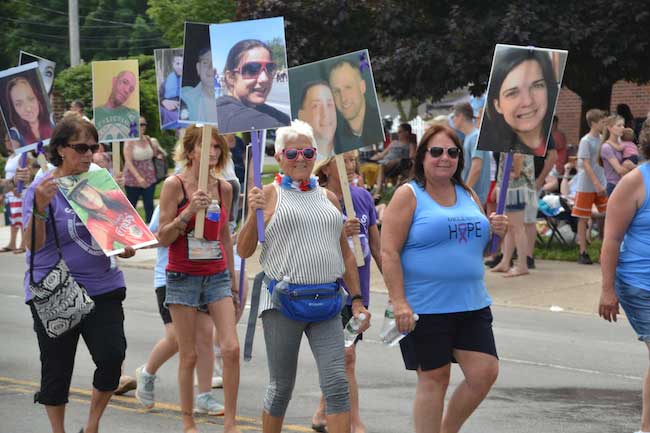 During the July 4th Lyndonville parade the local organization, Orleans – Recovery Hope Begins Here, carried portraits of people who have died from drug addiction. Tami Ashton, right, and her mother Linda Fisk both carried the photo of Tami's daughter, Christina, who died of an overdose at age 34 on June 27, 2016. Christina's daughter, Hayley Farewell, carried the banner for Orleans – Recovery Hope Begins Here during the Lyndonville parade.
"Our goal was to open peoples' eyes," Tami Ashton said. "That's the message that it can affect anybody. It crosses all races, income levels. Addiction does not discriminate."
The group carried the photos of about 30 people who have died from addiction, including 14 in Orleans County.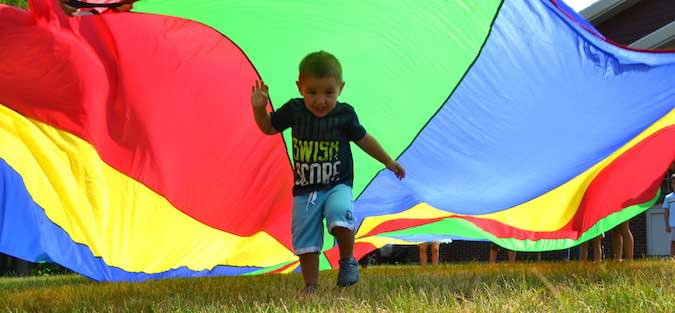 Jonah Fisher, 2 ½, plays the "mouse" during a game on July 8 at Hoag Library. He ran underneath a big parachute where there was another kid who was the "cat" trying to find him. The game was part of a field day and "Water Wars" event outside Hoag Library as part of the summer reading program.
The Holley Presbyterian Church celebrating its 200thanniversary on July 14. The Rev. Deb Swift, pastor of the South Presbyterian Church in Rochester, leads the group in a prayer. She also gave the sermon, "Ride Loose in the Saddle," during the bicentennial celebration. Swift said churches should be riding on the back of the Holy Spirit.
"Trust we're on a ride and we might get jostled around a little bit, but we need to hold on to the reins," she told about 75 people at the service.
Swift praised the courage and vision of the pioneers who established the congregation for the Holley community 200 years ago, back when the community was known as Saltport and the Erie Canal hadn't opened yet. The canal was complete in 1825.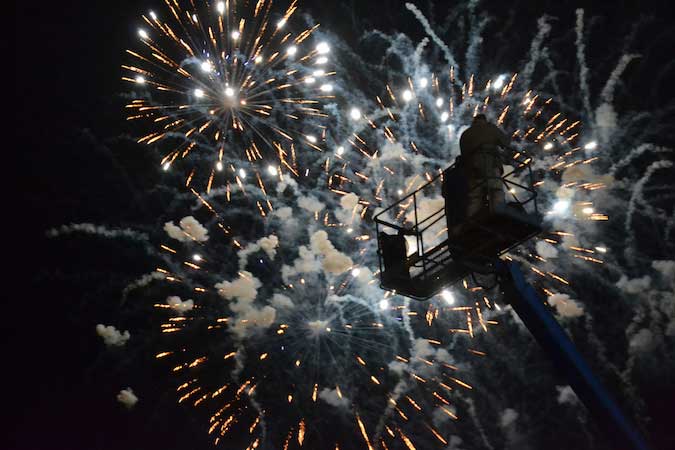 Bruce Landis, a professional photographer from Albion, is up high in a lift during the fireworks display at the Orleans County 4-H Fair in Knowlesville on July 26.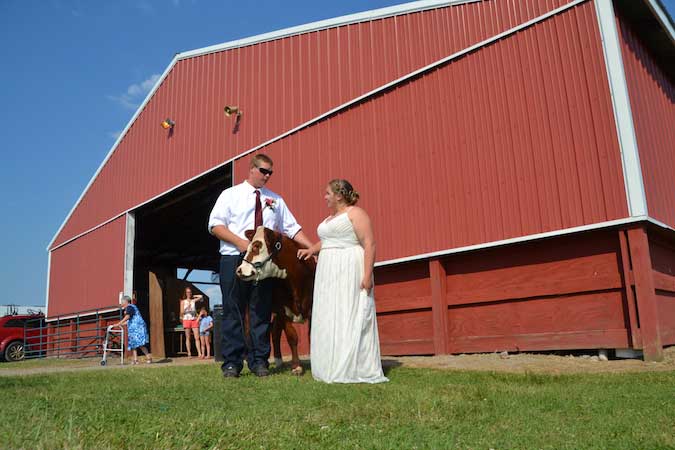 Zack Blackburn and Chantelle Kidney stopped at the Orleans County 4-H Fair today after their wedding on July 27. They made sure to get a photo with a steer.
The couple met at the fair. They started dated on July 27, 2012. Blackburn, 23, was a member of the Beef Club seven years ago when Kidney, 21, showed sheep at the fair. Three years ago they were engaged on July 27. Blackburn asked Kidney to marry him in the sheep barn.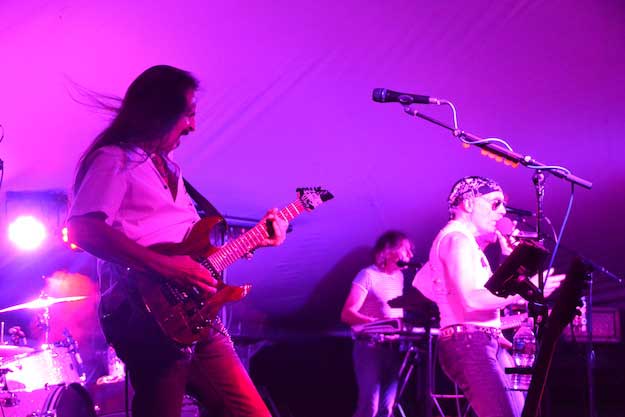 Michael Giarrizzo, left, plays guitar and sings for 7th Heaven, which closed out the Rock the Park festival at Bullard Park on Aug. 3. Terry K., right, is the lead singer. The band delighted the crowd with music by AC/DC, Billy Idol, Def Leppard, Aerosmith, Don Henley and others.
Five bands played under the big beer tent from 3 to 11 p.m. 7th Heaven started with "Rebel Yell" by Billy Idol, "Hysteria" and "Armageddon It" by Def Leppard, and "It's a Long Way to the Top (If You Wanna Rock 'n' Roll)" by AC/DC.
In 2020 a new amphitheater will available for concerts at the park.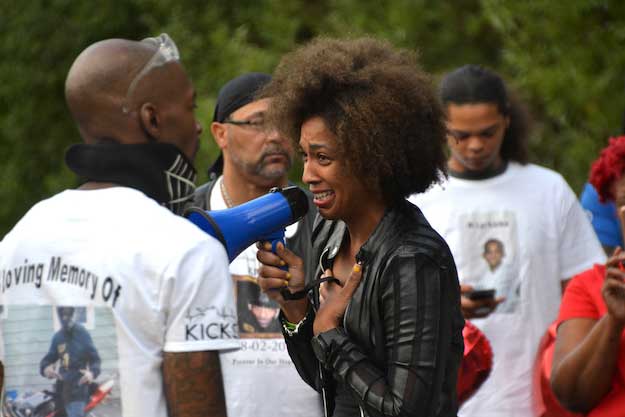 Savanity Davis speaks during a memorial gathering on Aug. 9 in Albion for her younger brother, Jaquan Ford of Rochester. He was killed in a motorcycle crash on Aug. 2 at the intersection of Brown Road and East Bacon Road.
Savanity Davis thanked the group of about 100 motorcyclists for supporting the family during their loss. Davis said her brother, 28, was quiet and served as a "connecter" for the family. "Together we have lost someone who has left a very large footprint," she told the group.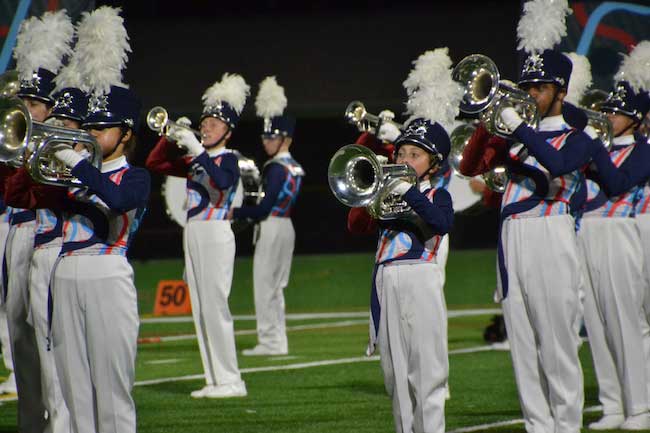 Madeline Lewis, center right, plays the baritone for the Medina Mustang Band on Sept. 21 during the Fall Festival of Bands at Vets Park. Medina hosted nine bands and 1,000 spectators for the event. The Mustangs would win the 2019 state championship on Oct. 27 in Syracuse. Medina won the Small Schools 1 Division.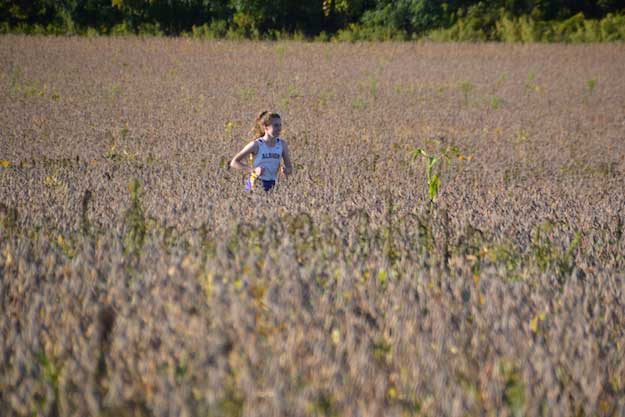 Alanna Holman, an Albion cross country runner, competes in an Oct. 8 race in Albion. Part of the course is through a  soybean field. Alanna was a first-team all-league runner for Albion for the third straight year.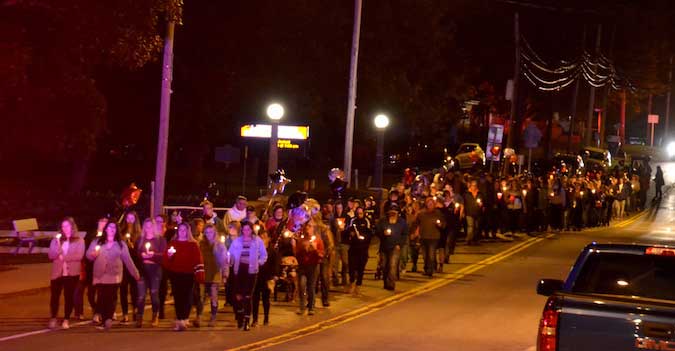 About 250 people attended a candlelight walk on Oct. 20 in honor of Brooke Allen, 21, and Ricky Forder, 20, two recent Lyndonville graduates who were killed in a car accident on Oct. 10 on their way to work at Lake Ridge Fruit, an apple packing facility on Route 104 in Gaines.
The walk began at the school on Housel Avenue and then proceeded to the baseball field on Lake Ave. Many brought their own candles and balloons.
"It ripples through the whole community," one of the mourners said of the tragic deaths.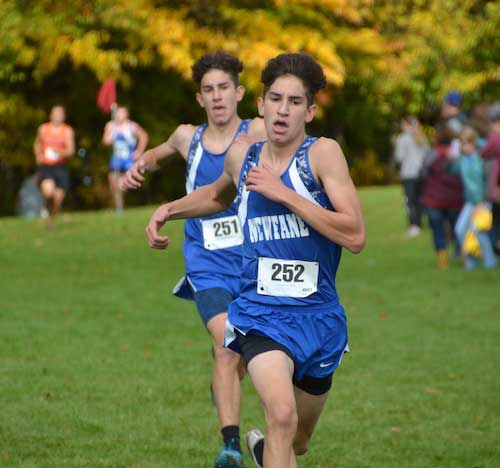 Conner Cuzzacrea of Newfane just edges his twin brother Andrew during the Niagara-Orleans League race on Oct. 26 at Lakeside Beach State Park in Carlton. The brothers were 6th and 7th overall, which earned them both a spot as first-team all-league. The Newfane girls and boys teams both defended their titles as league champs.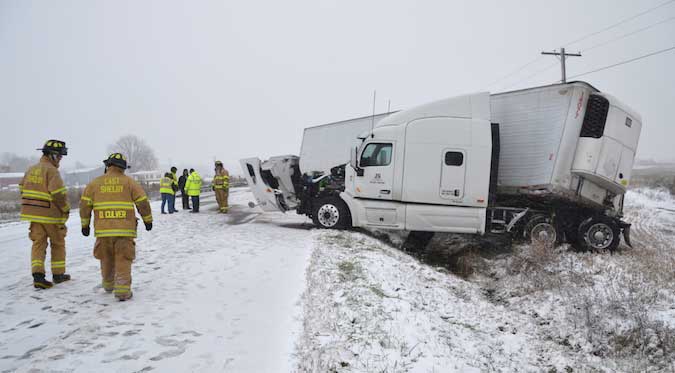 Shelby and East Shelby firefighters responded to this truck accident Nov. 11. A tractor trailer from Grand Island hit a guard rail and slid off Route 31A, just west of Townline Road near Barre. Road conditions were slick due to the freezing temperatures and falling snow.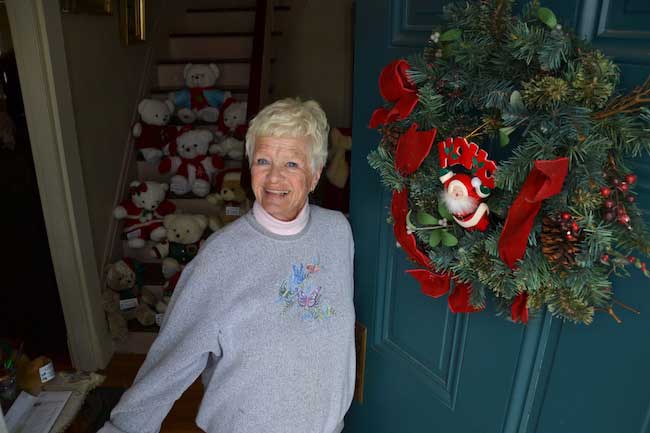 Georgia Thomas is shown at the front door of the Medina Historical Society. She decorated the museum with 300 stuffed animals, including about 250 of her own. She had the stuffed animals positioned throughout the museum, where they appear to be interacting with exhibits. Thomas brought in the stuffed animals for a Nov. 30 event that welcomed children and families to the Historical Society on West Avenue.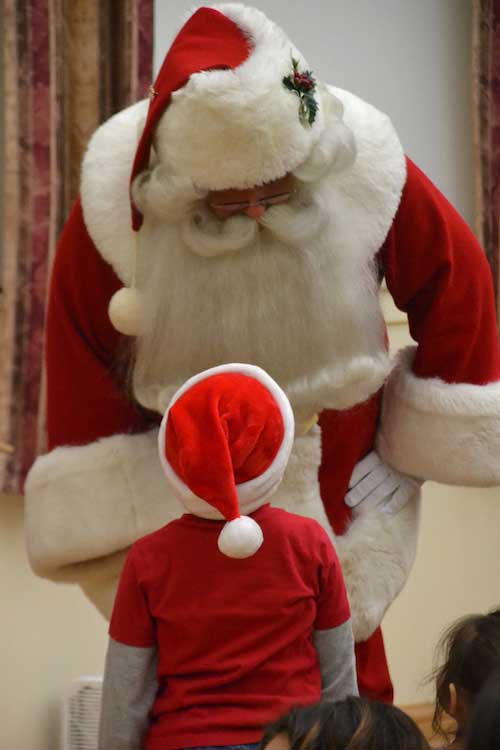 Weston Burgio, 5, of Albion stepped up to meet Santa Claus on Dec. 2 at Hoag Library in Albion.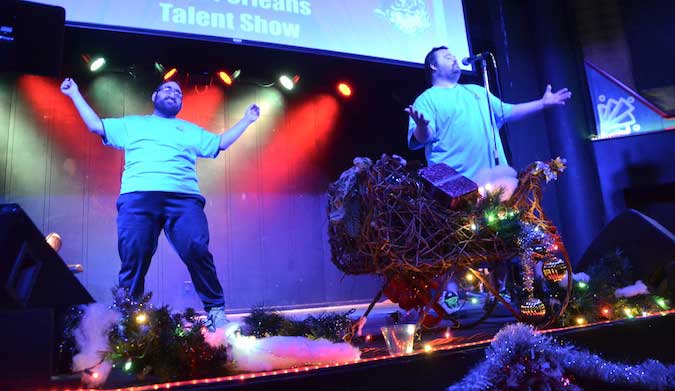 Erik Goodrich, right, sings while Josh Jones dances to "Step By Step" by the New Kids on the Block during the fourth annual talent show on Dec. 6 for the Arc of Genesee Orleans. There were about 25 acts from Genesee and Orleans counties in the talent show, which was held at the Medina Theatre.