2017 Portraits and Personalities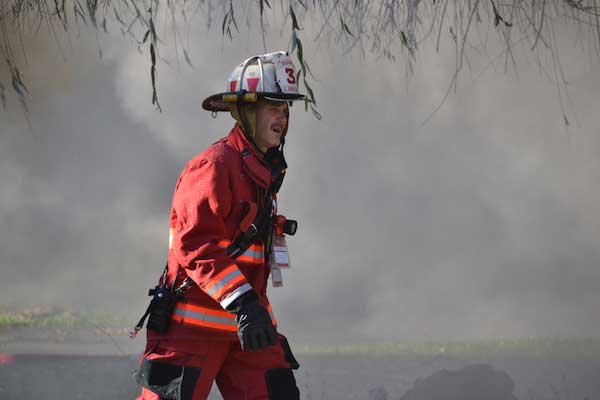 Each year, I pick my favorite "people pictures" of the year, of residents at work and play – and sometimes in mourning. These photos give a glimpse of life in Orleans County.
The top photo shows Jerry Bentley at a fire in Clarendon on Nov. 28. Bentley, a long-time volunteer firefighter in Barre, started this year as a deputy fire coordinator for Orleans County.
The fire in Clarendon destroyed a house and garage owned by Jim and Marge Dale on Fancher Road.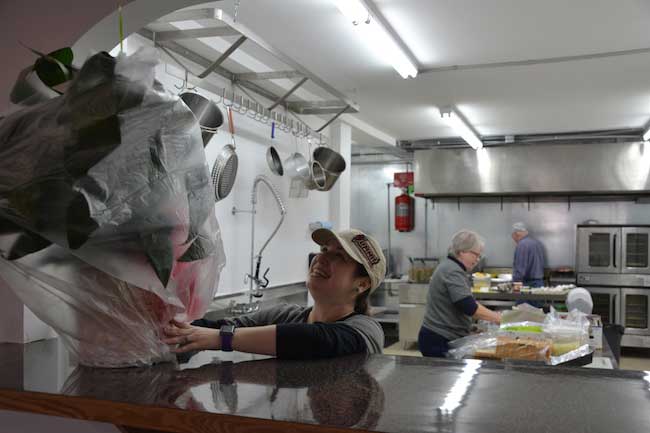 Shawna Edwards has a big smile on Jan. 6 after flowers were dropped off congratulating her on the reopening of the Barre Deli. Her parents, Jerry and Mora Edwards, are in back working in the kitchen. Jerry and Mora ran the Barre Deli for 16 years until retiring in 2006.
Shawna Edwards grew up in the deli, which had been closed since 2011 and had been turned into apartments. She needed to put in a kitchen and make other renovations.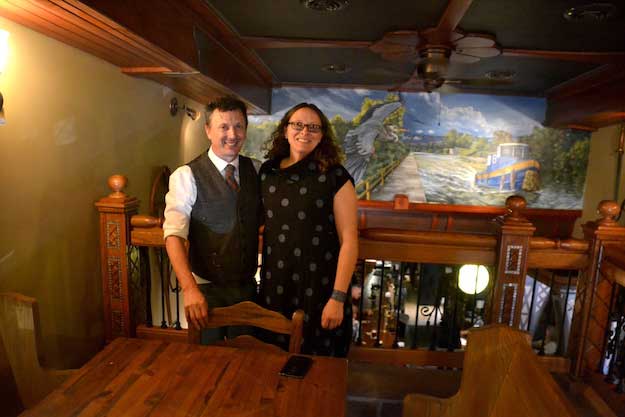 Another business opened on Jan. 6. Fitzgibbons Public House opened in Medina after eight years of renovations at 429 Main St., the former Silver Dollar. Tony McMurtie, left, and Amy Cifelli are  pictured in the mezzanine with a Erie Canal mural created by Stacey Kirby.
Amy and Kevin Cifelli worked for nearly a decade to create the place. When they bought the former Silver Dollar, the building was badly deteriorated. McMurtie, owner of The Pillars in Albion, also joined the Cifellis in running the new Celtic pub.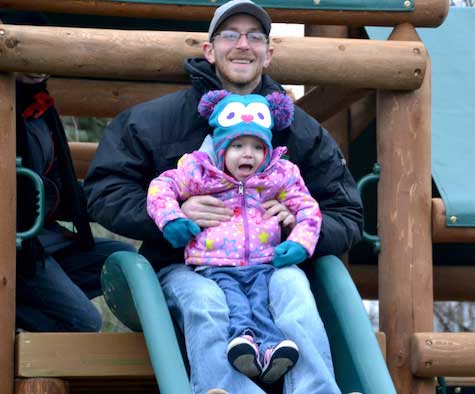 Kyle Webb is pictured with his daughter, Elaina, on Jan. 19 after Make-A-Wish had a new playground built for the family in their Albion backyard.
Elaina fought cancer for nine months before passing away on Feb. 7 at age 2 ½. Her parents, Kyle and Beth Webb, have started a foundation to support children fighting leukemia.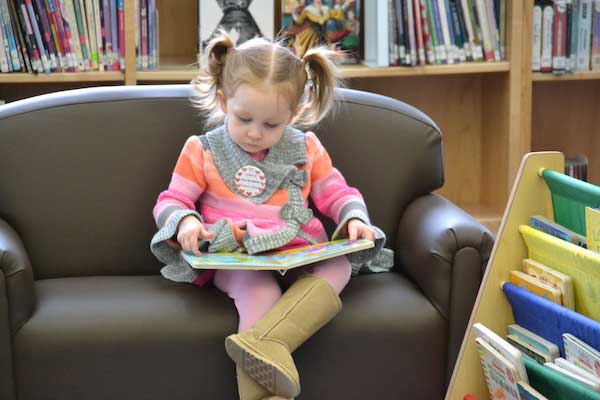 Aurora Fink, 2 ½ of Bergen, looks over a book on Feb. 4 at Hoag Library in Albion. Her grandmother, Barb Kyler, works as assistant to the library director. Hoag Library on Feb. 4 held a celebration and unveiled a plaque naming the children's library in honor of Helen Rice Blissett. Her son, Dale Blissett, donated $75,000 to have the children's library named in his mother's honor and also to support children's programs at Hoag.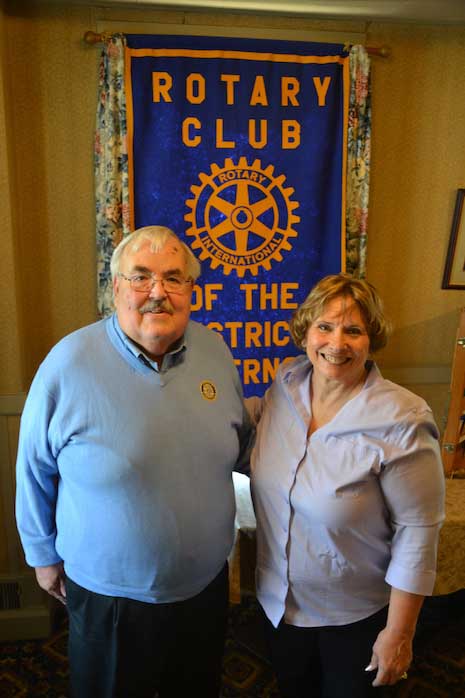 John Heise of Holley, a past district governor for Rotary's District 7090, is pictured with Marleee Diehl of Albion, who served as district governor in 2016-17. Heise visited the Albion Rotary Club on Feb. 23.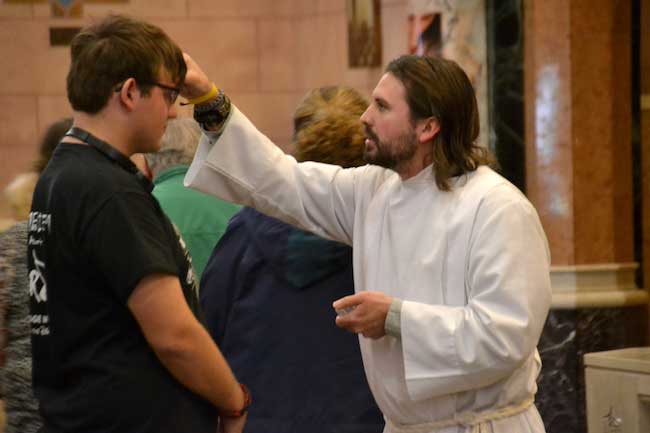 Cody Catlin, left, receives ashes on his forehead from Seminarian Justin Steeg during an Ash Wednesday service on March 1 at St. Joseph's Catholic Church (Holy Family Parish) in Albion.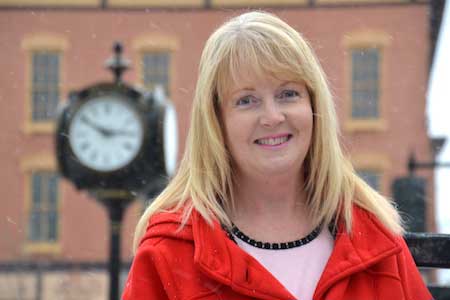 Missy Schening is pictured at Rotary Park in downtown Medina in this photo posted March 5. Schening was featured in an Orleans Hub article for starting the "Memories of Medina" Facebook page which topped more than 6,000 "friends." That is more than the population of Medina.
"I call myself Medina's biggest cheerleader," she said.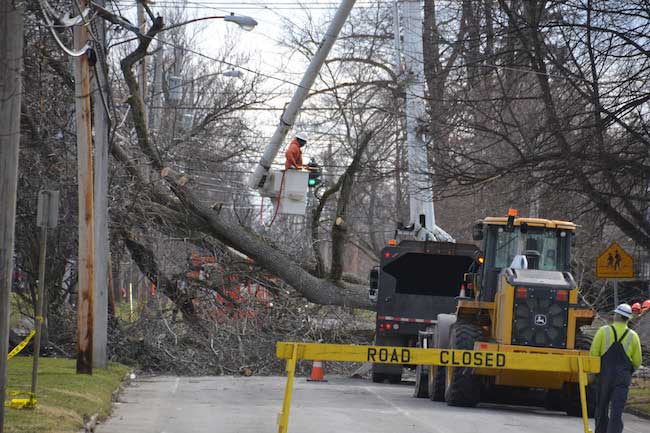 National Grid crews worked to remove a tree and restore power on West Avenue in Medina on March 9, a day after a powerful wind storm knocked out power to about half of the county. Some of the crew members in medina were from Pennsylvania.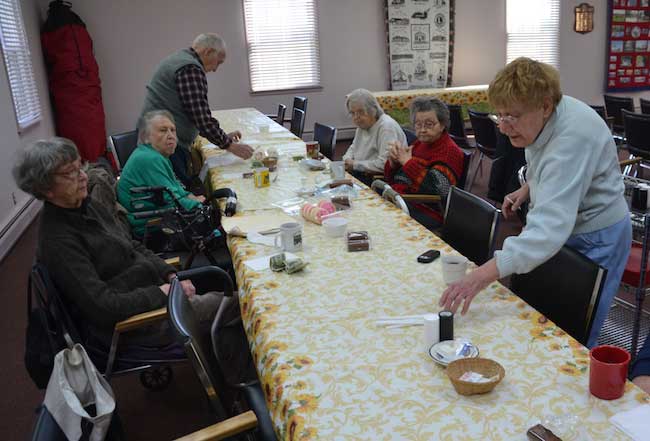 Ellen Smith, manager of the nutri-fair site at Kendall, serves coffee and snacks before lunch at Kendall Town Hall on March 11. Kendall residents, including its senior citizens, had to wait several days before power was restored after the wind storm.
Fred Conradt (back left), 85, just shrugged his shoulders when asked about the matter. Conradt spent his first eight years without electricity. His house didn't get it until 1939.
"It's hard for the younger people who are always on the computer," Conradt said. "But I never used one."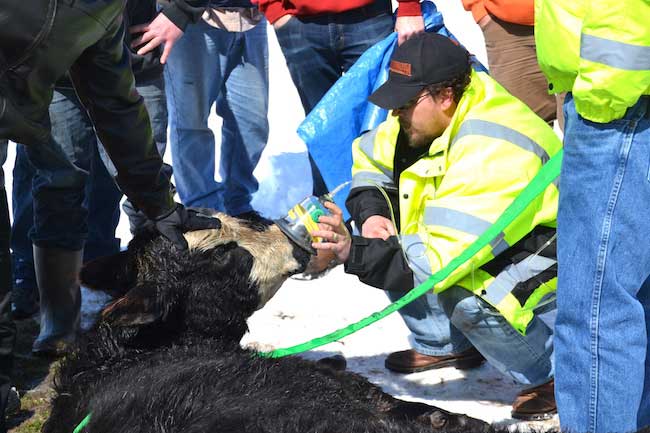 A beef farmer's neighbors and Shelby firefighters rescued a steer that had fallen through the ice on March 17. Shelby firefighter John Miller II holds a pet rescue mask on the steer so the animal could get oxygen.
The steer was owned by Jack Farrell of Dunlop Road. The steer showed signs of recovery initially after being pulled out of the water. But the cow was unable to get back on its feet and died a few hours later.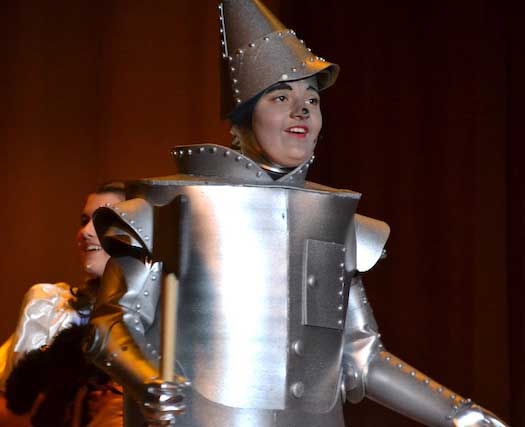 Emily Mergler plays the Tin Man in the Albion Middle School production of the Wizard of Oz. The Tin Man feels inadequate because he doesn't have a heart. This photo was taken on March 17.
The show was challenged from several school cancellations due to the windstorm and snow storm in March. During one show the fire alarm went off halfway through the second act. The crowd and performers all had to leave the building after the fog machine triggered the fire alarm. The students put on an entertaining show and were given a standing ovation by the crowd on March 17.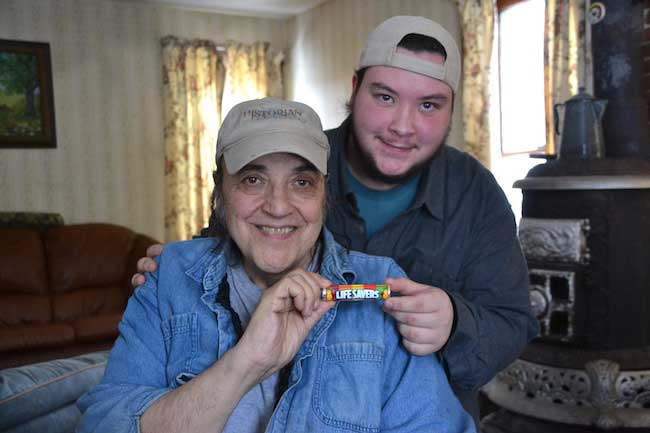 Kenny Capurso, 18, gave his father Al Capurso CPR on March 23 after he suffered a heart attack at home in Gaines. Al Capurso gave his son "Lifesavers" candy for his life-saving actions. They were featured in an April 8 Orleans Hub article.
"I'm eternally grateful for what Kenny did – that he knew what to do and did it," Capurso said at his home.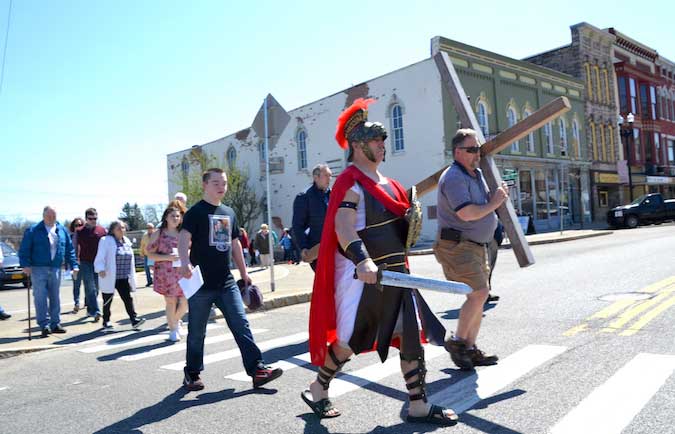 Paul Wengrzycki, a member of the First Baptist Church in Medina, carries the cross across Main Street in the annual "Cross Walk" by the Medina Area Association of Churches on April 14.
The churches have been doing the annual "Pilgrimage to Golgotha" for at least two decades. Wengrzycki has participated in carrying the cross for the past 15 Good Friday community walks.
"To a degree you feel like Jesus felt," Wengrzycki said. "He suffered to take away our pain."
This year's walk included someone dressed as a centurion for the first time. Rev. Neil Samborski of the Glad Tiding Baptist Church in Medina dressed as the centurion.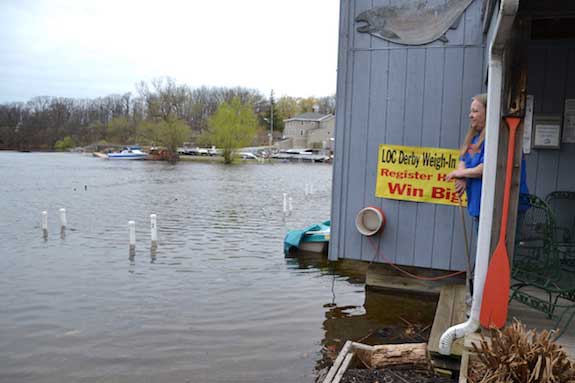 At Captain's Cove marina on April 20, Sheila Schlichter worried as water went above docks and reached the marina at The Bridges in Carlton. The lakeshore and some of the tributaries suffered from flooding this year.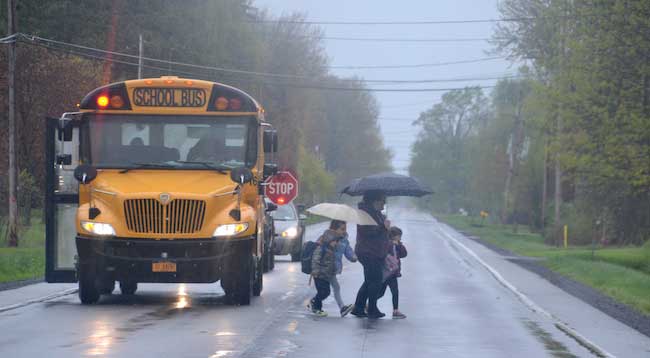 Kids get help crossing Route 63 after being dropped off by a Lyndonville school bus on a rainy May 5.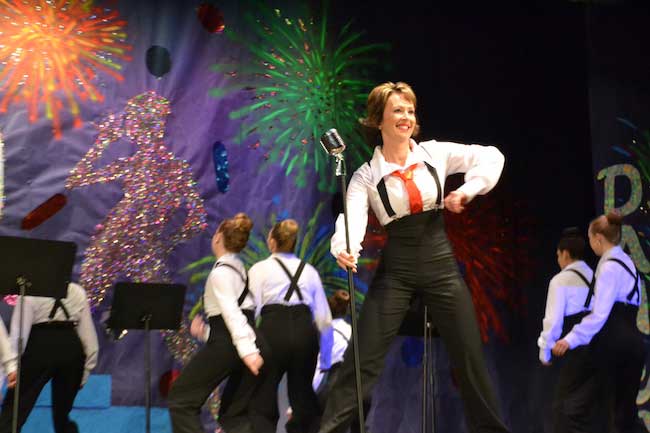 Lisa Bower-Logsdon is part of the opening number, "That Girl," at a May 5 recital in Holley. She celebrated 40 years of running Lisa's Dance Boutique this year. The opening number included 17 dancers in tap.
Bower-Logsdon was 15 when she started her dance studio in the basement of the former St. Mary's School, using a portable record player.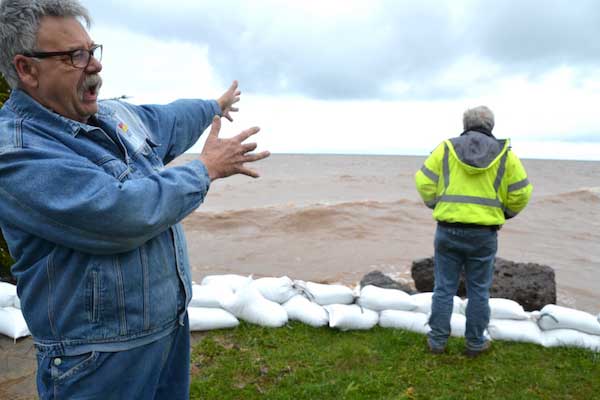 Bill Vess of Kendall is shown on May 7. He had lost lost five feet of his backyard and worried more will be gone. Warren Kruger, the town highway superintendent, is nervous as breakwalls have been breached, with soil vulnerable to the lake. Kruger led a big effort of filling sandbags and having them placed along the shoreline.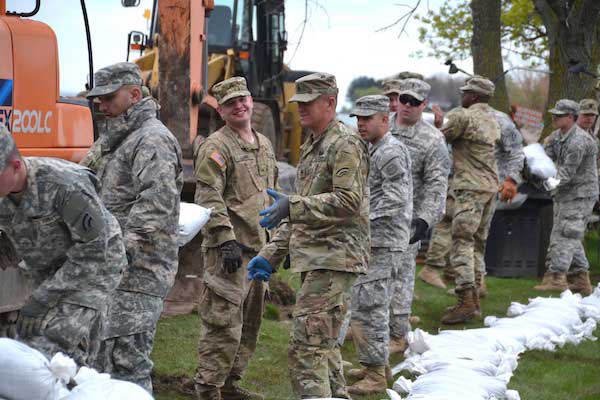 The National Guard spent more than a week in Kendall to find the flooding. They are shown on May 11 with sandbags being placed at the Bald Eagle Marina.
"Our hearts are breaking for them," Lt. Gov. Kathy Hochul said in Kendall that day. "This is their life savings. We cannot solve this problem overnight."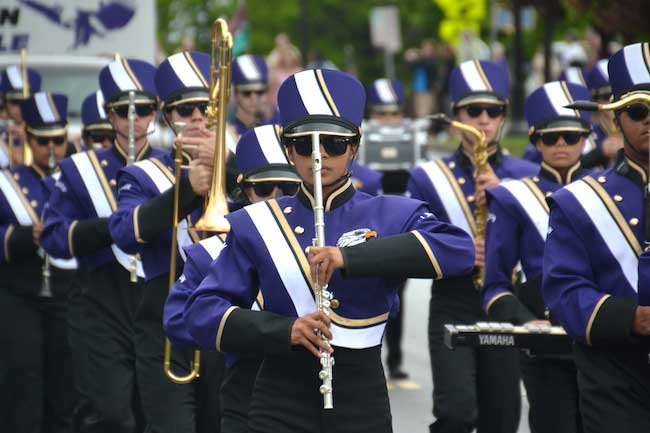 Arella Ives and the Albion marching band performed their James Bond – 007 show for the crowd during the Memorial Day Parade on May 29.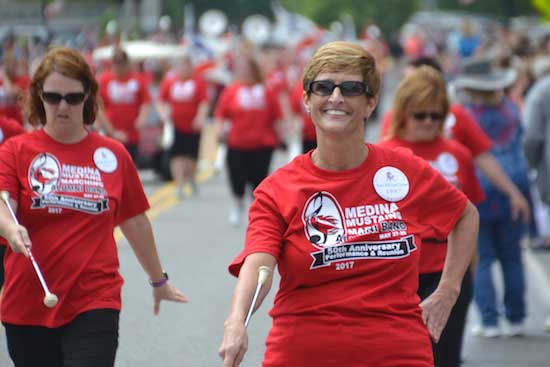 Traci Phillips Culver, Class of 1987, enjoys being part of the reunion parade for the Medina Mustang Band on May 29. The alumni members of Medina's Marching Band were nearly 200 strong for their 50th anniversary reunion celebration.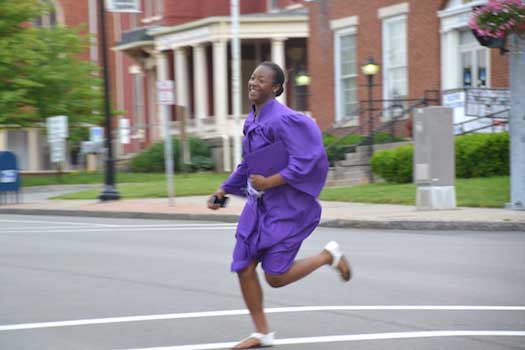 Chanyce Powell, a track star for Albion, hustles to join her classmates for the group photo on June 4 during the Baccalaureate ceremony at the First Presbyterian Church.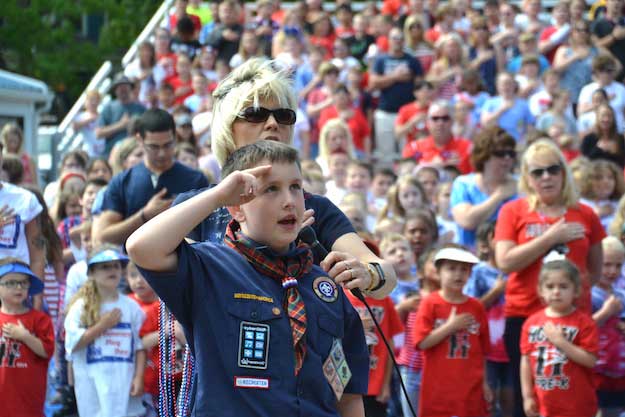 This Boy Scout, Holley third grader Dawson Arnold, leads the student body in reciting the Pledge of Allegiance on June 14. Sally Martin, the elementary chorus teacher, holds the microphone.
There were about 500 students from Holley Elementary School waving flags and wearing red, while and blue for the school's annual Flag Day celebration, which includes a march from the elementary school to the depot museum near the Public Square.
The annual tradition started 60 years ago in 1957 and is one the highlights of the year for the school and community.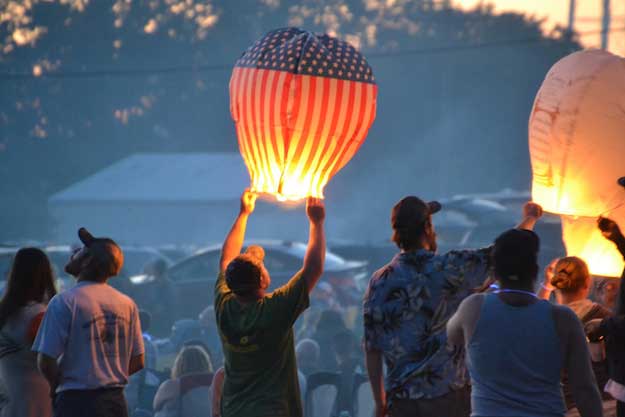 Shaun Kelly of Kent lights a Chinese lantern and prepares to let it fly just before the fireworks in Lyndonville on July 4. Kelly and other family members released Chinese lanterns in memory of Shaun's nephew, Trenton Nelson, who died at age 16 on June 2, 2015 after being fatally stabbed in Rochester.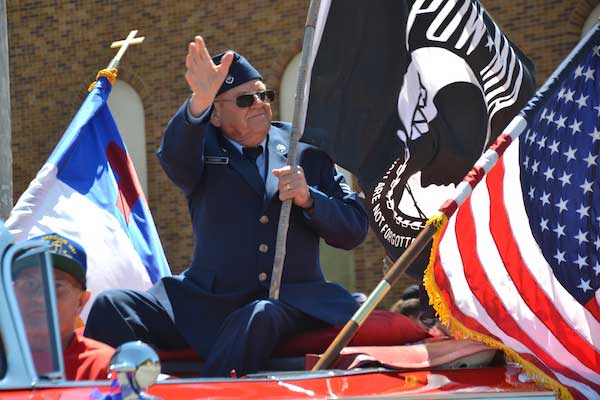 Stanley Thurber, clutching a POW/MIA flag, rode in a 1960 Impala owned by Cecil Livingston of Medina during the Lyndonville parade on July 4.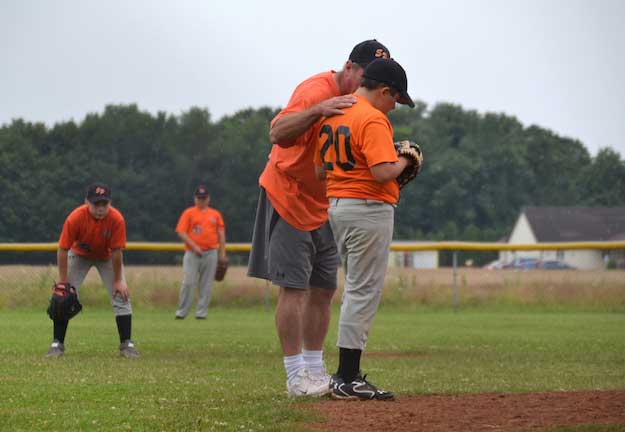 Dan Bartlett, coach for the Sandstone Park team in the Albion Midget League, visits the mound to talk with pitcher Chris Sacco on July 22 during the championship game versus the Barre Cubs. Sandstone lost a close game, 9-8, to Barre, which went undefeated on the season.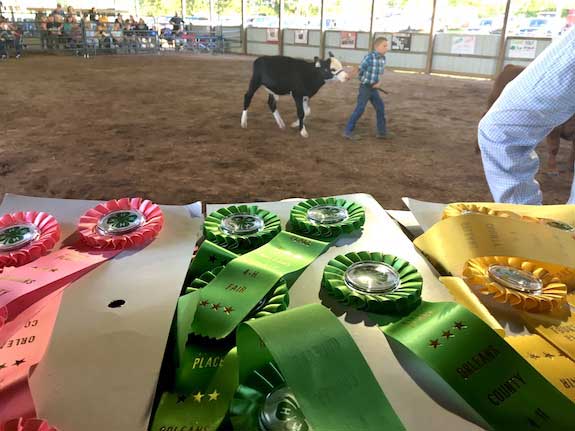 Homer Mathes, 9, of Barre leads a beef animal in the show arena during the beef show on July 25 at the Orleans County 4-H Fair in Knowlesville. Ribbons are set on a table for the top animals and leading showmen.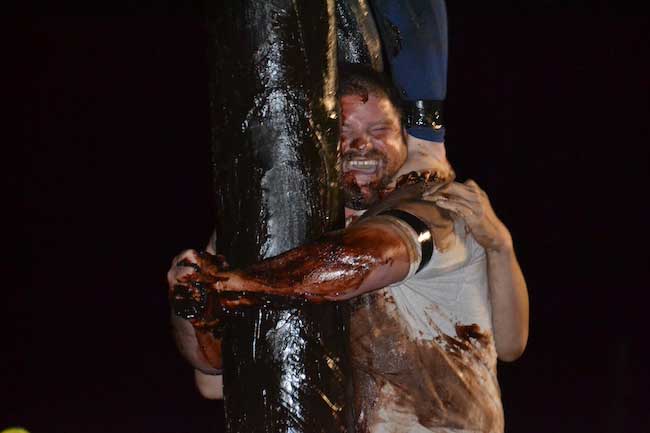 Joe Clark holds on tight as the second guy up for "The Barn Animals," one of the teams that competed in the grease pole on July 29 at the Orleans County 4-H Fair. Most of the team members are parents of kids who show animals at the fair, or are long-time 4-H members. The Barn Animals couldn't quite get to the top of the pole.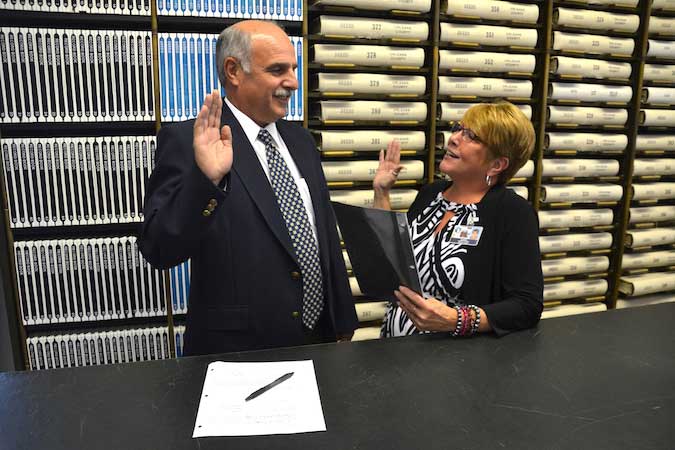 John DeFilipps takes the oath of office from Orleans County Clerk Karen Lake-Maynard on Aug. 14. DeFilipps of Clarendon was backed for the position after David Callard resigned from the Legislature on Aug. 2.
"He's a team player," Legislator Ken DeRoller said in nominating DeFilipps for chairman. "He's a good listener and he does his homework."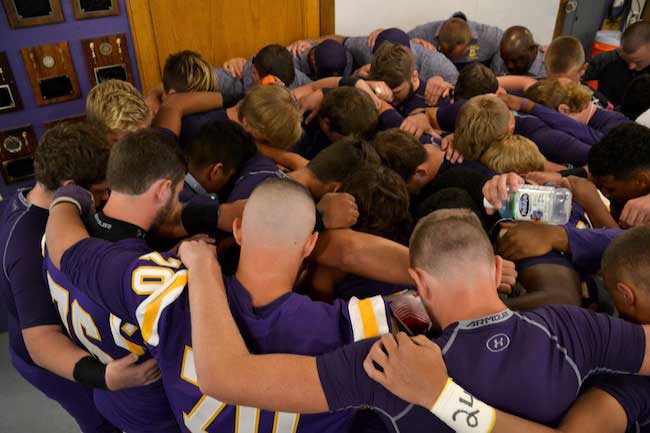 Members of the Albion varsity football team gather for a prayer before taking the field on Sept. 1 in the home-opener. Caleb Pettit, a senior lineman on the team, led the group in the prayer.
Albion and Springville played a back-and-forth game later that day with Albion coming from behind to win, 40-34.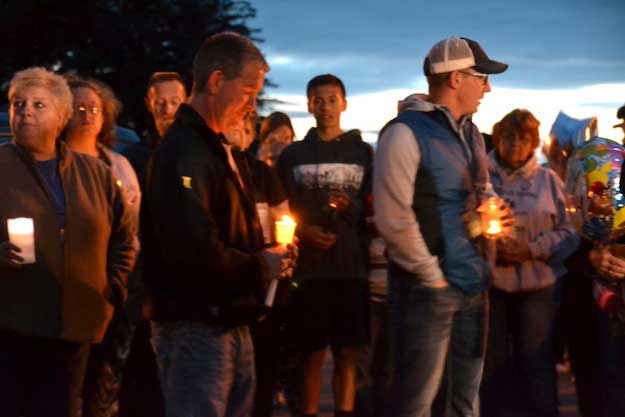 Megan Dix's brother Don Duncanson, left, and brother-in-law Charlie Dix thank the community for their outpouring of support during a vigil at Lyndonville on Sept. 2. Megan was killed on Aug. 25 in a random act of violence. "The support is more than any of us could have imagined," Charlie Dix told the group.
About 250 people attended a candlelight vigil in Lyndonville on Saturday night in honor of Megan Dix and Bill Carpenter, who died in a motorcycle accident.
Both Megan and Bill were called sharing examples for the community, people devoted to their families and neighbors.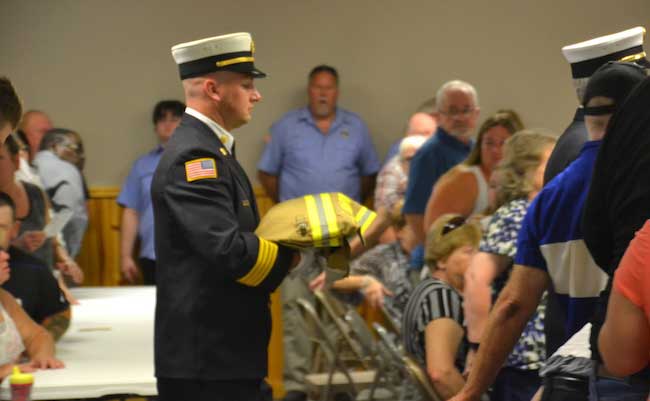 Justin Niederhofer, assistant chief for the Carlton Volunteer Fire Company, carries the firefighter coat for Randy Harrier, a volunteer firefighter with Carlton since 2002, during a funeral service for Harrier on Sept. 24. Harrier died on Sept. 19, a day after injuries sustained in a car accident. Harrier and his wife Becky both were killed from injuries in the accident.
"Becky was as much a part of our fire company as Randy," Ed Cooper, a Carlton firefighter and department chaplain, told about 300 people during a funeral service at the Carlton Rec Hall. "Together they contributed so much to this community."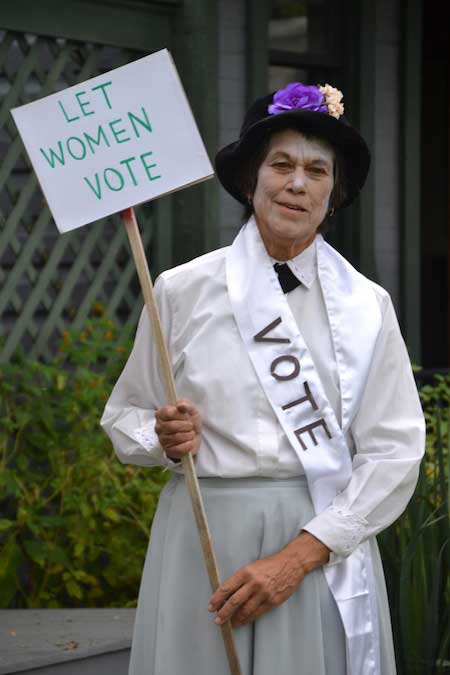 Erica Wanecski of Medina plays a suffragette who pushed for women's right to vote during a Ghost Walk on Oct. 8 at the Cobblestone Museum. This past year was the 100th anniversary of New York granting the right to vote for women.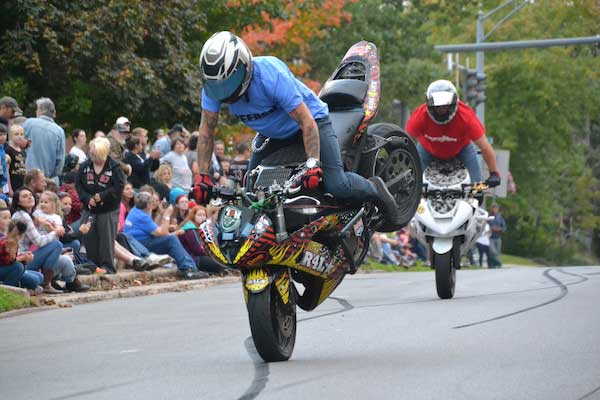 It was a busy Oct. 6 for Scott Caraboolad, center, and his motorbike stunt team. They performed at Holley and Kendall schools, and later in the evening at Albion at a closed off section of East State Street in front of the Orleans County Courthouse.
This photo shows them at Albion. Besides the stunts on the motorbikes, Caraboolad and Ride4Life shared a message of overcoming drug addiction and despair.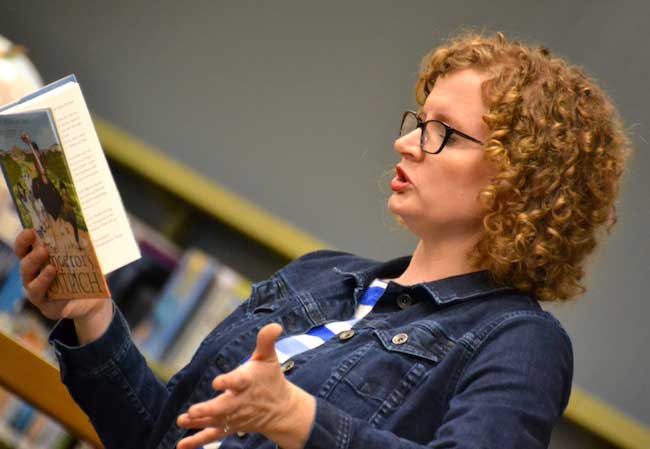 Julie Berry, a Medina native, returned to her hometown on Nov. 2 to discuss her latest children's book, "The Emperor's Ostrich."
She met with Medina middle school and high school students to discuss her books and share tips on writing earlier n the day before doing a book reading and discussion at Lee-Whedon Memorial Library, where she is shown.
"I was so fortunate to grow up here and have a childhood where I had the peacefulness of the countryside," she said at Lee-Whedon.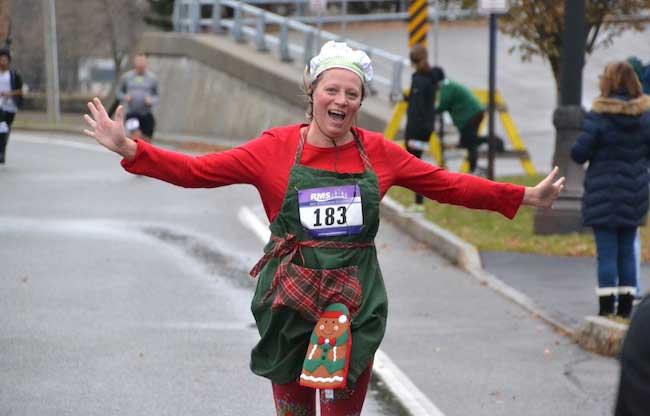 Heide Cornell of Sanborn is all smiles when she crosses the finish line on Nov. 25 during the 5th annual Home for the Holidays 5K in Medina. Cornell is dressed as "The Baker" from a Christmas story.
About 130 people participated in the race with proceeds going to Medina's LOYAL youth baseball program and a reading program at Lee-Whedon Memorial Library.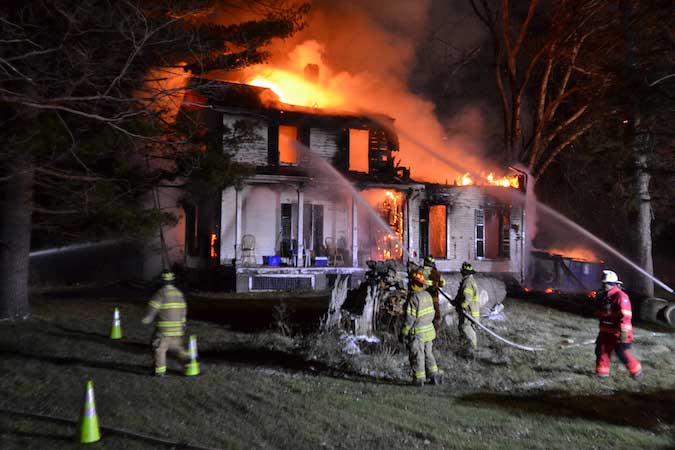 Firefighters battle a blaze at a house owned by Dan and Rose Mawn on Dec. 10. The house is on Route 18 in Carlton near the Kendall town line.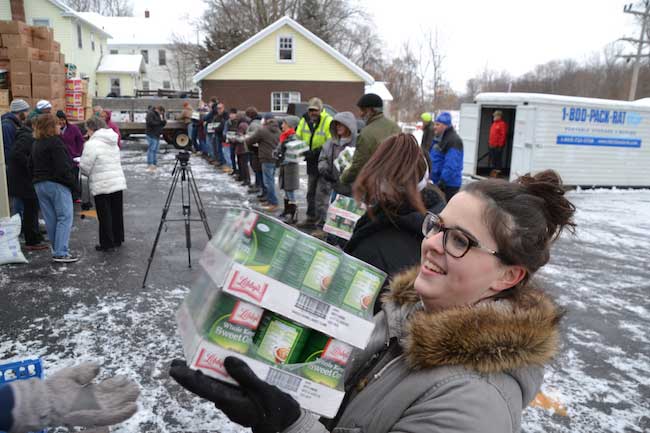 Karli Henchen of the Albion FFA passes cans of sweet corn on Dec. 16 when the FFA and community members unloaded 35,000 pounds of food donated by local farmers.
The Albion FFA has been organizing the food drive for about a decade and the 35,000 pounds set a new record.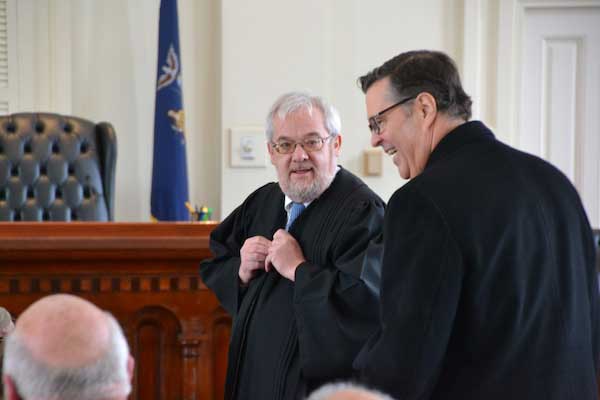 Judge James Punch, right, returned to Orleans County Courthouse on Dec. 28 to swear in Sanford Church, left, as the new county judge. Punch enjoyed reconnecting with some of the courthouse staff and other community members. Punch retired on July 29 after nearly 27 years as county judge. Church was elected to a 10-year term in November.