2013 Year in Review
A photographer's favorite snapshots from 2013
By Cheryl Wertman, Photographer
As today is the start of a new year, I would like to take one last look at some of the photos that are my favorites since I started contributing to the Orleans Hub in September. It is amazing that I have posted over 500 photos since Mike started writing for the Hub in September and it is very difficult to choose just a few as they are all my favorites.
It is said that "A picture is worth a thousand words" and I hope that in combination with the stories that Mike has posted you, the readers, have enjoyed viewing and reading about all the local athletes and their accomplishments these last four months.
Below you will see a representation of photos from each sport we have covered that I consider some of my very favorite photos so far. Here is hoping that in 2014 we can provide you with many more that are not only my favorites but yours as well.
Scott Barber tries to score for Medina/Lyndonville past Akron goalie Austin McDole and several defenders during the Mustangs loss to the Tigers in the Section VI Class B state qualifier.
Barker's Melissa Grosshans puts a shot on East Rochester goalie Johannah Price during the Lady Raiders Far West Regional victory at Vets Park.
Albion's Olivia Neidert dives for the ball during the Purple Eagles undefeated (12-0) Niagara-Orleans League championship season.
Medina's Holly Heil, in route to a top three finish, runs along the Lake Ontario shoreline at the N-O All-League meet at Lakeside Beach State Park.
Against the scenic backdrop of the Lake Ontario shoreline a trio of runners competes in the N-O All-League cross-country meet at Lakeside Beach State Park.
An autumn sunset during an Albion girls soccer game.
Brooks Boyle runs back an interception for the division champion and playoff finalist Lyndonville Tigers semi pro team.
Iverson Poole picks up yardage for the regular season champion Medina Colts in LOYAL football action.
Medina's Kyle Barna tries to stop Albion running back Ed Wolfe during the "Doc's Rock" trophy rivalry game won by the Mustangs.
Roy-Hart's Calee Coleman competes in the 500 freestyle.
Medina's Emily Kams fights for a rebound against the Lyndonville duo of Morgan Hungerford and Alyssa Mahnke.
Holley's Lucas Silvis competes in the Hawks Tournament against Soloman Renfro of Canisius.
Kendall's Garrett Love is surrounded by a trio of rival Holley players including Josh Porter (2), Ian Penders (30) and Corey Winter (25).
Medina's Austin Brown competes in the 100 butterfly.
Kendall's Nicole Browe tries to shoot past Lyndonville goalie Jenna Castricone.
2013 had many special moments
This morning, as the dawn breaks on the new year, here's a brief look back at some of the special and eventful moments on the area sports scene in 2013.
Weather provided one of the most lasting memories. A monsoon like rainstorm made for a wild setting as Medina/Lyndonville captured its second boys soccer sectional championship in the last three years by outlasting Niagara-Orleans League rival Newfane 2-1 in double overtime in the Section VI Class B-1 title contest.
The most unusual setting for a sporting event came in June at Lyndonville's White Birch golf course which hosted a sanctioned pole vault competition on one of its fairways featuring Olympic gold medalist Jenn Suhr and Janice Keppler of Medina who is ranked in the top 10 nationally. It was truly a most unusual sight watching Suhr sprint down the portable runway set up on the fairway for a 16 foot vault with the rest of the golf course as a very scenic backdrop.
The spring could easily have been called the Season of the Tiger as both the Lyndonville baseball and softball teams captured Section V championships with underclassmen dominated squads.
The baseball team earned its second Class D championship in the last three years but just missed out on a trip to the state semis losing by a narrow 3-1 margin to Pine Valley in the Far West Regional. The softball team claimed its first ever sectional championship by nipping Romulus in a 6-5 thriller for the Class D-1 title. However, the Lady Tigers bid for a spot in the state playoffs was ended by a 7-3 loss to Andover in the D state qualifier.
The fall then could just as easily have been called the Season of the Eagle as Kendall High teams captured the Genesee Region League boys soccer, girls soccer and Division II volleyball championships. The soccer teams both earned No. 1 seeds for the sectionals and the girls squad advanced to the Class CC finals losing a narrow 1-0 decision to Caledonia-Mumford.
Always a special event, the Medina vs. Albion football game lived up to its reputation in a free scoring affair at Spierdowis Field in Albion. Medina retained the "Doc's Rock" trophy and earned its first berth in the sectional playoffs in several years by outlasting rival Albion 38-31.The Mustangs built up a big early lead but then had to turn back a determined Purple Eagles rally in the second half.
A very fitting honor was earned by former long-time Albion football Coach Dick Diminuco who was inducted into the Buffalo Sports Hall of Fame in October. Diminuco guided Albion to 14 division and four Section VI championships during his 30 seasons at the helm from 1979-2008.
Barker's field hockey and boys cross-country teams both continued very successful winning traditions qualifying to state level competition.
The field hockey team won its eighth straight Niagara-Orleans League championship and sixth straight Section VI title to gain a berth in the state playoffs. The Lady Raiders won the Far West Regional 1-0 over East Rochester but then dropped a narrow 1-0 double overtime decision to Cazenovia in the state semifinals at Cicero-North Syracuse.
The Raiders boys cross-country team claimed the N-O and Section VI Class D titles and went on to place third at the state Class D championship race held at Queensbury High.
Albion's baseball squad continued its strong run in N-O competition capturing the league title for the second year in a row and the fifth time in the last six years. The Purple Eagles volleyball squad also had a big season claiming the N-O crown for the second time in four years with a perfect 12-0 record.
Roy-Hart's boys swim team made it seven straight N-O championships and in December the Channel Cats surpassed the 100 straight victory mark.
Holley's wresting squad likewise continued a long league title run as the Hawks captured the Genesee Region crown for the fourth straight year the 14th in the last 17 years. The Hawks had two wrestlers advance to the state championships as Mike Silvis placed third and Andrew Flanagan fifth.
Roy-Hart senior Drew Hull capped off an outstanding varsity wrestling career by capturing the state 145 lb. championship to complete a perfect 44-0 season.
And not to be forgotten were N-O titles won by the Medina tennis and Barker golf and boys track teams.
2013's Outstanding Citizens in Orleans County
They performed many good deeds, often when not asked and at no gain to themselves. Orleans Hub would like to recognize some outstanding citizens from 2013.
---
Good Samaritan helps police catch bank robber
Before he robbed the Bank of America in Albion, Jeremy Rothmund of Rochester twice got away with similar crimes in the town of Greece. His girlfriend had a getaway car near the banks and Rothmund escaped.
But Rothmund didn't get away on July 2 when he robbed a bank in Albion. An Albion businessman pulled up to the drive-through at about 4 p.m. that day, ready to deposit a check at the Bank of America.
He looked inside the bank window and saw a man wearing sunglasses with a hat on, and an ace bandage wrapped around his chin and neck. The teller indicated to the drive-through customer that the bank was being robbed.
The local merchant then hopped out of his car, leaving it running in the drive-through. He went towards the front door of the bank and the robber said he had a bomb and thrust a box covered in wires into the merchant's face, telling him, "I don't care if we both die and go to Hell."
The businessman, who has requested anonymity, backed off. "I'm not an Arnold Schwarzenegger, and I could tell he was under the influence of something," the merchant told the Orleans Hub on July 3.
Although he backed off, the businessman knew the robber was likely fleeing to a getaway car. So the merchant followed the robber behind the bank and along the railroad tracks. He watched the robber tear off his mask and get into a blue Ford Focus. The merchant then relayed that description to police.
Ten minutes later Holley police stopped the car at Woodside Court, an apartment complex off Route 31 on the west side of the village.
Rothmund and his girlfriend Elyse A. Hoffer, 22 have both pleaded guilty. Rothmund faces up to 15 years in state prison.
"I just wanted to help and be a good citizen and a Good Samaritan," said the resident. "It all happened so fast."
---
Apple grower helped bring new varieties to market
Apples are big business in Orleans County. We're New York's second-leading apple county behind only Wayne County.
The future of the industry is brighter, and a local grower played a key role in two new apple varieties reaching the market this year. In August, Cornell University and the New York Apple Association unveiled SnapDragon and RubyFrost.
Roger LaMont, an Albion apple grower, served as chairman of a group that formed to grow and market the apples. The new varieties are exclusive to New York growers. They won't be released to growers in other states, which will give growers in the Empire State an edge. That should lead to bigger returns for the farmers, making their farms stronger financially.
LaMont is nearing retirement. He took the lead on the initiative, wanting to set up the industry for a more viable future. That should make these farms key contributors to the county's economy for years to come.
---
Pole vaulter gives back by competing in Lyndonville
Jenn Suhr, the Gold Medal-winning pole vaulter, is married to Lyndonville native Rick Suhr, who is also her coach. The couple has a home in Kendall.
Mrs. Suhr is thankful for the support of her fans in Western New York, but she said many of them have never seen pole vaulting live. When Suhr was prepping for the world championships in August (where she won the silver medal), she helped orchestrate three sanctioned vaulting competitions in Lyndonville, using the White Birch Golf Course for the meets. Her brother-in-law Harold Suhr owns the course. He used the second fairway as a runway for three vault competitions between May 31 and July 4.
Suhr cleared the top outdoor height in the world when she went over 16 feet, 1 inch at the White Birch, giving the course a distinction normally reserved for major sporting arenas in the world.
"We wanted to bring the pole vault out here so people don't have to travel and spend tons of money to see it," Suhr said.
---
Resident rallies to save Clarendon Stone Store
The old Stone Store, once a key focal point to community life in Clarendon, had fallen into disrepair and was considered an eyesore. Many residents two years ago were calling for the building to be torn down.
But one local resident convinced the Town Board to call off the wrecking ball. Erin Anheier, chairwoman of the Old Stone Store Preservation Committee, mobilized volunteers to clean up the property and find a buyer for the site, which dates back to 1836.
She helped get the site on the National Register of Historic Places. She also helped get Hillside Cemetery in Holley on that list this past year, designations that bring prestige and the prospect of grants for building improvements.
Joe and Sue Fertitta are rehabbing the Stone Store. They are gutting and renovating the building, and the couple plans to put on a front porch to match the building's original look. They expect to have the project done next summer, with a tenant living in the upstairs and the first floor available for offices.
"This shows it can be done," Anheier said. "These buildings can be saved."
---
Anonymous donor has helped beautify Medina
It has been a busy year for painters in Medina. An anonymous donor offered matching funds for people who painted their houses or worked on other beautification efforts.
Contractors worked on 28 properties in all as part of $200,000 in matching grants. The grants will continue in 2014. The Orleans County Chamber of Commerce is administering the program.
"It's just been amazing," said Kathy Blackburn, Chamber executive director. "We are thrilled with the work that has been done. It's encouraged others to work on their properties as well."
The grant in its first year funded projects at 17 homes and 11 businesses. The initiative is aimed to boost the curb-side appeal of the community, and make needed improvements more affordable for property owners. The money has given many neighborhoods a lift.
---
Kent helps lead the fight for 'Concerned Citizens'
These are apathetic times when it comes to pubic participation in civic affairs. Voter turnout is low. Membership is way down in service clubs, and many political candidates run unopposed.
Gary Kent helped reverse that trend in Orleans County, leading hundreds of residents in a protest against the sale of the county nursing home. Many will say Kent lost the fight because the sale will likely be approved early in 2014 and he failed to be elected to the County Legislature. (Kent was one of six candidates to try to unseat the Republican-endorsed candidates, the most opposition the GOP has faced for the Legislature since it formed in 1980.)
But Kent, a retired social studies teacher, inspired a sustained protest from people of all political parties against the county's move to sell The Villages of Orleans.
They stood in the rain outside Legislature meetings. They carried petitions. They filed lawsuits. The Concerned Citizens raised money at spaghetti dinners. They tried every route possible in voicing their opposition to the sale. That's what good citizens do: They engage in the process.
---
Young mom leads fight against SAFE Act
A new movement took off this year, and it was led by a mother of three young children. Gia Arnold of Holley helped create the New York Revolution, a group opposed to the SAFE Act. The group was born after the State Legislature and Gov. Cuomo in January passed the SAFE Act, legislation that NY Revolution saw as an infringement on the Second Amendment rights.
The group has a following state-wide but it may be it's most powerful in Orleans County. Arnold attended numerous community events and municipal board meetings, and swayed every elected board at the village, town and county level to pass resolutions opposing the SAFE Act. A top goal is unseating Cuomo as governor in November 2014.
Arnold planned a rally in April attended by about 200 people outside the County Courthouse.
"It's not just a guns issue," she said. "It's more of a rights issue. They are taking away our freedoms."
2013 Person of the Year: Jodi Gaines
Local resident has built a juggernaut of a company, employing hundreds in job-starved Orleans County
You hear it a lot around here: No jobs for young people so they leave after high school or college in search for more opportunity. Our community is far poorer for it.
One local woman has proven a major force combating the flight of area residents by providing employment in their backyard. Jodi Gaines in a decade has built a company to 600 workers with plans to add 150 more in Albion, with possibly more expansion in the future.
Gaines, chief executive officer and co-owner of Claims Recovery Financial Services, is leading the company in a major growth spurt at a time when Orleans County desperately needs it. We have one of the highest unemployment rates in the state.
This year CRFS outgrew its space in Albion and expanded into a site in Medina at the Olde Pickle Factory. The company had the Albion and Medina sites, and added about 80 people in San Antonio, Texas. CRFS was still pinched for room.
In June, JP Morgan Chase announced it would close its Albion site in September, and would lay off 413 workers, leaving a 60,000-square-foot facility to sit empty in a prominent location in the village. The news was a major blow to the community's psyche.
Gaines saw an opportunity in the Chase site. In September, she announced she was moving the entire Orleans County operation to Chase building and would actively recruit 150 more workers.
"CRFS is primed to do more for Orleans County than ever before," Gaines said during a Sept. 30 press conference. "We started in Orleans County. We're staying in Orleans County and the best is yet to come."
The announcement had the added good news that Roger Hungerford, owner of the Olde Pickle Factory, was buying the site. He immediately set about painting the big building and making other renovations.
"We're getting local ownership with the building and someone who will invest in the property," Albion Mayor Dean Theodorakos said.
For the past 25 years the location has employed hundreds of people in the banking industry, first at Anchor Savings Bank, followed by Dime Bank, North American Mortgage Corporation, Washington Mutual and then Chase.
About every five years one of the banking companies was bought by a bigger bank in a very volatile industry. That always created uncertainty and worry in Albion that the new owners would eliminate the Orleans workforce through a consolidation.
Our Congressional representatives, notably former Congressman John LaFalce and more recently U.S. Sen. Charles Schumer, used their clout on banking committees to help keep the banking jobs in Albion.
With a local woman running a locally based company, the community can breathe a little easier that Gaines won't suddenly spring some bad news on us that she is taking her workforce out of state.
Gaines started as a claims clerk in 1989 for the former Anchor Savings Bank in Albion. She stayed in that department as ownership of the facility changed to Dime Bank and the North American Mortgage Company and then to Washington Mutual. WaMu phased out the claims department in 2002.
Gaines was offered a different job to stay with WaMu, but she opted to start her own company in claims, helping banks and investors to recover money with foreclosed properties.
She started the new venture from her kitchen table in Albion. That was December 2002. She had two employees. The company quickly grew, mastering regulations in all 50 states and taking on more clients.
Her employees work with attorneys, county clerks, utility companies and investors from all over the country. CRFS works to recover past-due interest, unpaid principal, unpaid taxes and unpaid insurance on houses.
"This organization prides itself on results and quality each and every day," Gaines said. "The work ethic of the CRFS managers and employees is why we are now poised for such tremendous growth."
Gaines was active in the Albion youth soccer program for many years with her son, once serving as a league commissioner. She remains active on the board of directors for the Orleans County United Way.
She is the Orleans Hub's 2013 "Person of the Year."
2013: Top stories of the year
There was a lot of news in Orleans County in 2013. Orleans Hub has weighed the stories, and we have our list of the top 10. We gave preference to stories with impact on the community as a whole.
1. CRFS helps fill void from shut-down Chase site
It was devastating news in June when JP Morgan Chase announced it was shutting down its Albion operation and would lay off 413 workers by September.
Chase once had nearly 1,000 workers in Albion, but had gradually reduced its workforce over five years in Albion.
The company worked out of a massive former tomato processing facility on East Avenue. The site didn't sit idle for long. Roger Hungerford, owner of the Olde Pickle Factory in Medina, bought the 60,000-square-foot site and started renovations in September for the new tenant: Claims Recovery Financial Services.
That home-grown company, led by Orleans County resident Jodi Gaines, announced it had outgrown sites in Albion and Medina and would consolidate its operations at the former Chase site, employing 750 people in Albion. As part of the move to the Chase site, CRFS announced it would add 150 workers, bringing much-needed jobs to a county with one of the highest unemployment rates in the state.
2. SAFE Act triggers sustained outrage
In January Gov. Andrew Cuomo and state legislators approved the SAFE Act, which they said was designed to tighten gun control laws.
The new law, which was passed without public comment, was loudly protested in Orleans County and throughout much of Upstate New York. The Orleans County Legislature called for the law's repeal.
Every town and village elected board in the county also formally opposed the new law, which was called an attack on Americans' Second Amendment Rights. Orleans is the only county to have every town, village and county elected board pass resolutions against the SAFE Act.
A new citizens group, New York Revolution, formed and was active at local parades and community events. The organization is trying to unseat Cuomo in the 2014 election for governor.
Orleans County District Attorney Joe Cardone told a crowd in October that he wouldn't prosecute "John Q. Public" for violating some of the provisions of the SAFE Act, including cosmetic requirements that now make some guns illegal.
3. 'Concerned Citizens' fight against sale of nursing home
In February, the County Legislature announced it would sell The Villages of Orleans, a 120-bed nursing home in Albion. The Legislature said the site operated at too much of a loss, burdening local taxpayers by at least $2 million a year with prospects for $4 million in annual deficits.
The decision prompted protests from residents of all ages and political parties. Many protested outside Legislature meetings, standing in storms. Two lawsuits failed to stop the county's push to sell the nursing home.
A slate of candidates also ran trying to save the nursing home, but they failed to unseat the Republican majority. The Legislature formed a local development corporation to temporarily own the nursing home and to find a buyer for the site. The LDC could select the buyer in January.
4. Massive warehouse fire threatened Albion neighborhood
A fire on Oct. 17 destroyed a big warehouse and threatened to damage other nearby structures. But the blaze was contained to Orleans Pallet's main warehouse, a huge Medina sandstone structure built in 1901.
Smoke from the blaze could be seen from 20 miles in one of the community's biggest fires ever.
The fire started after a spark from a grinder caught the wooden timbers on fire inside the warehouse. About 150 firefighters kept the blaze from spreading next door to Empire Coating.
Shawn Malark, owner of the warehouse and Orleans Pallet, used the site to store wooden pallets, which he then sold to farms and other businesses. Malark's main production building survived the fire and he has stayed in business.
5. Burglars terrorized community with summer break-ins
Burglars terrorized Albion and Medina neighborhoods with a series of break-ins over the summer. The burglars would remove window screens or enter through unlocked doors, typically committing their crimes while people were asleep late at night.
Police from multiple agencies in three counties arrested four people in December who are accused of 32 burglaries in August and September, a rash of break-ins in Albion, Medina, Oakfield and Lockport.
One of the suspected burglars, Jonathan Banks, 21, of Medina, was arrested by Lockport police in September. After his arrest, there weren't additional burglaries, police officials said. Besides Banks, 21, police arrested Isaiah Bonk, 20, of Medina; Jasper Lloyd, 20, of Albion; and Thomas Shingleton, 36, of Medina.
There were other high-profile crimes in the county in 2013, including a bank robbery, murder and attempted murder.
6. Lakeside closes in Brockport and Medina Memorial Hospital makes changes at top
Lakeside Memorial Hospital in Brockport, a site that served many Orleans County residents, closed in April due to mounting financial losses. The facility would reopen in September as an urgent care center.
It is now owned by the University of Rochester Medical Center, which renamed it "Strong West." The site doesn't currently have an emergency room, meaning fire departments and ambulance squads form Orleans County now have a longer transport for patients on the east side of the county. Lakeside handled 17,000 ER calls in its final year.
Small-town hospitals are struggling, and Medina isn't immune. The hospital's board of directors announced in June that long-time hospital CEO Jim Sinner had resigned after 15 years.
The board of directors hired HealthTech Management Services to manage the hospital and healthcare organization. In late October, the board hired Dolores Horvath from HealthTech to serve as CEO.
She said hospitals are challenged and there will be a shift to more outpatient care in the future.
7. Assessments spark uproar and worry
Orleans County completed its once-every-three-year reassessment in 2012, and the new values were sent to property owners this past spring.
In Carlton, residents were in an uproar over assessments that showed big increases for many sites. Crowds packed Town Board meetings to complain about the assessments.
The backlash prompted the Town Board not to reappoint assessor Karen Adams. The town is hiring a private firm to help establish values for 2,400 sites in the town.
The reassessments painted a gloomy picture for the four villages in the county. While Carlton saw big increases for some properties, the villages collectively went down in value, which may be unprecedented during a reassessment for an entire municipality.
The village of Albion declined nearly $3 million, the biggest loss. The shrinking assessed values results in a smaller tax base to pay for services, likely driving up the tax rate.
8. Some changes at historic churches
One congregation at a historic church in Medina left its building and moved to the former Apple Grove Inn, following an extensive three-year renovation.
Another congregation in Albion voted to abandon its historic building, although that congregation continues to meet there.
The Medina United Methodist Church celebrated its first service in the former Apple Grove Inn on Oct. 27. The church bought the landmark building for $100,000 at an auction. Most of the building was gutted, walls were taken out in some spots and new ones put in. The west end of the building was extended to accommodate the sanctuary. The project cost nearly $1 million.
It was a lot of work, and church members did the bulk of the construction, painting and carpeting themselves. The congregation of about 50 people had a final service at their old building at 222 West Center St. Then they walked or drove a mile down the road to the former Apple Grove.
In August, the First United Methodist Church in Albion voted to walk away from its 150-year-old building. The church faces about $1 million in repairs. The church is trying to find a buyer for the site and is looking for a new home. It will continue to meet in the building in the near future. The church is one of seven in Albion named to the National Register of Historic Places.
9. 'Squirrel Slam' cast media glare on Holley
The national media doesn't often pay much attention to an Orleans County community, but for weeks leading up to the annual "Squirrel Slam" in February, news organizations from throughout the world were talking about a fund-raiser at Holley.
The Holley Fire Department for six years held a competition where contestants paid an entry fee and then went hunting for squirrels. Hunters as young as 12 could win prizes for biggest squirrels shot.
Animal rights activists protested and urged Holley to cancel the event. The Village Board and Fire Department let it continue and participation surged from the usual 250 to about 700. Outside police were brought in to help manage the protest.
10. Point Breeze wins 'ultimate' fishing title
Orleans County has new bait to lure visitors for the county's top tourism draw, its fishing industry. Point Breeze was named the "Ultimate Fishing Town" in 2013 by the World Fishing Network, topping 700 other fishing communities in the U.S. and Canada for the crown.
Thousands of votes were cast on-line in support of Point Breeze and the Oak Orchard River. It appeared during the competition that Cape Hatteras in North Carolina would win, but voting irregularities for that community led to WFN giving the top award to Point Breeze.
The title has been proclaimed on banners and will be used to market the area to more anglers.
"This can help us to stand out," said Sharon Narburgh, owner of Narby's Superette and Tackle.
There were other big stories in the county this year, including Holley Central School's completion of extensive renovations to the junior-senior high school and elementary school. The district also built a new transportation facility, all-weather track and football stadium
Many of the downtown Albion building owners also painted and did other improvements to their buildings in the most extensive renovation spree in recent memory.
2013: Best submitted photos from the readers of Orleans Hub
Orleans Hub readers submitted many photos to our web site this year, including some on-the-scene news photos and other more artistic features.
These photos helped us tell the story of Orleans County. We're grateful for the submissions and welcome more at news@orleanshub.com.
Here are some of our favorites:
On July 2, Jeremy Rothmund robbed the Bank of America in Albion and hopped in a getaway car driven by his girlfriend, Elyse Hoffer, both of Rochester. The two were spotted leaving Albion in a blue Ford Focus and headed east on Route 31 towards Holley.
Police stopped them in Holley at Woodside Court, an apartment complex off Route 31 on the west side of the village. Jeff Schuner lives at Woodside Court and he took this photo of Rothmund being taken into custody.
Peggy Bropst took this photo from a hot-air balloon on June 30. The shadow of the balloon appears in a cornfield. The ride was a belated Father's Day gift for her father, Chet Wheelock, an 82-year-old farmer from Kent.
Four generations of Wheelocks rode in the balloon, including Wheelock's grandson Jeremy Mikels and great-grandson Mason Mikels. "You don't feel any wind up there," Wheelock said. "You're traveling with the wind. It's as still as can be."
The sun cast an array of colors while setting Aug. 23 at Lake Ontario. Jerome Pawlak of Albion was at Point Breeze and took this photo of the Oak Orchard Lighthouse. I've seen a lot of photos of the lighthouse since it was erected in 2010, and I think this is the best one.
Thom Jennings, an event promoter from Albion, took this photo of his son Trevor Jennings, center, playing the drums with Rusted Root after the Pittsburgh band played an encore on Aug. 25 in North Tonawanda.
Before the band would return to stage, they made Trevor, 19, come out and perform with them before 10,000 people. Trevor was backstage with his father Thom. After the song Trevor was invited to take a final bow with the group.
After playing local gigs for nearly a decade, Above the Fog performed for a final time Aug. 22 outside the Hoag Library in Albion. Michael Whiting of Whiting's Village Studio took this picture of Dylan DeSmit, left, and Taylor Whittier giving an enthusiastic performance during the final concert. The musicians still expect to make an impact on the local music scene.
Chris Busch was out enjoying a gorgeous sunny day on July 23, and talked his way to the rooftop at the R.H. Newell Shirt Factory building at 115 West Center St. He took this photo looking toward the First Baptist Church at 203 West Center. You can also see the Post Office in the front right and St. Mary's Catholic Church in the back right.
Michael Karcz, a frequent contributor to the Hub, took this picture of the fireworks on July 26 at the Orleans County 4-H Fair. This photo actually represents several different images.
"The firework shots were taken individually, and the shot of the fair was taken after the fireworks," Karcz said. "I needed a higher vantage point, and the only place I could think of was on top of my van, so I climbed up and shot away. That's the fun of photography."
It was big news in the apple world on Aug. 1 when Cornell University and New York apple growers announced the names and logos for two new apple varieties.  Orleans Hub wanted to be there for the announcement in Geneva, but couldn't get away for the several-hour commitment. Ingrid LaMont, wife of apple grower Roger LaMont, was there and sent us a photo from her smart phone. We were one of the first news sites to announce the new names and show their logos.
In recent years, Holley dentist Dan Schiavone has traveled to rural Peru in the Amazon, spending a week providing dental care. His daughter Kaci, a biochemistry student at the University of Rochester, joined him in March for the trip.
Schiavone took this photo of his daughter checking a girl's teeth and dental health during an exam in Peru. "They are gracious and happy people," Schiavone said. "They appreciate everything you do."
Heather Beach Smith of Medina took this picture of the Erie Canal lift bridge on Route 63 in Medina after the ice storm on Dec. 22.
2013: Portraits and Personalities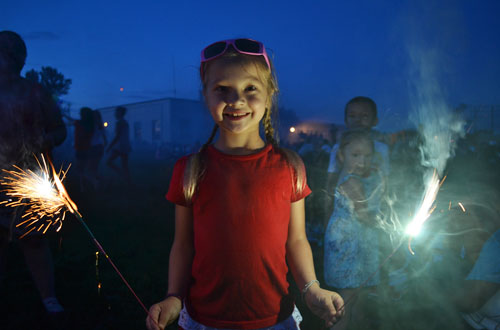 The Orleans Hub has published more than 3,000 photos since we went live on April 2.
These are some of my favorites of portraits and personalities that show local folks in our surroundings. The top picture shows Maria Ball, 6, of Medina having fun with sparklers before the fireworks show in Lyndonville on July 4.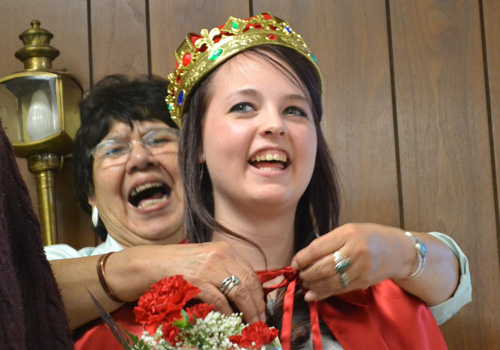 Baillie Oberther, 16, of Medina is crowned queen of Dyngus Day on April 1 during a celebration at Sacred Heart Club in Medina. Bonnie Boyd, last year's queen, passes on the crown. About 200 people celebrated Dyngus Day in Medina. This photo was published on April 2, Orleans Hub's first official day. It remains one of our favorite photos.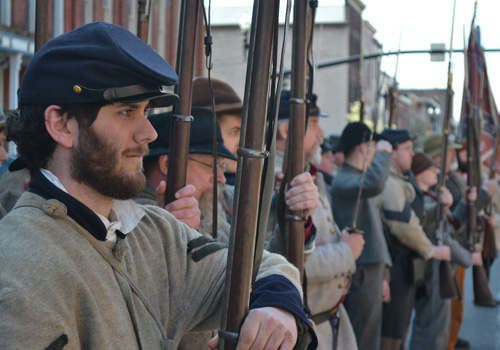 A group of Civil War re-enactors, which marched down Main Street in Medina during a parade on April 27, pause for a ceremony in front of the Bent's Opera House. That building opened during the Civil War. Medina hosted a Civil War encampment for the first time in April.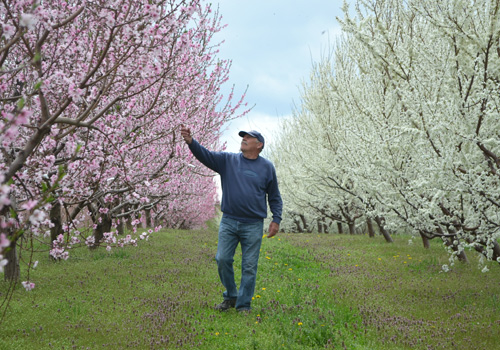 Ken Nice, co-owner of Nice Farms in Knowlesville, walks through a fruit orchard along Knowlesville Road on April 30. He is checking how the bees are pollinating the fruit crop. The pink blossoms will bear white nectarines while the white blossoms will be plums. Nice said the blossoming trees are a visual and olfactory feast. "It's like a perfume factory," he said.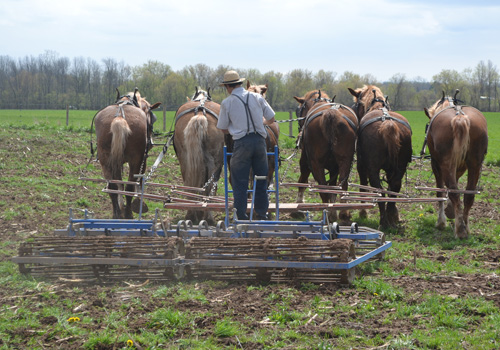 Bradley Martin and a team of six draft horses harrow a field on Knowlesville Road on April 30. Martin works for a Mennonite-owned dairy farm, part of a growing cluster for Amish- and Mennonite-owned businesses in the Ridgeway and Yates communities. Martin also walked the field, removing big rocks by hand.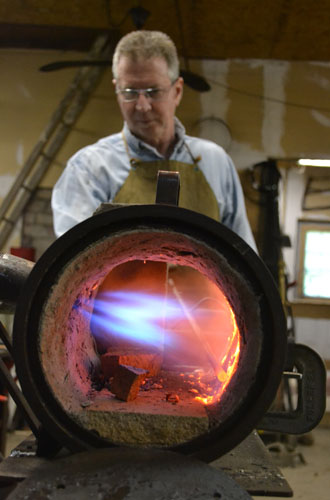 George Borrelli is pictured in June, working in his Carlton shop to make metal rings that will be put in hitching posts as part of a project in Albion. Borrelli, a blacksmith, heated the steel to 1,600 degrees so he could bend it into a circle to be used as a ring.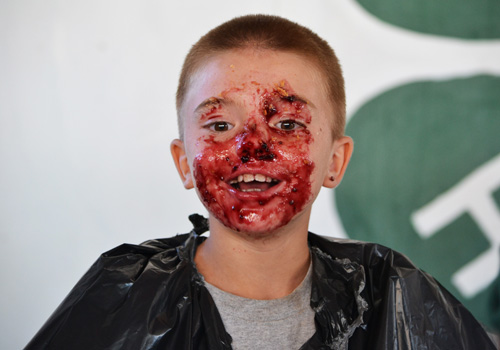 Nick Wright, 11, of Holley is all smiles after plunging face first into a raspberry pie during a pie-eating contest on July 26 at the Orleans County 4-H Fair. The contest is a glorious messy affair.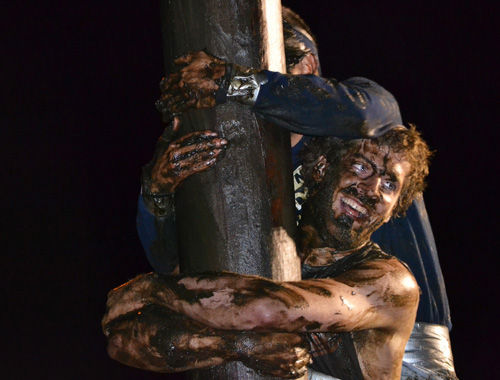 Alex Graff, a Medina native who now lives in Rochester, may be covered in grease, but he is having a great time during the grease pole championships on July 27 to cap off the Orleans County 4-H Fair.
Steven Papponetti is trying to climb of Graff's shoulders. Graff and Papponetti are members of the Rough N Ready team. They weren't able to reach the top of the pole on Saturday. They won on a different day to advance to the finals.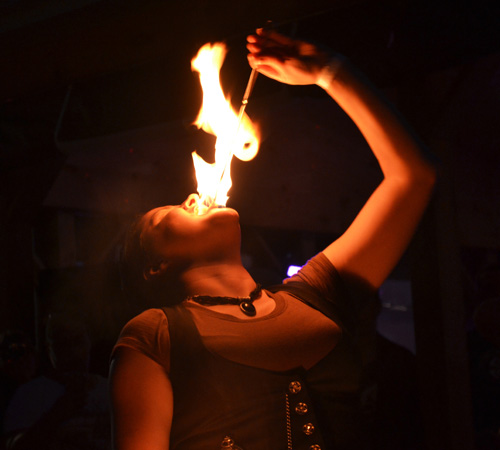 Riley Schillaci of Rochester swallows a flame during the Steampunk Festival on Aug. 31 at the Leonard Oakes Estate Winery in Medina. The event featured several outrageous stunts.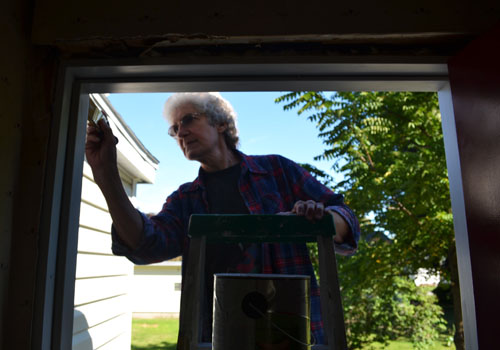 Nelda Callard paints the trim above the side door of a house she and her husband David Callard are working to restore on Temperance Street in Albion. She is pictured in early September. Her husband is chairman of the Orleans County Legislature. The couple worked more than a year fixing up the house on Temperance. The house dates back to the 1840s. It was badly rundown.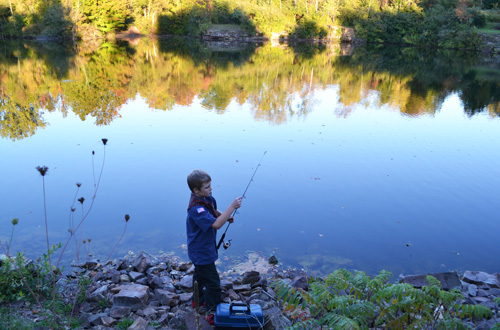 Jonathan Judd, 9, of Albion gets his hook ready when Albion Scouts kicked off a new year on Sept. 27 by going fishing. Jonathan was popular among the Scouts because he brought along some extra worms. The group went fishing in an old quarry on Keitel Road. The Albion Sportsmen's Association owns the old sandstone site.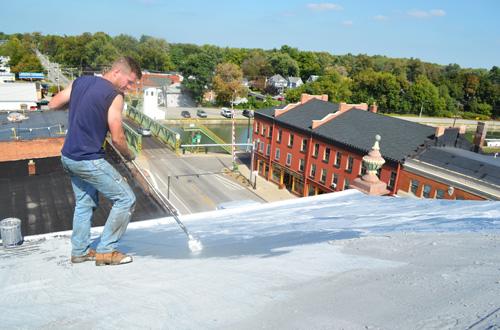 Young Enterprises employee Shane Swann is on top of the Pratt building at 118 North Main St., coating the roof on Sept. 19. It's not everyday you get to look down on the lift bridge in Albion.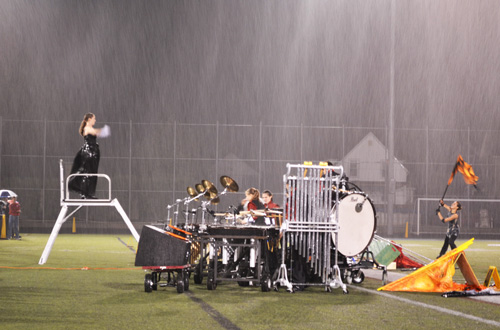 Ashley Webb, a drum major for Le Roy, leads the band in its performance of "Ashes to Ashes" at Vets Park on Sept. 21 in Medina. Marching bands performed for three hours at Vets Park before judges stopped the Fall Festival of Bands due to the major downpour.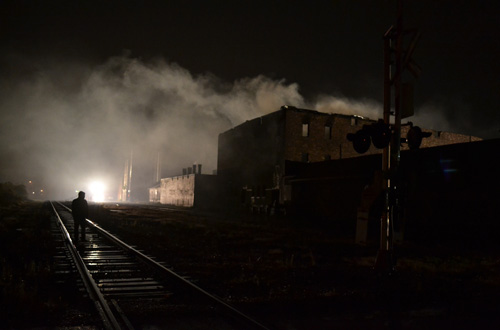 A lone onlooker, a former Orleans Pallet employee, walks the railroad tracks in Albion on the night of Oct. 17 when firefighters were packing up and heading home after six hours of intense firefighting. A huge blaze feasted on Orleans Pallet's three-story stone warehouse. Most of the building was knocked down by a demolition crew in the following days.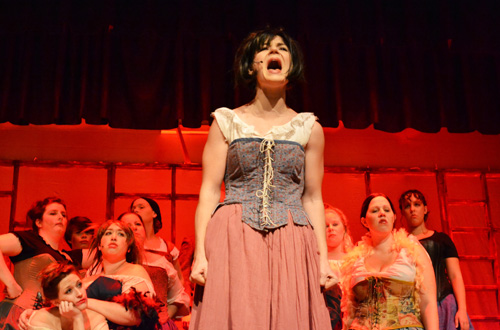 An anguished Fantine (Kaylee Jakubowski) sings, 'I Dreamed A Dream,' after she is forced into prostitution. She was among the stars in the Lake Plains Community Players' production of 'Les Miserables.' The famous show became available for the first time this year to adult community theater groups. Lake Plains performed the show in late October.
Nick Condoluci may have the scariest setup for Halloween in Orleans County, a backyard with hanging skeletons, a grave yard, a guillotine and a "Booger Booth," just to name a few. He is pictured on Oct. 29 by his porch. Condoluci makes most of the props himself, spending much of the winter cutting out and designing tombstones, signs and other scary features, including an electric chair with a buzzer on the seat.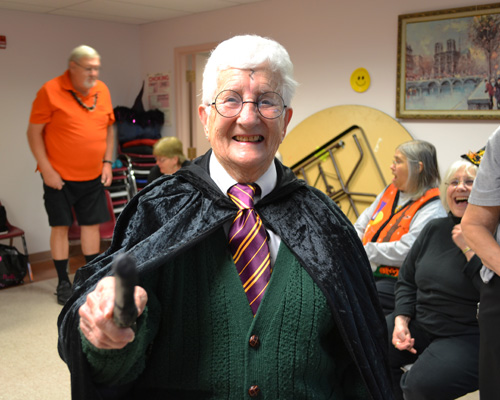 Ann Batt of Albion dressed up as Harry Potter for Halloween. She joined other senior citizens in costume during their exercise class at the Albion Academy. The senior citizens have made it an annual Halloween tradition to dress up during their exercise class led by Leslie Allen.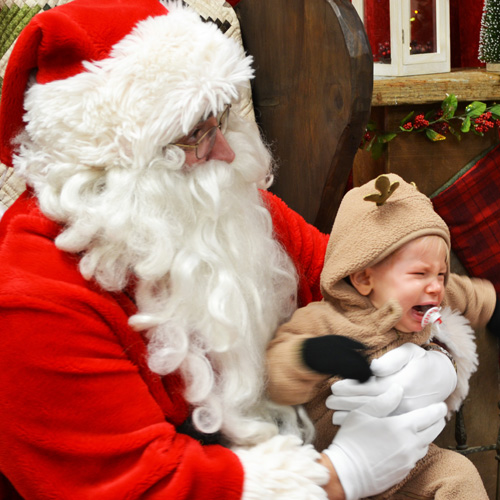 The village of Lyndonville celebrated a holiday event on Dec. 7 that included a visit by Santa Claus. The jolly ole' elf met with youngsters at the Village Hall. Grayson Voltz of Lockport didn't take a liking to Santa, who is looking for some relief from Grayson's mother, Jessica Voltz, a Lyndonville native.