2013: Portraits and Personalities – Photos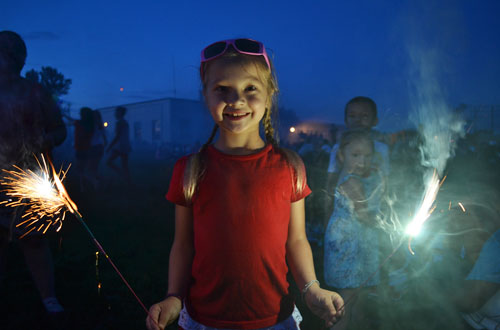 The Orleans Hub has published more than 3,000 photos since we went live on April 2.
These are some of my favorites of portraits and personalities that show local folks in our surroundings. The top picture shows Maria Ball, 6, of Medina having fun with sparklers before the fireworks show in Lyndonville on July 4.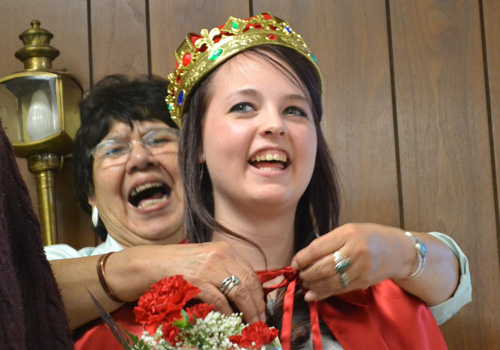 Baillie Oberther, 16, of Medina is crowned queen of Dyngus Day on April 1 during a celebration at Sacred Heart Club in Medina. Bonnie Boyd, last year's queen, passes on the crown. About 200 people celebrated Dyngus Day in Medina. This photo was published on April 2, Orleans Hub's first official day. It remains one of our favorite photos.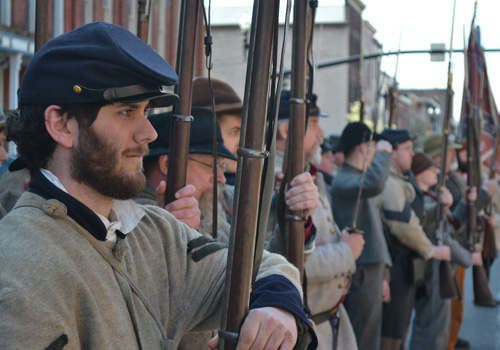 A group of Civil War re-enactors, which marched down Main Street in Medina during a parade on April 27, pause for a ceremony in front of the Bent's Opera House. That building opened during the Civil War. Medina hosted a Civil War encampment for the first time in April.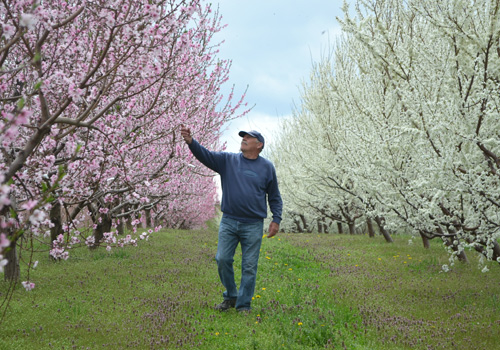 Ken Nice, co-owner of Nice Farms in Knowlesville, walks through a fruit orchard along Knowlesville Road on April 30. He is checking how the bees are pollinating the fruit crop. The pink blossoms will bear white nectarines while the white blossoms will be plums. Nice said the blossoming trees are a visual and olfactory feast. "It's like a perfume factory," he said.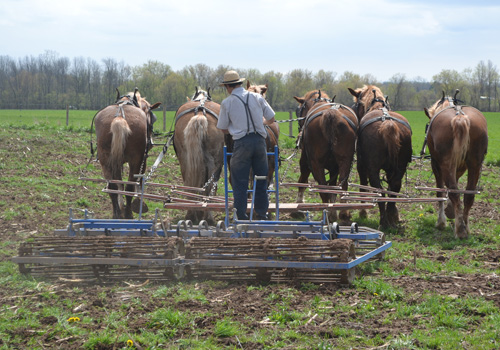 Bradley Martin and a team of six draft horses harrow a field on Knowlesville Road on April 30. Martin works for a Mennonite-owned dairy farm, part of a growing cluster for Amish- and Mennonite-owned businesses in the Ridgeway and Yates communities. Martin also walked the field, removing big rocks by hand.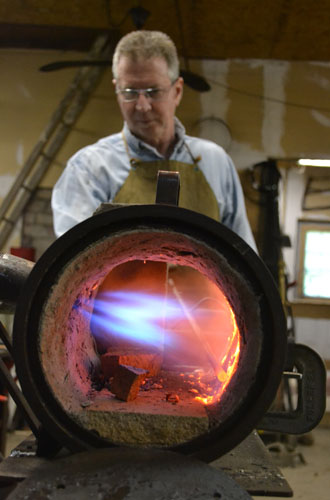 George Borrelli is pictured in June, working in his Carlton shop to make metal rings that will be put in hitching posts as part of a project in Albion. Borrelli, a blacksmith, heated the steel to 1,600 degrees so he could bend it into a circle to be used as a ring.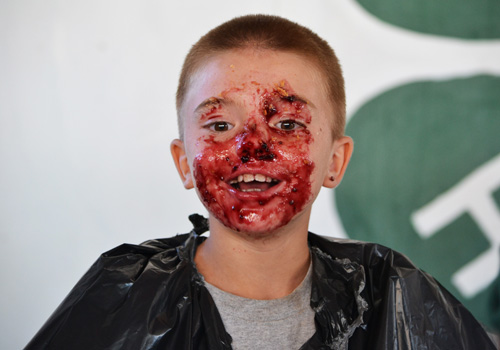 Nick Wright, 11, of Holley is all smiles after plunging face first into a raspberry pie during a pie-eating contest on July 26 at the Orleans County 4-H Fair. The contest is a glorious messy affair.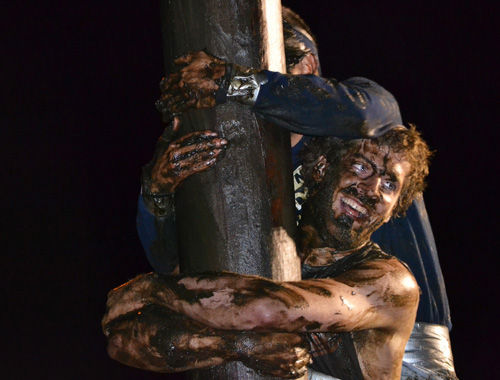 Alex Graff, a Medina native who now lives in Rochester, may be covered in grease, but he is having a great time during the grease pole championships on July 27 to cap off the Orleans County 4-H Fair.
Steven Papponetti is trying to climb of Graff's shoulders. Graff and Papponetti are members of the Rough N Ready team. They weren't able to reach the top of the pole on Saturday. They won on a different day to advance to the finals.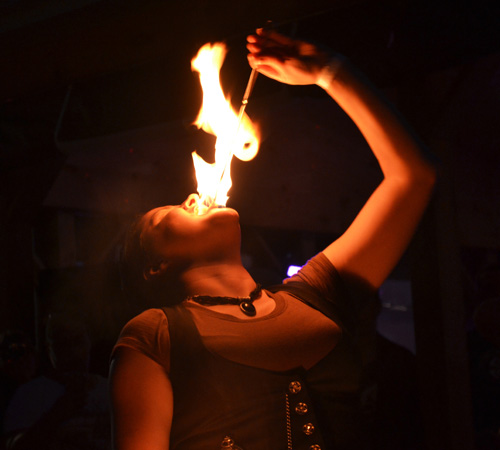 Riley Schillaci of Rochester swallows a flame during the Steampunk Festival on Aug. 31 at the Leonard Oakes Estate Winery in Medina. The event featured several outrageous stunts.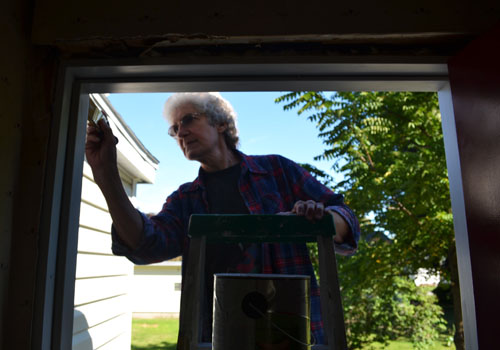 Nelda Callard paints the trim above the side door of a house she and her husband David Callard are working to restore on Temperance Street in Albion. She is pictured in early September. Her husband is chairman of the Orleans County Legislature. The couple worked more than a year fixing up the house on Temperance. The house dates back to the 1840s. It was badly rundown.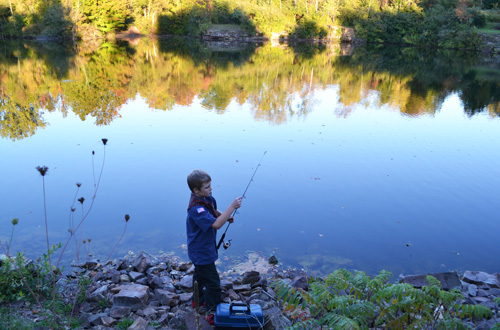 Jonathan Judd, 9, of Albion gets his hook ready when Albion Scouts kicked off a new year on Sept. 27 by going fishing. Jonathan was popular among the Scouts because he brought along some extra worms. The group went fishing in an old quarry on Keitel Road. The Albion Sportsmen's Association owns the old sandstone site.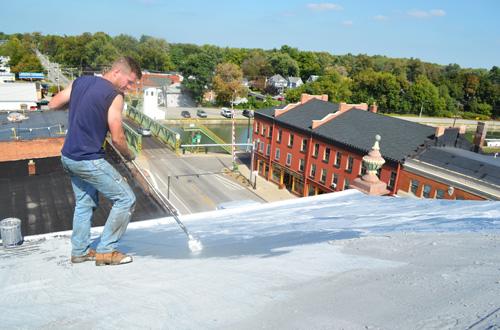 Young Enterprises employee Shane Swann is on top of the Pratt building at 118 North Main St., coating the roof on Sept. 19. It's not everyday you get to look down on the lift bridge in Albion.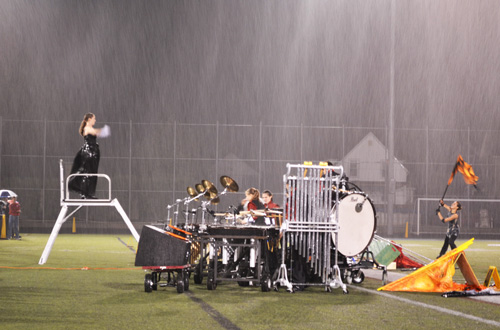 Ashley Webb, a drum major for Le Roy, leads the band in its performance of "Ashes to Ashes" at Vets Park on Sept. 21 in Medina. Marching bands performed for three hours at Vets Park before judges stopped the Fall Festival of Bands due to the major downpour.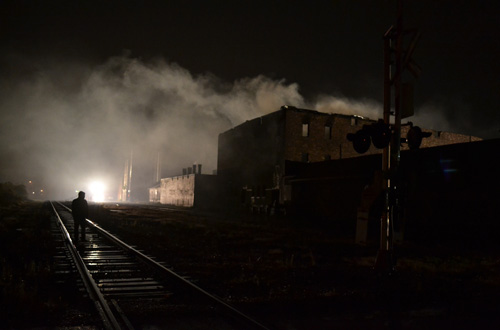 A lone onlooker, a former Orleans Pallet employee, walks the railroad tracks in Albion on the night of Oct. 17 when firefighters were packing up and heading home after six hours of intense firefighting. A huge blaze feasted on Orleans Pallet's three-story stone warehouse. Most of the building was knocked down by a demolition crew in the following days.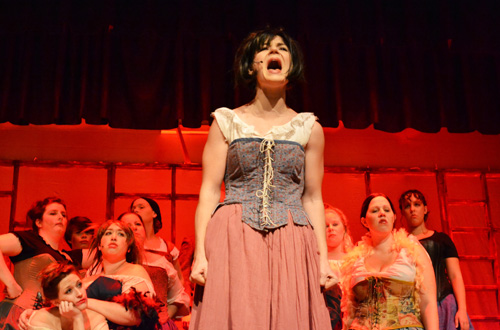 An anguished Fantine (Kaylee Jakubowski) sings, 'I Dreamed A Dream,' after she is forced into prostitution. She was among the stars in the Lake Plains Community Players' production of 'Les Miserables.' The famous show became available for the first time this year to adult community theater groups. Lake Plains performed the show in late October.
Nick Condoluci may have the scariest setup for Halloween in Orleans County, a backyard with hanging skeletons, a grave yard, a guillotine and a "Booger Booth," just to name a few. He is pictured on Oct. 29 by his porch. Condoluci makes most of the props himself, spending much of the winter cutting out and designing tombstones, signs and other scary features, including an electric chair with a buzzer on the seat.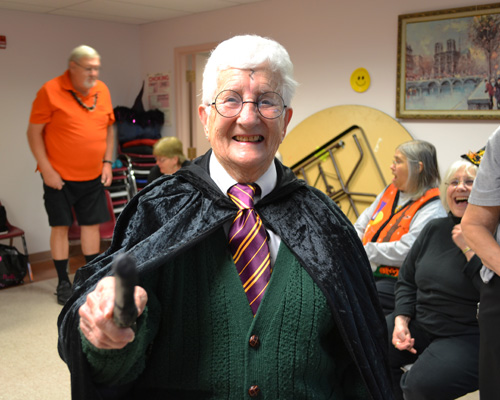 Ann Batt of Albion dressed up as Harry Potter for Halloween. She joined other senior citizens in costume during their exercise class at the Albion Academy. The senior citizens have made it an annual Halloween tradition to dress up during their exercise class led by Leslie Allen.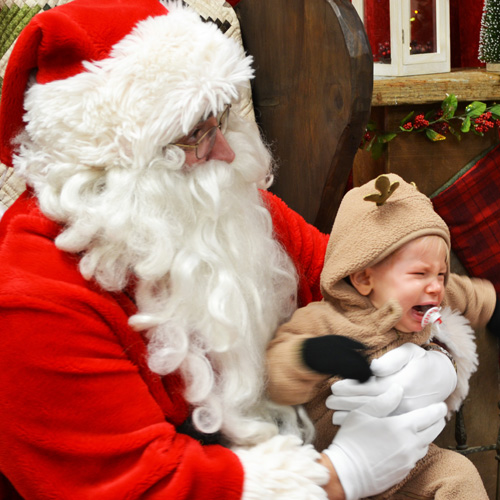 The village of Lyndonville celebrated a holiday event on Dec. 7 that included a visit by Santa Claus. The jolly ole' elf met with youngsters at the Village Hall. Grayson Voltz of Lockport didn't take a liking to Santa, who is looking for some relief from Grayson's mother, Jessica Voltz, a Lyndonville native.