200 years ago today, construction started on the Erie Canal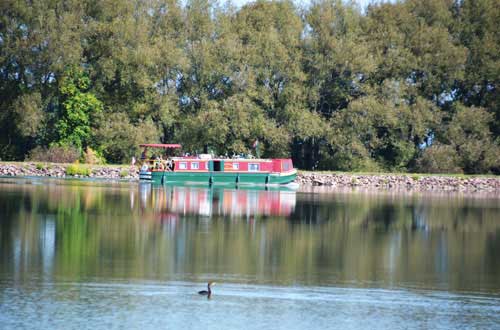 File photos by Tom Rivers
This photo from Sept. 23, 2015 shows a canal boat named Canandaigua out cruising on the Erie Canal along Presbyterian Road at the widewaters section in Gaines.
Today marks the 200th anniversary of the start of the Erie Canal's construction. Construction started in Rome. It would take about eight years to complete the project, going 363 miles across the state.
"200 years ago, on this very day, ground was broken for the construction of America's most iconic and enduring man-made waterway – the Erie Canal. Happy Bicentennial!" – NYS Canal Corporation tweeted today
Rome will recreate the ceremonial groundbreaking on July 22.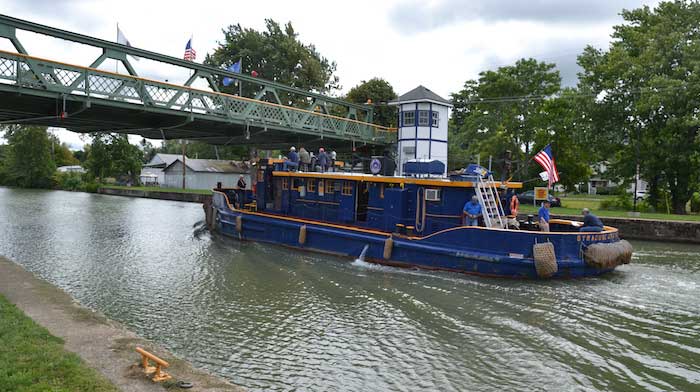 The tugboat Syracuse carries inspectors and officials from the State Canal Corp. on the Erie Canal in Albion on Sept. 14, 2016. The inspectors headed east after passing under the Ingersoll Street lift bridge in Albion. They were doing the annual inspection of lift bridges, locks, navigational aids, embankments and some other canal infrastructure.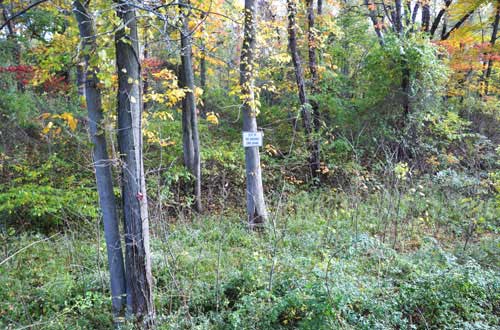 A small sign on a tree in a ditch in Holley notes that this was part of the original Erie Canal loop that meandered to the Public Square area of Holley. This is a rare section of the original canal loop. The canal was widened several times after the original construction was completed in 1825.
The state veered the canal from a relatively straight line in Holley in 1823 due to the high banks and engineering challenge in dealing with Sandy Creek. The Erie Canal used to loop about 2,000 feet towards the Public Square.
There was an unusually deep ravine formed by the east branch of Sandy Creek, which presented a difficult engineering problem for builders of the original Erie Canal in the early 1820s, according to display on the north side of the canal by the Holley lift bridge. The State Canal Corp. put up that display about "The Holley Loop."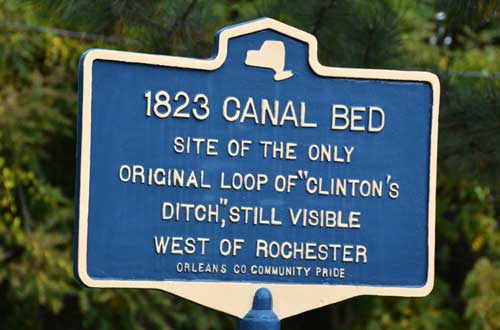 This historical marker is next to the railroad depot used by the Murray-Holley Historical Society near the former Save-A-Lot. The original canal went near the depot and Public Square and some stone and remnants are still visible in the community.
Rather than try to build the canal on the ravine, engineers opted to take a sharp turn near the current lift bridge and cross over a relatively narrow section of the creek.
"The sharp curve required boaters to slow down, which made a promising location for canal-oriented busiensses," according to the state display. "The Village of Holley grew at this bend in the canal."
The canal was widened throughout the 363-mile-long system from 1905 to 1918 and much of the original canal was replaced by the wider and deeper canal.
But in Holley, some of the original remained because it wasn't touched as part of the Barge Canal widening in the early 1900s.