200 corrections officers try to highlight rise in violence, contraband at state prisons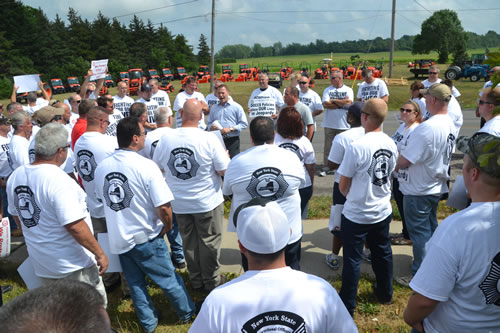 ALBION – State Sen. Rob Ortt and State Assemblyman Steve Hawley meet with corrections officers this afternoon who lined Route 31 by the former Apollo Restaurant, just west of the Village of Albion.
About 200 corrections officers were part of the informational picket today from 2 to 4 p.m. The COs want to highlight a rise in violence inside prisons, staffing shortages, an increase in contraband and inmate weapons, and press the state for more technology, such as thermal imaging, to make prisons safer.
"We are here to show solidarity with you," Ortt corrections officers. "I appreciate what you do."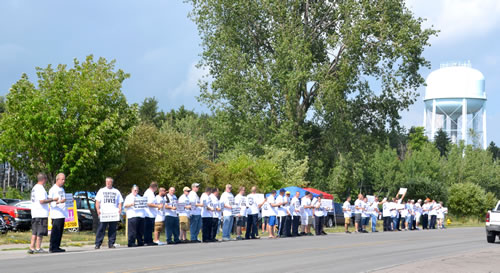 Mike Powers, president of the union (NYSCOPBA) that represents corrections officers, said the state has closed prisons, which has strained the capacity at other sites. Many inmates that should be in maximum-security facilities are in medium-security prisons, Powers said, and that has led to increased violence and contraband with more drugs and weapons being smuggled into prisons.
Powers and the union want more staffing and training for officers, a removal of double bunks which would increase safety for inmates and staff, and investment in more equipment and technology to help COs make prisons safer. Powers also said the state needs to fill positions faster when they are vacated with retirements.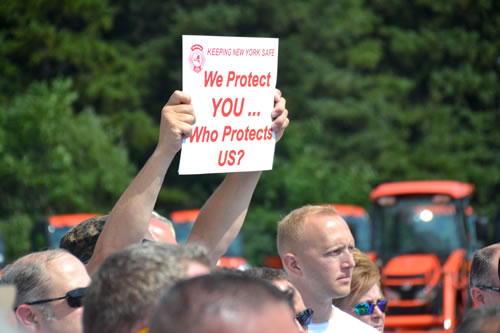 A corrections officer holds a sign during the picket today. Another sign said, "Fighting For Our Lives."
The union for corrections officers said statewide since 2010 the number of assaults on staff by inmates has risen 55 percent, and inmate-on-inmate violence is up 60 percent.
This is the latest informational picket that NYSCOPBA has held in the past two months. Previous pickets were at Elmira, Attica, Livingston, Collins, Shawangunk, Greene and Coxsackie Correctional Facilities.
There are about 675 corrections officers that work at prisons in Albion, with 425 at the Albion Correctional Facility (for women) and 250 at the Orleans Correctional Facility, a medium-security prison for men.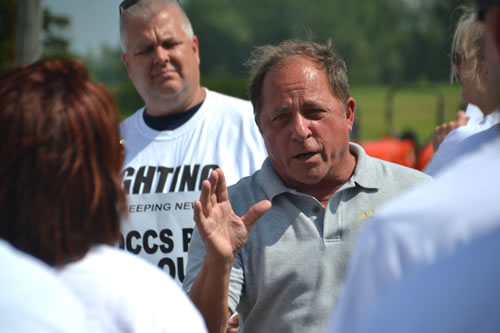 State Assemblyman Steve Hawley speaks with corrections officers. Hawley said many state legislators from New York City do not support the COs or understand the working conditions. Hawley said some state legislators believe New York City residents are wrongly convicted and sent to prisons upstate to support the economy in the state's rural communities.
Hawley said he tries to bring a voice of reality in conversations with state legislators from downstate. He said he urges his colleagues in the Legislature to make the sites safer with more staff and less overcrowding of inmates.