20 winterguards competed at Medina event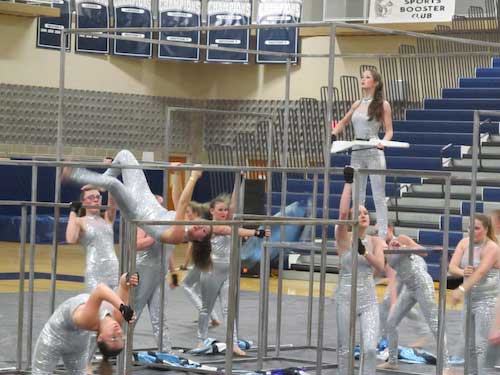 Photos and article courtesy of Medina Mustang Band
MEDINA – Medina hosted a Winterguard show, Colorburst 2017, on Saturday with 20 guards performing, traveling from schools in Western New York and Canada.
Overall the home show was a success in terms of attendance despite the weather. A majority of the guards are sponsored by a school district, but there were five independent guards that are not connected to a school but are community sponsored.
The independent groups include the Patriots from Rochester, the Magic of Scout House and the Ventures from Kitchener, Ontario, Lakeside from Oswego and Prizm from Hamilton, Ontario. The independent guards are made up of people who participated in this activity while in school and want to continue by joining these other groups.
In the Cadet class, Medina took second place. In the Scholastic A class, Medina was awarded first place with a score of 76.09.
In the other classes, 1st place went to Victor Cadets,  Patriots Too in RA with 72.33, Corning Painted Post in A1 with 65.05,  Magic of Scout House in Senior with 68.38,  Patriots in IA with 82.05 and Orchard Park in SO with 76.30.
Medina's next competition is Saturday, March 25, in Jamestown and then the Championships on Sunday, April 2, at The College at Brockport.